ColorWash is Singapore's leading professional cleaning service provider. I know my Mummy has send her bags and shoes to ColorWash for cleaning. I am so happy when we are invited by ColorWash for a service trial and this time, the attention is on us, school children!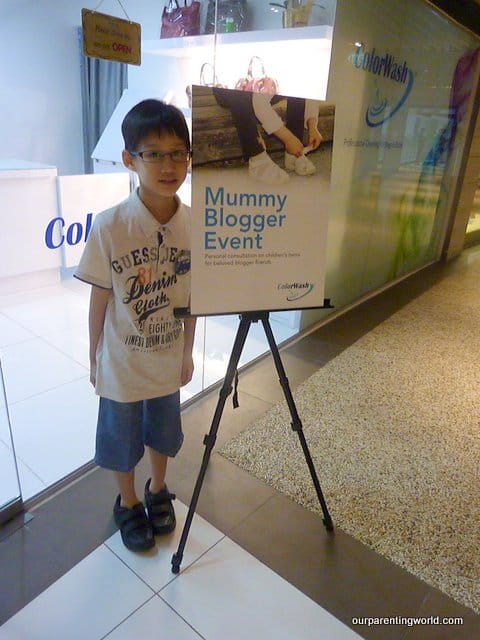 We are here at ColorWash Mandarin Gallery.
ColorWash has extended its service to clean children bags and shoes. Mummies will have a piece of mind knowing that ColorWash will take care of their children bags and shoes by giving them a throughout cleaning and it is important for hygiene purposes.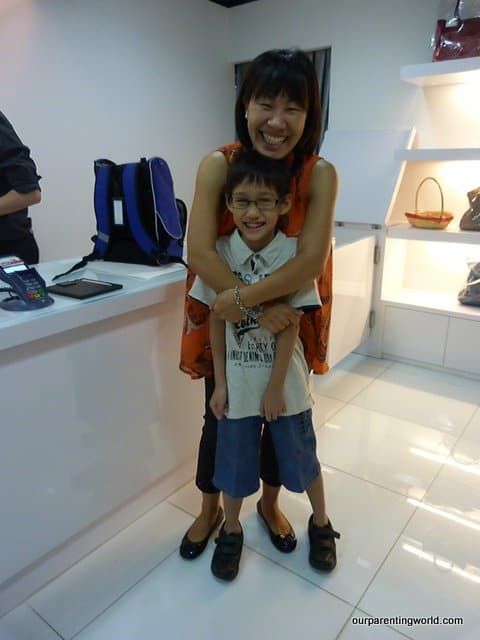 We met Ms Gemma Gil who is so friendly, she is a mother of two boys. She knows boys very well and I like her a lot!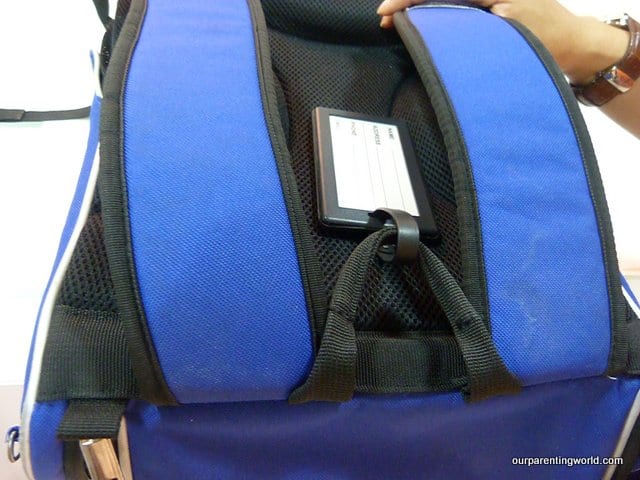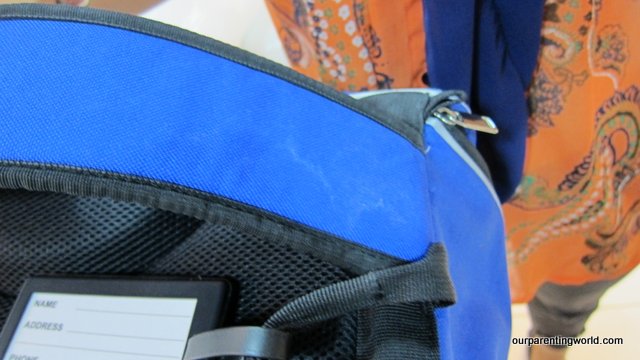 Ms Gemma Gil is very knowledgeable and she went through with me all the dirty spots in my bag. I am not aware that my bag is so dirty! She advises Mummy that it is important to maintain hygiene and especially boys, we do sweat a lot. ColorWash not just help to clean our stuffs and it will also disinfect and get rid of the germs using ozone which is one of the most powerful disinfectants that will effectively kill all bateria, sterilize and reduce any odor which normal washing cannot do it.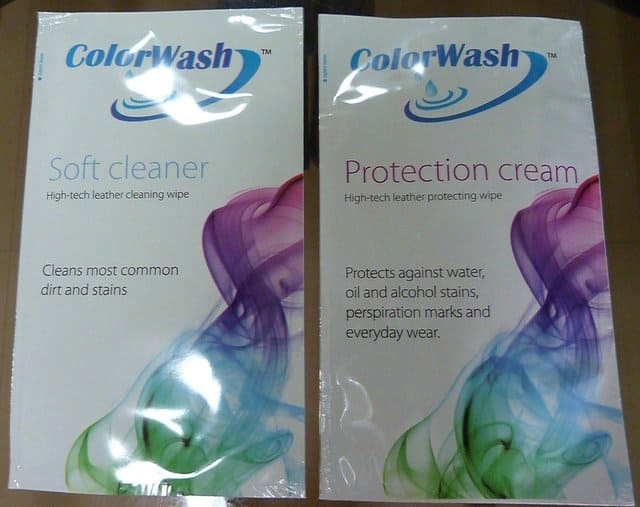 Introducing ColorWash Soft Cleaner Wipes and Protection Cream Wipe which are launched in April 2013 and manufactured in Italy. The first in Singapore to offer suitable wipes for maintenance and also to resolve accidental stains. The wipes are water-based and delicate, catering for leather's organic structure. It cleans common dirt and minor stains from accidents for daily upkeep and is recommended to be used before the Protection Cream Wipe. The Protection Cream Wipes gives moisture and safeguards your possession against everyday threats, such as rain, perspiration and oily skin. Misuse of wet tissue paper, baby wipes and sanitary wipes can actually aggravate the stain due to presence of alcohol and oil contents which alter the properties of leather. It suits the lifestyle of city-dwellers who are always on-the-move.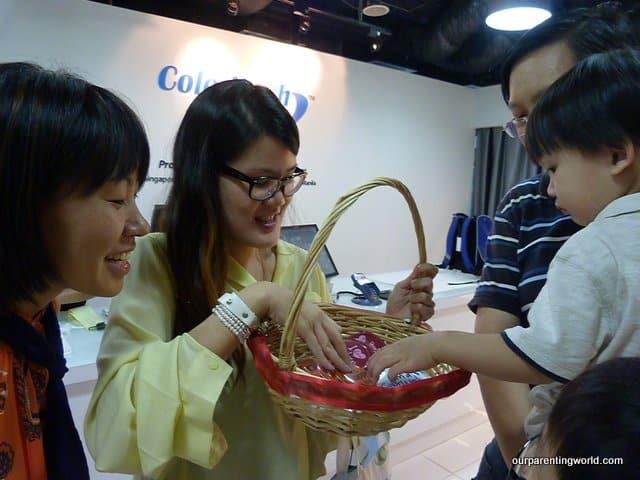 Di Di is here too!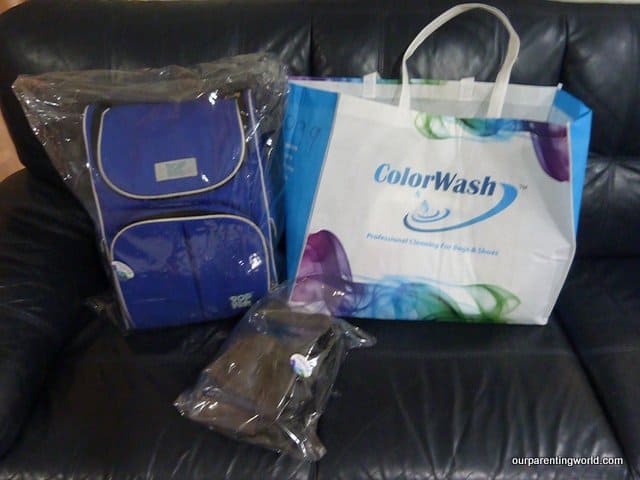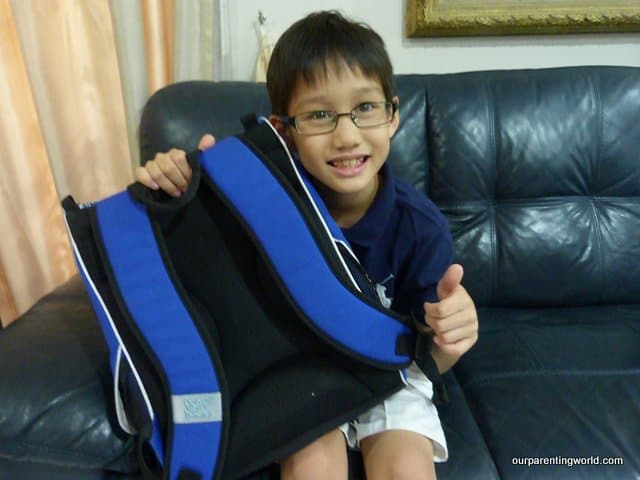 I have received my school bag and shoes all nicely wrapped up. They look so clean and new too. My bag and shoes smell good and I can't find any stains on them. Previously my bag and it's straps were filled with dirty spots and perspiration stains and now they are all gone.
Thumbs up to ColorWash for the good job!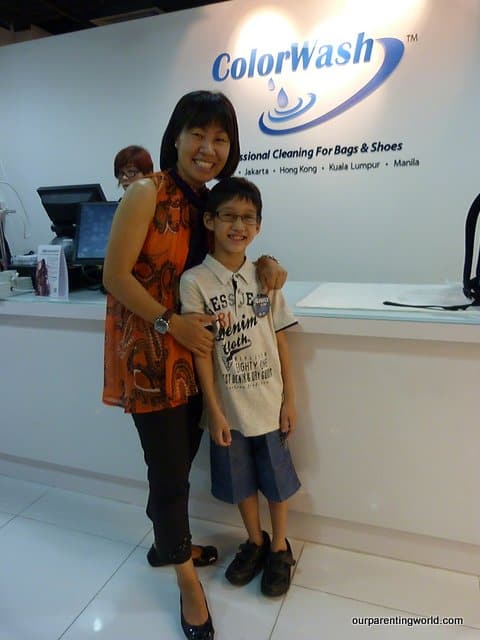 Our Parenting World would like to thank the lovely organisers, Evelyn and Gemma Gil who is the owner of ColorWash and her dedicated team for inviting us! It is an enjoyable and educating event for all of us.
Goodnews to all our readers, ColorWash is having a promotion! 
Special Promotion: ColorWash is extending 20% off on all cleaning services for school bags and all children shoes, usual prices are S$30 and S$15 (for canvas school shoes) respectively. This is only available from 25th May- 30th June 2013 at all ColorWash outlets.
Please click this link to find out more about ColorWash and make use of the special promotion. Try it out, you won't be disappointed!