Mummy was invited to VoicesTODAY Channel 5 live show as one of the speakers to talk about the current hot topics. As a mother and an educator, the topics discussed are very close to her heart.
The main topics for discussion are "Will replacing PSLE T-scores curb excessive competition? Is reserving 40 Primary 1 places enough for those with no school ties? Should character be considered in Direct School Admissions? Will these changes make Singapore a fairer, more open meritocracy?"
Mummy would like to share her experiences with what goes behind the scene in preparing for the show. A team member called Mummy to go through a comprehensive list asking for her opinion on the topics a day before the show. After that, on the day of the show, a technical staff will run through with Mummy on how to set up a Google Hangout a few hours before the show. This was a format that Mummy had not done it before, she did not need to go to the studio. She could do the interview anywhere as long as she has a PC with a webcam and earphones. It has to be in a quiet environment. It was quite easy to set up and do a Google Hangout under the guidance of the helpful staff.
Although the show will start at 9pm, but at 6.45pm, all three participants including Mummy were at their computer terminals to do a trial run briefly and then gather again at 8.45pm before the actual show.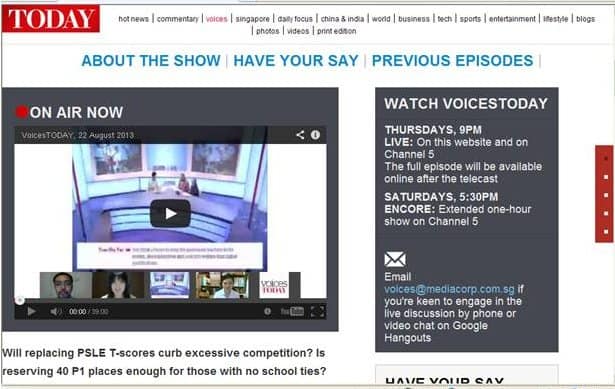 About VoicesTODAY, the hosts and a guest will be at the studio together with 3 Google hangout speakers. It is a live show and with on going debate on the topics discussed. Callers are welcome to call in to express their views.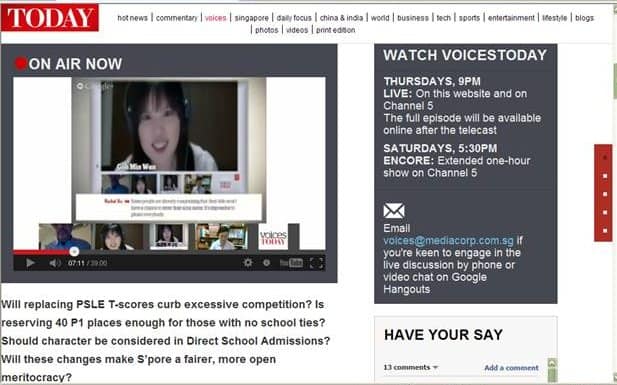 Mummy expressing her views on the topics discussed.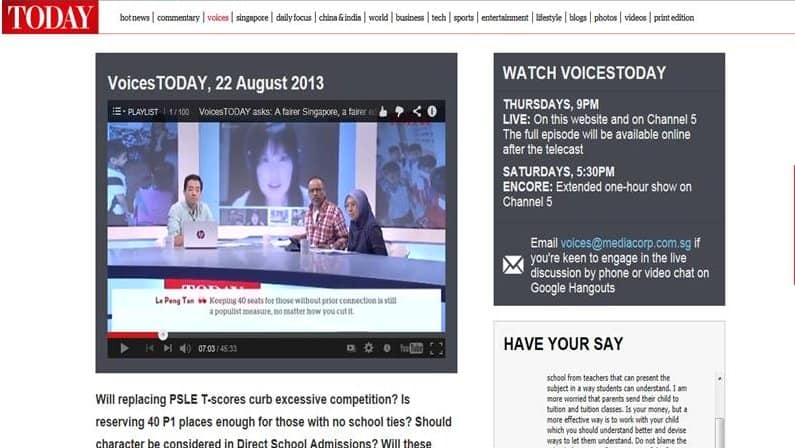 Before the show, Mummy was told that if there were any technical difficulties during the live show to remain calm and they will be in touch with her through sms. When she first started talking, there were a lot of echoes after each word she spoke. She tried to speak slowly. There were some technical breakdown in the system resulting in occasionally the screen was cut off and no sound. The show team told her that they were experiencing a technical breakdown. They told her that they will be calling her instead and she will participate in the show through phone call.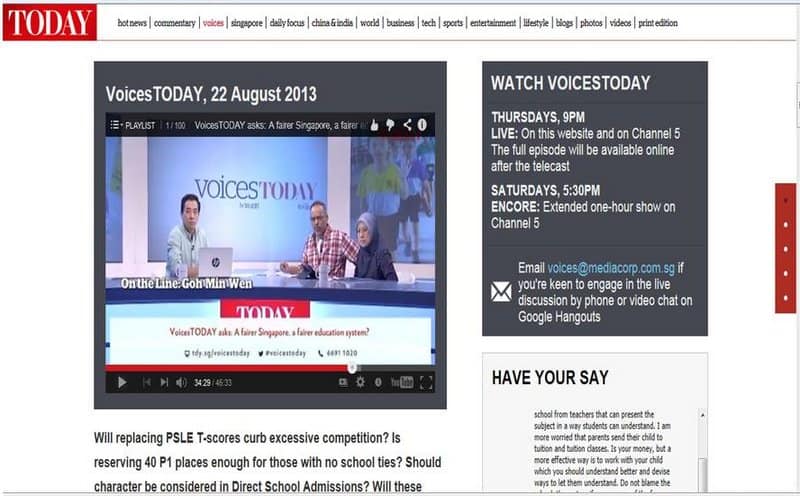 Mummy was able to participate further in the show through on the line. To view the whole program please click this link. Catch VoicesTODAY on Thursdays at 9pm. You can also watch the show online and there will be an extended one hour show on Saturdays at 5.30pm all on Channel 5. All the above pictures were taken from VoicesTODAY website. 
Mummy would like to thank everyone in the VoicesTODAY show and its team. They are very professional and helpful. It has been a good experience to be able to participate in this show.