Hunter + Boo, the ethical and sustainable Singapore's local kidswear label, founded by Beth and Sarah Medley. They are sisters from London and they are proud to identify the label Hunter + Boo as a Singaporean one. This is because they founded the label here in Singapore and its prints and designs are also highly influenced by the tropics and culture, with prints and colour palattes inspired by island Singapore with hints of historical flavour from Victorian and Japanese art. The silhouettes are relaxed and floaty and super soft made in ethical factory in Sri Lanka in 100% cotton. 
Hunter + Boo, the one year old label made its debut with their SS19 collection in London at Mini Mode, a premier kids fashion showcase which happened during London Fashion Week in September. 
Our Parenting World – OPW Media Team is pleased to interview Beth and Sarah Medley to find out more. Beth and Sarah have always dreamed of working together but families and careers beckoned them in different directions. While Sarah focused her talents on London's fast-moving fashion world, developing her passion for beautiful products as a Buyer, Beth's path led her to Singapore, at the heart of corporate Asia. Beth's step in to motherhood was a personal trigger to shop more mindfully, however as she researched the clothing industry, she was shocked to discover that fashion is one of the most polluting industries in the world. At the same time, Sarah began to explore developments in the fashion industry that make a more positive impact on the lives of its workers and their environment. Drawing on this insight and hands-on experience, the sisters launched the Hunter+Boo label in October 2017, bridging the gap between a traditional "green" aesthetic and modern, cool design. 
Exclusive Interview with Beth and Sarah Medley, Founders of Hunter + Boo
1) Please share with us more about your background and what sparked your interests in fashion?
Beth : Growing up, Sarah and I had a strong interest in fashion and design. We made our own clothes with our Mum and both enjoyed being creative with drawing and painting. We both also have a strong connection with nature and are big animal lovers – this love of nature inspires a lot of our designs. 
Sarah : After completing my degree at London College of Fashion, I followed a career path into the world of fashion as a Buyer in London, working for several High Street brands, developing a strong passion for beautiful and well made products. 
2) What inspired you to start Hunter + Boo and why did you decide to start your brand in Singapore?
Beth : Becoming a mum to twins in 2014 was my personal trigger to look more closely at where the products I was buying came from and who made them.  It was reflective of both wanting the best for my babies, but also of the kind of world I wanted for them to grow up in.  As I began to research the clothing industry I was shocked to discover that fashion is one of the most polluting industries in the world. 
Having made my home in Singapore eight years previously, I was aware that there was a big interest from Mums like me keen to learn more about where their clothes come from.  So much of what was available in ethical, organic or sustainable clothing was quite bland and didn't make shopping so fun!  The market seemed perfect for the launch of our brand and we are very proud to call ourselves a Singapore label!
Sarah : At the same time as Beth had her twins, I began to explore developments within the fashion industry that make a more positive impact on the lives of the workers and their environment.  There are so many ways you can work more mindfully with clothing suppliers – our factory are incredible, they treat their workers like a little family and share our values, meaning they help us to ensure that the entire supply chain from seed to shipment is as ethically minded as possible.  Our aim was and is to produce a brand which bridges the gap between a traditional 'green' aesthetic and modern design.
3) Where does the name of your brand, Hunter + Boo come from?
Sarah : Hunter and Boo are Beth's twin son and daughter, my niece and nephew! They are the double inspiration behind the brand; Hunter is the bold adventurer who loves to explore – the arrow in our brand and Boo is the observer who loves nature – the twig.
Beth : The twins are now fun-loving, mischief making kids who allow us to understand the all-important practical needs of children's clothing: That the organic cotton fabrics are as soft and comfy as possible, hard-wearing, wash well, easy to get on and off and are versatile enough to mix and match, regardless of who wears what.
4) What is the best thing about designing and creating your own clothes?
Sarah : We both really love the creative process and can take inspiration from anywhere – from the wonderful flora of Singapore to my blue and white porcelain collection!  There is something very special about having that spark of imagination and watching it grow into a design that is then worn and loved by little ones.  Being a "slow fashion" brand it is also very rewarding to really put all our effort into each and every design, ensuring that they are timeless and made to last. 
Beth :  For me, it has been incredible to visit the factory and meet with the men and women who actually make our clothes, I find the whole process fascinating. It really is amazing to see how much time, people and components are involved in every garment! 
5) What are the challenges that you faced in designing your own clothes and how do you overcome them?
Beth : For us, finding a factory that shared our ethical values was a long process – as much as I do think that the fashion industry is changing, it is slow progress and it took a few tries to discover a company that we trusted and who actively encourage us to push and grow. 
Sarah : Time!  We are still a very small team and it is hard work!  That said, it's extremely rewarding and we wouldn't have it any other way.
6) Where do you get your inspiration for your designs?
Sarah: As an ethical brand we believe that fundamentally our clothing at Hunter+Boo should offer season-less style. We take customer feedback extremely seriously and have developed new shapes and designs based on items they would like to see. We are often recognised for our signature bold, oversized, unisex prints which are all designed in-house and take inspiration from many sources of personal artistic influence.
Beth : And of course, I can't help but find inspiration daily from my twin son and daughter who are the brand's namesakes and the main reason I started the brand.
7) What sets Hunter + Boo apart from other children's wear labels?
Beth : Hunter+Boo is a young label but we set out from the beginning to be a brand of action building the business on a set of firm ethical foundations.
Sarah : Indeed, and this is reflected throughout our entire supply chain starting from the moment fabrics have been chosen. We strive to continually learn and improve our practices with the aim of leaving as small a footprint as possible on our precious planet.
8) What is the proudest moment of your Hunter + Boo experience thus far?
Sarah : For me it would have to be showing our first collection in London Fashion Week last September as part of Mini Mode, London's Premier Kids' Fashion Week.  The event showcases emerging and established kids wear designers from around the world and being selected as one of these labels in our first year of operation at such a world-renowned event as London Fashion Week was an extremely proud moment.
Beth : The experience at Mini Mode was, for me, also unforgettable.  I also have to say I get extremely proud whenever I spot one of our designs when I'm out and about on one of our mini-customers, or someone recognises one of our prints.  It's an amazing feeling achieving that kind of recognition with your designs.
9) Why do you think it is important for businesses like yours in the fashion industry to adopt ethical practices?
Sarah : Having worked in the fashion industry for more than 15 years, I've seen first hand the negative aspects caused by opaque supply chains.  Whether that's from a human, environmental or even animal perspective. It's interesting that we are now seeing a trend developing where consumers are asking questions and want to know more from the retailers about how their clothes are made, we definitely have social media to thank for that and it's such a positive step.  The industry is waking up to the need to rethink the entire way supply chains are managed in terms of becoming more open and transparent. There are some very interesting documentaries available now such as The True Cost, and River Blue which explore the damage that the Fashion Industry is inflicting on our planet and its people, they are well worth a watch!  As more independent labels like Hunter and Boo promote these practices we will continue to create awareness – we hope that one day it will just be the norm.
Beth : Having ethical practices and an open supply chain form part of our core values at Hunter+Boo and is something I strongly believe in. Hunter+Boo proudly participated in this year's annual Fashion Revolution Week Campaign, a hugely important initiative to raise awareness for garment workers and promotion of transparency in the industry, which was set up in the wake of the Rana Plaza tragedy, where in 2013 a garment factory collapsed in Bangladesh killing 1,134 people and injuring 2,500 . All players big or small within the industry need to accept their part in helping to improve transparency and it's exciting to be championing this ourselves.
10) How do you think parents can start taking steps to becoming more conscious about what they consume and purchase for themselves and their children?
Beth : Get to know your labels, read everything and don't be afraid to questions.  Whether that's your food, skincare or clothing – knowledge is power!  Remember that every choice you make on how to spend has the power to make a difference.
Sarah : At Hunter + Boo our mission is to make it as easy as possible for our customers to make ethical choices by having loud and clear messages across all our communication channels as there is a lot of confusing information out there.  For example our labeling states exactly what makes us ethical.   We absolutely love it when we meet customers who ask questions about our production and supply chain – people who are genuinely interested to learn more.
11) On a personal note, what are some of your favourite beauty tips that you would like to share with busy working women and mothers on looking good?
Beth : Self care is a hugely important aspect of making sure we are looking and feeling good so we can manage our busy lives!  As mothers we all too often find that we become over-stretched and pulled in many directions.  We've all experienced the sensation of mommy guilt.  It's about routine and scheduling in some time for yourself.  Sometimes easier said than done in our busy lives, it can be something as simple as staying hydrated, a walk outside in nature, a bath or even booking in a massage if you can. 
Sarah : Yes, agreed, bath time is important!  I'm just about to become a mum for the first time so I have the whole mommy guilt thing to look forward to!  I would say that setting yourself a routine and keeping it simple are the best ways to ensure you always look good – Interestingly for someone who loves statement prints and bold colours in my homeware and on kids clothes, a lot of my day-to-day wardrobe is made up of staples in black, nude, white, navy, grey and leopard (which I consider a neutral!) – it makes finding outfits in a hurry much easier!  Then I tend to go all out for special occasions and invest in a strong colour or dramatic print. 
12) Lastly, do you have anything else that you would like to share with our readers about Hunter + Boo? What can we look forward to in the next year from your brand?
Sarah : Stay tuned for our exciting new organic cotton blue Chambray collection launching early January 2019, just in time for those Chinese New Year outfits! Our take on the wardrobe staple denim is beautifully soft and lightweight, and works on its own as a neutral base or as a perfect contrast to any of our prints. Naturally, it's perfect for twinning!
Beth : Yes, my twins already love this new collection and are requesting to wear it all the time!
Thank you Beth and Sarah Medley for taking our interview! 
Hunter+Boo's SS19 collection stays true to the brand's fundamental value of style without season, featuring relaxed, floaty silhouettes in signature bold, tropical inspired oversized prints against a sun-bleached colour  scheme. The new collection also sees the introduction of four new prints in fresh colourways – sugarpink, ink blue, nude and chambray. A new beautiful woven cotton fabric is also introduced as an extension to the label's core staple collection of distinguished, versatile designs.  
All garments in the collection are made with 100% super-soft organic cotton and eco-dyes,designed to be unisex with a comfort meets fashion-forward mindset. ​Each garment celebrates the joy of childhood at the littlest cost to the environment.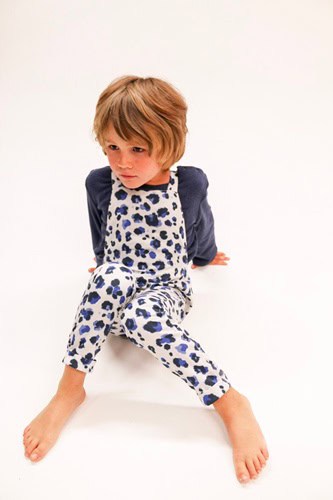 Yala
Named after the Yala National Park in Sri Lanka – home of the endangered Ceylon leopard, the vivid ​Yala print reflects the beauty of these magnificent animals, softened by a signature smudgy watercolour ink effect. This eye-catching leopard print is available in two unisex colourways; a sugar pink with black and white monochrome motif and inky blue and white tones. The Ink Blue Yala is available in a beautiful lightweight  organic cotton woven poplin while the Sugar Pink Yala is  available in an organic cotton interlock fabric – which is a knitted jersey fabric. The interlock fabric also comes in versatile classics such as a  unisex vest, shorts and sleepsuit as well as reversible sweater  and joggers which are new to this collection. With two  garments in one, the reversible styles offer ultimate flexibility in wear, making them the label's most environmentally conscious product yet.
Palawan Nude  
The brand's best-selling vibrant ​Palawanprint encapsulates the essence of tropical living in Singapore, where the regal swaying palm trees provide shade and comfort from the dazzling mid-day sun. This new nude colourway takes inspiration from beautiful sunsets with its pinky hues and contrasting copper and gold highlights. 
Chambray 
With a love for wardrobe staple denim in all its incarnations, Hunter+Boo's own take on it materialises in a beautifully soft and lightweight blue ​Chambray that works on its own as a neutral base or as a perfect contrast to any of the prints. The new woven fabric adds a hint of formal element to the range with six shapes and styles in total – Frill Dress, Shirt, Trousers, Blouse, Bloomers and Overalls.  
Hunter+Boo's new collection evolves from its AW18 collection, which was designed with room to grow in mind. Its launch collection comprises a capsule of six simple, stylish staples: tees, leggings, rompers, jumpsuits and a dress in prints and colour palettes inspired by the richness of nature and island-living in Singapore, with hints of a historical flavor from Victorian and Japanese art.
Hunter + Boo is currently stocked at Motherswork at Great World City and i12Katong, The Playfair at Suntec City Mall and The Children's Showcase at Tanglin Mall, as well as online at www.hunterandboo.com​.