Event Listing: Hari Raya Light Up 2017 to Deepen Kampung Spirit from 20 May – 7 July 2017
The annual Hari Raya Light-up 2017 (HRLU 2017) will return to Geylang Serai from 20 May to 7 July 2017. Themed "Deepening the kampung spirit", local and international visitors will be treated to a visual and food fiesta! Over a period of one and a half month, visitors can gather to soak in the festive atmosphere while engaging in the various activities lined up to understand the Malay culture and heritage.
Our Parenting World team wishes all our Malay friends "Selamat Hari Raya"!
We are pleased to list the key highlights and public events available during the Hari Raya Light Up period and for more information about HRLU 2017, please visit this Facebook page.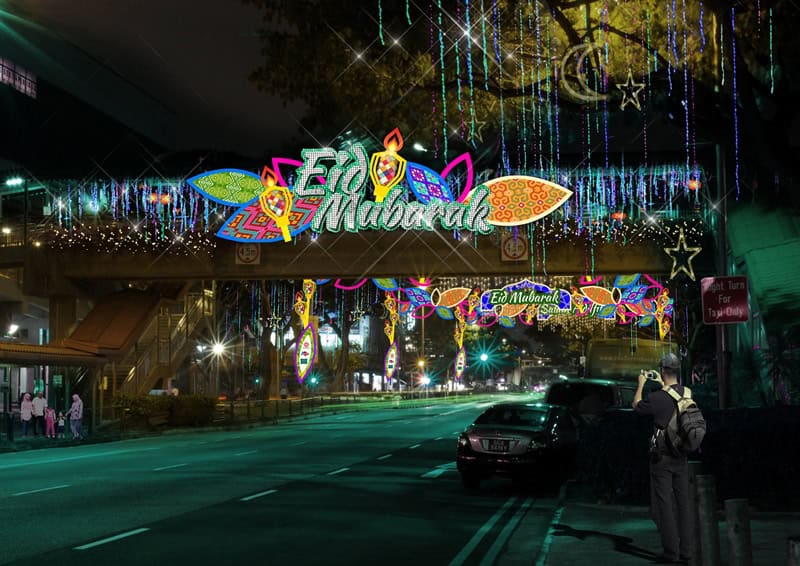 Official Light-up and Opening Ceremony
Saturday, 20 May 2017
7.30pm – 9.30pm
Field in front of Kembangan-Chai Chee Community Hub, along 11 Jalan Ubi, S (409074)
From 20 May, the 2.25km stretch of Geylang Serai from Sims Avenue to Changi Road will be filled with lights and festivities to appeal to Muslims and non-Muslims, ahead of Hari Raya Puasa on 25 June.
Themed "Deepening the kampung spirit", this year's light-up is inspired by the intricate motifs on the songket as well as the kampung spirit. On this night, visitors will get to admire the street decorations and look forward to a wide array of activities, which include a performance by Ramli Sarip, Singapore's very own "Papa Rock" as well as kompang (drum) and tarian (dance) performances.
For those who may be curious to learn more about the Malay culture and heritage, and the history of Hari Raya, they can pay a visit to the Malay museum and Pavilion – an art installation inspired by the weaves of a ketupat – located at Kampong Ubi Community Centre. Visitors can also expect to take Instagram-worthy shots with the 3-metre tall wau (Kelantanese kite) as a backdrop.
Street Light-up
The one and a half month long Street Light-up is undoubtedly the main highlight of the celebrations. Be amazed and treat yourself to a larger-than-life light installations modelled after items traditionally associated with the Malay heritage. This year's light-up, bringing visual festive sparkles along Sims Avenue and Changi Road, will return bigger and better as the traditional elements such as the songket, kampung house are given a modern touch.
Timings of the light-up are:
Sat, 20 May – Fri, 7 July 2017
Eve of Hari Raya Puasa: 7.00pm – 6.00am
Fridays & Saturdays: 7.00pm – 2.00am
Sundays through Thursdays: 7.00pm – 12.00mn
Geylang Serai Bazaar
Thu, 25 May – Sat, 24 June 2017
From 11am onwards
In front of the Geylang Serai market, Joo Chiat Complex and along Haig Road
Are you looking for new outfits to wear, goodies to stock up on or simply the best foods to munch? Head down to the Geylang Serai Bazaar situated in front of the Geylang Serai market and Joo Chiat Complex to complete your shopping spree. Touted to be the best pasar malam in Singapore, visitors can shop to their heart's content at the 1000 stalls selling the widest range of traditional goodies such as kuih tart (pineapple tarts) and kuih bangkit (tapioca cookies), decorative items, costumes and many more. The Geylang Serai Bazaar will certainly provide you with a unique and sensory experience that's hard to miss!
Weekly Stage Performances and Movie Screenings
Every Friday to Sunday during the HRLU 2017 (except 26 May & 24 Jun)
7.30pm
Stage @ Kembangan-Chai Chee Community Hub / Open space adjacent to Engku Aman
and Sims Avenue
*Admission is free
What's a celebration without song and dance? Gather your close friends and family members and enjoy weekly stage performances such as kompang, Malay dance and karaoke. Popular classic Malay movies such as P. Ramlee movies and Malay classics will also screened to the masses on Saturdays.
Cultural Heritage Race 2017 & Cultural Heritage Nite
Sat, 3 Jun 2017
4pm – 8.30pm
Open space adjacent to Engku Aman and Sims Avenue
Participate in a cultural heritage race around Geylang Serai for a chance to explore the various interesting aspects of the Malay heritage and traditions. In teams of 3 (with at least one new Singapore Citizens (SCs) / Permanent Residents (PRs) and at least one local-born Singaporeans), participants will be challenged to carry out tasks such as completing the given assignments and challenges (to be reveal only on the race day). The winners of the race will be receiving:
| | |
| --- | --- |
| 1st Prize: | $2,000 |
| 2nd Prize: | $1,000 |
| 3rd Prize: | $500 |
7 consolation prizes worth $150 each
To sign up for the Cultural Heritage Race, please contact Ms. Deanise Kwong (Email:
[email protected]) or Geylang Serai Community Club (Tel: 6747 2919)