As you know, Singapore and also the rest of the world are currently facing a serious infectious disease threat, the coronavirus pandemic which has affected more than 1,000 cases in Singapore. As part of the precaution to prevent further rise of local disease transmission, our government has implemented 28 days "circuit breaker", by closing schools, offices and shopping malls on the second week of April, starting from 7 April to 4 May 2020, we all hope this will help to control the outbreak in Singapore. 
Keep a distance from the next person to protect yourself and everyone else
(Image from www.gov.sg website)
One of the biggest challenges that parents have to manage during this period is how to ensure our kids are able to continue their schooling from home. The term "home schooling" brings to us a new meaning now as every child will be home schooled during this period.
Having lessons at home
Your child would need to have a laptop/computer to do his homework. We have 2 kids, one in secondary school and one in primary school. Their lesson plans are quite different. The child in secondary school has regular schooling hours according to his school timetable, and thus we need to wake him up early as his live lessons starts at 7.30am with his teachers of different subjects conducting lessons according to the class timetable.
For our younger child in primary school, his teachers would email us the assignments to be completed for the next day. As we only have 1 spare laptop at home (both parents will also have to use our laptops for work at home), we let the older child uses the laptop in the morning during his virtual lessons and then his younger sibling will use the laptop to complete his school work in the afternoon. 
We have to ensure our kids have their regular toilet break, eye break and also snacks in between. But we also have to make sure that they do not use the computer to play computer games during their e-lessons.
Notice of the Home Based-Learning (HBL) from Ministry of Education
Staying at home
During this period, we should not go out except to buy essential items like food and daily necessities. Although there is no time restriction on when we can go out, we try to keep our trip out to a minimal, like only once a day if possible. Daddy will go out to buy breakfast and lunch at the same time and also picked up some essential items like fruits, vegetables and meat from the nearby supermarket to cook for dinner. If you need to go out to buy essential items, please go out alone if possible and return home as soon as possible, as you would not want to expose your other family members to infection if you are going out.
Exercise
As compared to other countries which do not allow their residents to go out for exercise, Singapore government allows us to go out for exercise as long as we avoid crowded places and only exercise alone or with our immediate family who stay with us. Having exercise is important is it helps to keep us healthy both for the mind and body, but we need to be careful and only exercise in open areas away from the crowd.
In summary, some of the simple ideas which could help to protect yourself and your families are:
Do not go out of your home unless it is absolutely necessary

Do not go to your friends, extended families' homes for visiting

If you really need to go out, please wear a mask and stay away from the crowd

If you are not feeling well, consult a doctor immediately.

Have enough rest, exercise and support each other at home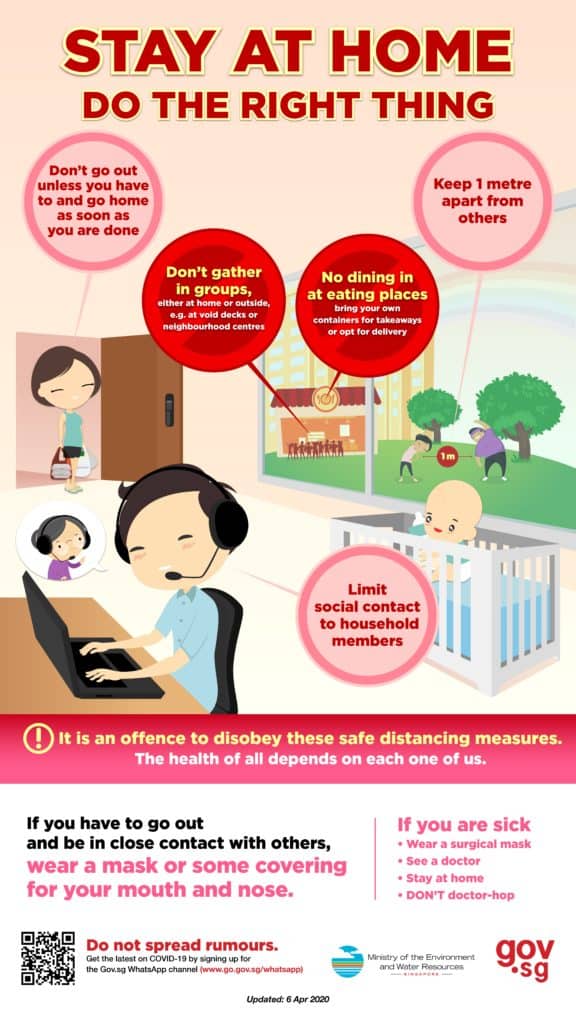 Together, we can do it
This is a critical period for Singapore, as long as we all do our part, we should be able to bring our local cases down and hopefully life would go back to normal again. Meanwhile, we wish everyone to stay safe and healthy! Let's all do our part, stay at home for Singapore, #sgunited !