The H1N1 pandemic is in full swing globally. Although the virus is not as deadly as initially thought, nevertheless it has caused many deaths globally, especially in the high risk people like elderly and those who have other medical illnesses.
Now the H1N1 vaccines is available for the population. However, there are many people who prefer not to be vaccinated as they are worried about the safety of the vaccine.
Daddy is quoted in Today newspaper interview on the research and development of the new H1N1 vaccine. Basically it is a safe vaccine and the benefit of vaccination (i.e. to prevent infection from this deadly virus) outweighs its side effect (which is a bit of pain and swelling). Everyone should be encouraged to be vaccinated against H1N1 infection.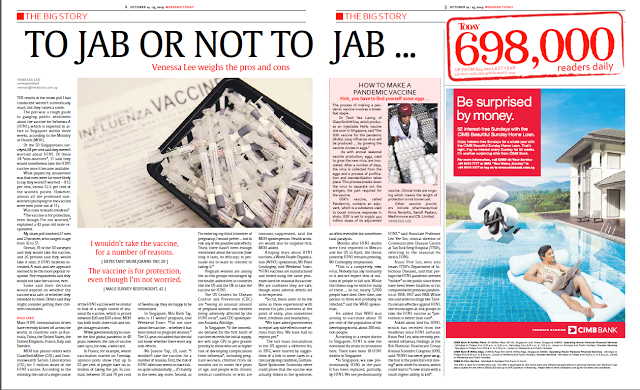 Daddy's interview in Today Paper 24 Oct 2009