Our Parenting World team is a big fan of AquaMarine Restaurant at Marina Mandarin hotel as it serves one of the most popular buffets in town.
Thai food lovers, for the month of March 2017, diners can look forward to flavours of Thai cuisine being served at AquaMarine. It is not often one can feast on authentic Thai food in a hotel buffet and from the dishes we have tasted, we have no doubt that it will definitely be a popular choice to feast on Thai food buffet in Singapore.
Our Parenting World team brings to you the highlights of the Thai food being served at AquaMarine Buffet: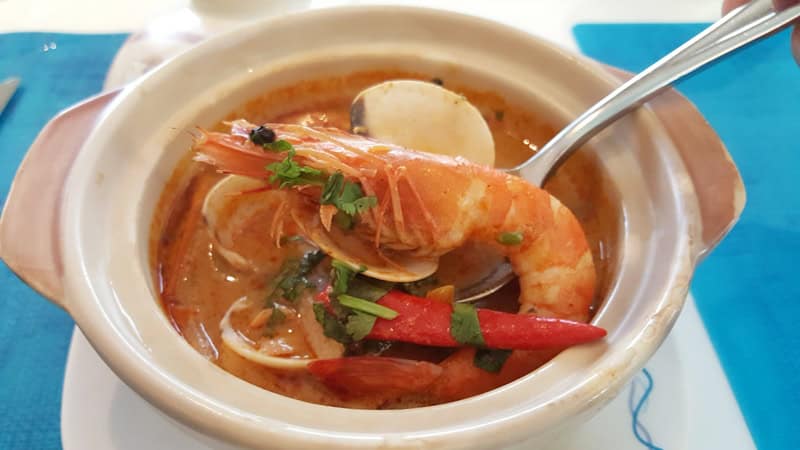 Tom Yum Goong (Tom Yum soup)
This is definitely one of the most famous Thai foods in the world, this soup can be fairly spicy and hot which is similar to the one you can get in Thailand and not the toned-down version available in some other Thai restaurants in Singapore. If you like the authentic and tasty Tom Yum Goong, this is the place to visit. The soup is also generously filled with ingredients like prawns, squids, clams and more. 
Crispy Catfish and Green Mango Salad
This is a popular dish in Thailand and it has all the essential Thai food flavours which showcase a strong contrast of sweet, sour, nutty and spicy taste. This is an appetizing dish with fresh, succulent, fried catfish meat and green mango that will awaken your appetite!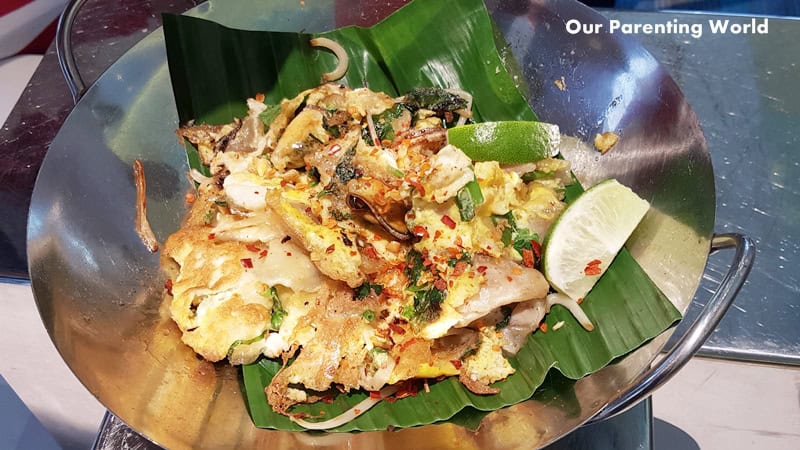 Thai Mussel Omelette 
Thai Mussel Omelette is a delicious snack that is enjoyed by the Thais and commonly found in Thailand. This dish is deliciously fried with eggs and the Thai version uses mussels making it more crunchy and not so soft like oysters. 
Thai Style Roasted Giant Seabass 
The highlight of the Thai buffet must be the large Thai style Roasted Giant Seabass. Seabass is a common fish available in our local restaurants but this Giant Seabass at Aquamarine Buffet is different. Unlike the usual seabass which weighs around 1kg, this species of giant Seabass originated from Australia weighs more than 3kg!
The fresh fish is roasted to perfection, served with savoury gravy that is so good! 
Street BBQ Prawn, Giant Squid, Chicken, Flower Crab, Lamb Belly.
We simply love the delectable and mouth-watering spread of Thai BBQ dishes which include street BBQ prawns, giant squid, chicken, flower crab and lamb belly. This Thai BBQ dishes certainly capture our attention, the meat are barbecued and cooked well, it is flavourful and yet juicy!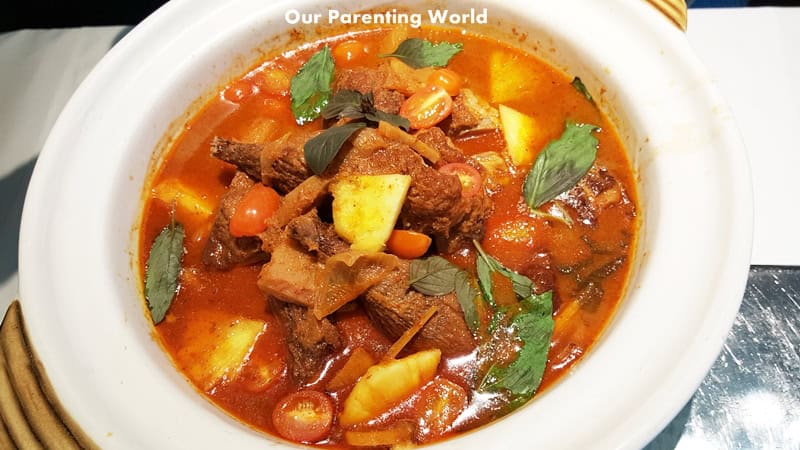 Red Curry Duck 
The red curry duck is another classic Thai dish that is not to be missed. It is loaded with tender duck meat cooked in warm, spicy flavour. 
Claypot Prawn Vermicelli
This dish is absolutely a delight, filled with large juicy prawns resting on a bed of tasty, springy vermicelli.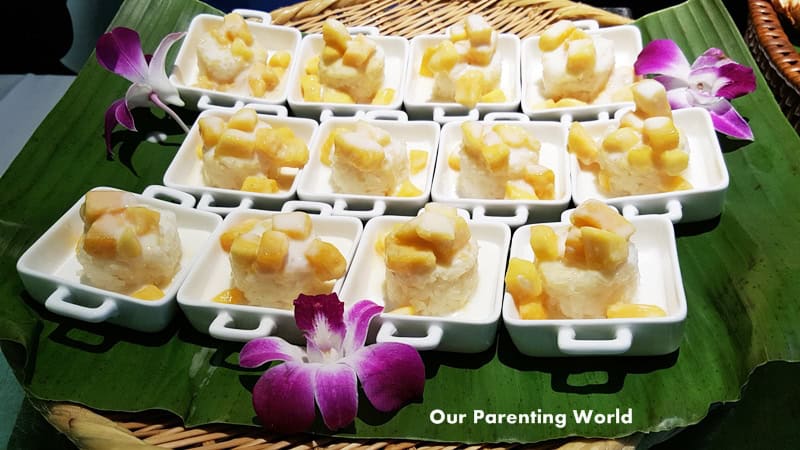 Mango Sticky Rice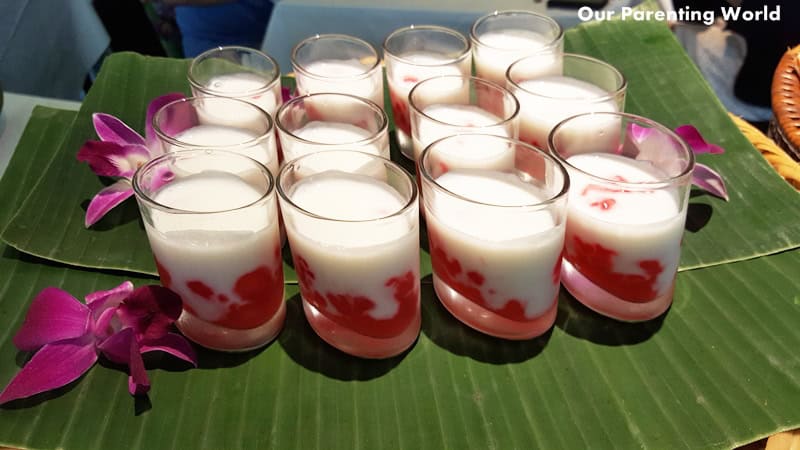 Red Ruby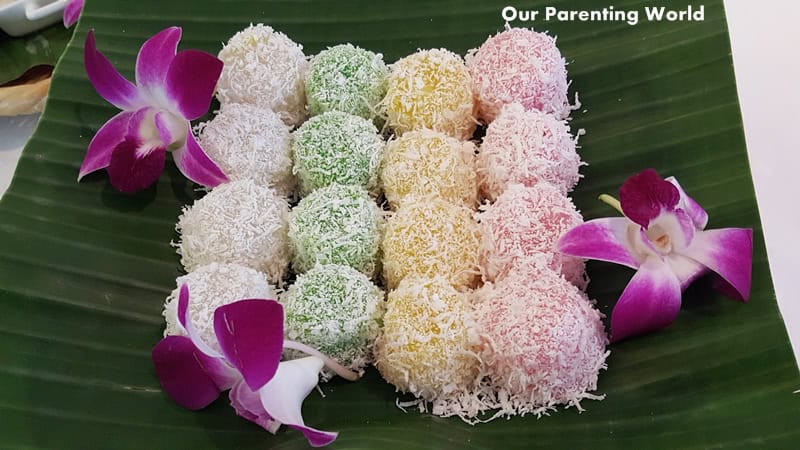 Thai Ubi 
Thai desserts are well-known all over the world, you can find popular Thai desserts like Mango Sticky Rice, Red Ruby and Thai Ubi at the buffet spread. Do remember to leave some space for the delicious Thai desserts at the end of your meal. 
The best thing about going for this Thai Food Promotion at AquaMarine Buffet, these Thai cuisines are a new addition on top of its usual International and Asian buffet spread. You don't have to travel all the way to Thailand to indulge in authentic Thai food and to satisfy your cravings. Visit AquaMarine in the month of March for its Thai Food Promotion where you can get to taste the wide-ranging choice of dishes, spicy foods and cooking styles inspired by Chefs' travels to Thailand.
Look forward to indulge in a sumptuous varietal signature list of Thai favourites such as Crispy Catfish and Green Mango Salad, Thai Mussel Omelette, Tom Yum Goong, Thai Style Roasted Giant Seabass available at the carving station and much more. A delectable must-eat is the Thai Street BBQ well marinated and properly grilled such as succulent and tasty Prawn, Charcoal Grilled Chicken, Giant Squid, Chicken, Flower Crab, Lamb Belly and Mussels, this is the Friday and Saturday Night Special and available during lunch on rotational menu (without the Flower Crabs). During lunch the Thai Street BBQ is on rotation with Lemongrass Roasted Spring Chicken with Assorted Dips or Thai Crispy Mussel Omelette. 
In the meantime, celebrate Lunar New Year with your family and friends at AquaMarine and look forward to indulge in Chinese New Year dishes specially prepared to delight your taste buds and brings auspicious meaning to the New Year!
Please click HERE to read our earlier review on AquaMarine's Chinese New Year dishes.
Thai Food Promotion at AquaMarine available in March 2017:
AquaMarine
Level 4 Marina Mandarin,
6 Raffles Boulevard,
Singapore 039594,
Tel: 6845 1111
Website: www.marinamandarin.com.sg/dining