One of the most special elements about ice cream is the endless number of flavours to choose from, which makes us spoilt for choice. Adding to the perennially-loved classics, are the continuous creations of new and unique flavours, making ice cream a favourite dessert for most, undoubtedly. This month, we welcome new additions to the EKSELENCEⓇ range of products for even more satisfying experiences in the colourful world of ice cream.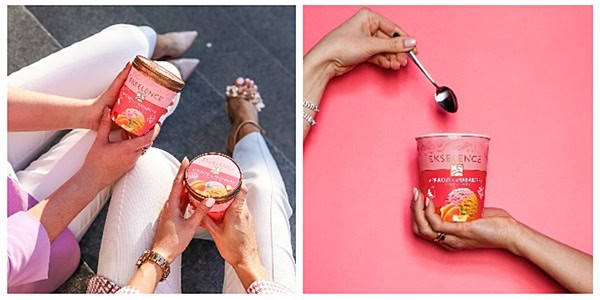 Made with the finest ingredients, the brand new EKSELENCEⓇ Apricot Sorbet with Rhubarb Ice Cream from the Sorbet Ice Cream Collection is a pleasant surprise because of its interesting choice of ingredients. Rhubarb, a fleeting spring vegetable with bright pink stalks and a tart flavour is commonly used in desserts such as pies, tarts, cakes and cookies. On the other hand, the fragrant and desirable Apricot which is typically soft and juicy when eaten as a fruit, balances the tartness of Rhubarb, making it a truly appeasing combination.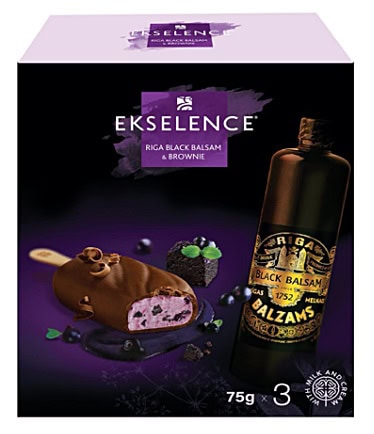 Liberating and indulging, best describes the all-new and exclusive treat, EKSELENCEⓇ Riga Black Balsam & Brownie ice cream on a stick. Crafted with passion since 1752 and often considered to be the national drink of Latvia, Riga Black Balsam is a traditional Latvian herbal liqueur made from made from 24 natural ingredients, including 17 botanicals. Robust herbs like Valerian, Wormwood, Black Pepper, and Ginger, as well as rare ingredients such as Gentian and Peruvian Balsamic Oil contributes to the complex and versatile flavour of the liqueur. The combination of Riga Black Balsam with Brownie is divine – the delicate bitterness from the wine is balanced with the richness of the brownie and coated with a layer of crunchy chocolate. A dessert for those who appreciate the finer things in life. The EKSELENCEⓇ Riga Black Balsam & Brownie has an alcohol content of 3% in each stick.
With ingredients carefully sourced from Europe, and crafted in the lush green country of Latvia in Northern Europe, the fine frozen desserts from EKSELENCEⓇ will be a remarkable gastronomic experience one will never forget. The EKSELENCEⓇ Apricot Sorbet with Rhubarb Ice Cream is available in 500ml tubs with a recommended selling price (RSP) of S$12.90, and the EKSELENCEⓇ Riga Black Balsam & Brownie Multipack of three has a RSP of S$12.90 per box. Perfect for any occasion, grab your favourite flavours at any FairPrice or Cold Storage outlets.
For more information on EKSELENCEⓇ and its current promotions, please visit the following official webpage of social media accounts:
Official website: www.foodunionasia.com/fu/brands/ekselence
Instagram: www.instagram.com/ekselencesg
Facebook: www.facebook.com/EkselenceSG
Photo Credits: FOOD UNION