Taiwanese starlet Cai Qin is coming back to serenade the audience in Singapore with her powerhouse vocals! Her latest tour, titled "经典琴歌", with a play on the chinese character Qin "琴", is meant to express classic love songs with Cai Qin's very own twist to the classics. The concert will be held in Singapore on 19th January 2019, 8pm, at The Star Theatre, The Star Performing Arts Centre.
After her previous concerts in 2015 and 2017 that were extremely well received, this is one concert that definitely should not be missed. Being in a Cai Qin concert is a wholly immersive experience, as she mesmerizes the audience not only with her mellifluous vocals, but also with her on stage charm and her dazzling outfits.
「经典琴歌」World Tour
When people think about singers of classic hits, one of the first few names to come to mind would definitely be Cai Qin.
With her passion to bring the best to the audience, Cai Qin always looks into innovative ways to keep the audience engaged in her new concerts, by developing unique concepts in order to deliver the best performance for her beloved fans. Having toured numerous countries including Canada, Malaysia, Australia and China, she will finally be back coming to Singapore!
Performing classic hits from 1940 to 2000, some of the songs you can look forward to during this concert would include her classic songs 《你的眼神》,《被遗忘的时光》, as well as Zhou Xuan's《夜上海》、Wan Fang's《新不了情》、Zi Wei's《绿岛小夜曲》and Teresa Teng's《何日君再来》and《月亮代表我的心》. These songs have been chosen after much deliberation, and she will perform them in her unique way that will definitely astound fans and bring back their memories.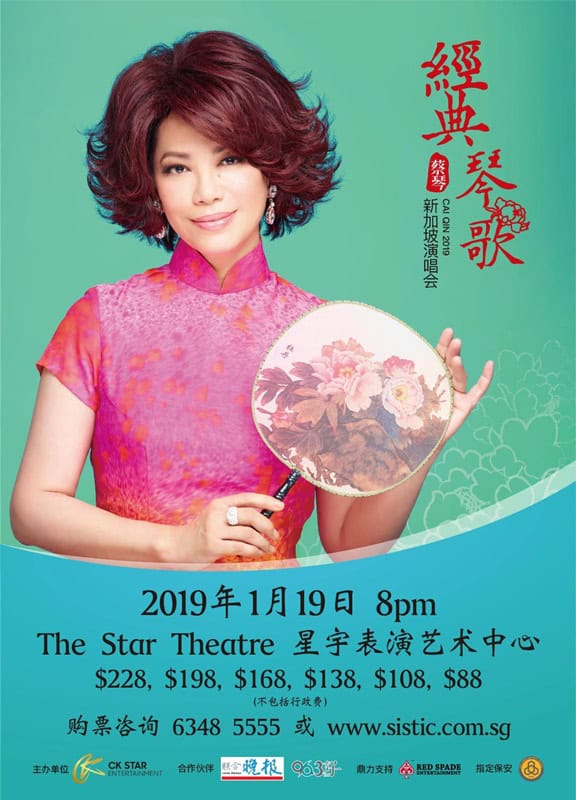 Cai Qin [经典琴歌] Singapore Concert 2019, tickets are selling now, hurry, don't miss the opportunity to catch Taiwanese starlet Cai Qin live in Singapore! 
Cai Qin 「经典琴歌」Singapore Concert 2019
EVENT DETAILS
DATE: Saturday, 19th January 2019
TIME: 8.00pm
VENUE: The Star Theatre, The Star Performing Arts Centre
SALE OF TICKETS: 22nd October 2018 (Monday), 10am across all channels
TICKETING INFORMATION:
Cat 1 : S$228 Cat 2 : S$198 Cat 3 : S$168 Cat 4 : S$138 Cat 5 : S$108 Cat 6 : S$8
Prices above exclude booking fees and handling charges.
Tickets are available at https://www.sistic.com.sg/events/caiqin0119 , or through 6348 5555 and all authorized agent outlets.
This concert is organised by CK Star Entertainment. For more information, please visit http://www.ckstarentertainment.com/.