Carré d'​artistes, the world's largest network of contemporary art galleries with more than 30 opened spaces globally, offers over 600 unique and original artworks in varied styles, starting at an affordable $190 for the smallest size. 
Carré d'​artistes opened its first gallery in Southeast Asia in Singapore, located at Paragon Shopping Centre, #04-08. This is the only art gallery in Singapore to sell artworks at a fixed price based only on the size of the piece. Good for individuals and families who are looking for affordable artworks to decorate their premises and homes. Our team speaks to Sebastien Chen, Managing Director of Art & City Pte Ltd, the man behind Carré d'artistes, Singapore to find out more. 
1. How does Carré d'artistes make art more accessible and affordable to the public?
The concept of Carré d'artistes aims at breaking the rules of traditional art galleries. In order to achieve this, we offer a different experience in our gallery as compared to many traditional art galleries across the world. Unique artworks in the gallery are sold at a fixed price based on size, regardless of the artist, their experiences, nationality or technique, and prices start from SGD190.
The gallery in Singapore currently holds more than 1,000 pieces (paintings of various sizes as well as sculptures) from more than 20 international artists. Carré d'artistes is a network of more than 30 galleries worldwide representing 600 international artists.
2. Why do you think this concept is popular?
We offer a large variety of artworks that vary in style and size and can be suitable for decorating the home or office. They also serve as unique, sincere gifts for loved ones while fitting different budgets. So, anyone can find something they like in the gallery.
Carré d'artistes' long experience in the market (20 years), the strength of its brand (through its network of over 30 galleries worldwide) as well as their dedicated and passionate team also ensure the quality of artworks as well as the selection of talented artists.
I believe the concept is also popular with artists as they can live from their passion, gain international visibility and have an opportunity to test new things in their creative process.
3. What inspired you to franchise Carré d'artistes into the Singapore market?
I believe the concept is unique and achieves its objective to make art accessible. Because I see Singapore as a modern, multi-cultural and very open-minded city(-state), I feel there is a high potential to welcome the concept.
Today, our gallery's visitors (locals, expats and tourists) can find unique and original artworks they like be it for home decoration purposes or as a gift for their loved ones.
4. Does the gallery offer art pieces that appeal to parents and children? Which artworks/ styles are popular with parents wanting to decorate their kids' rooms?
Currently, the gallery offers artworks from one artist that can cater particularly to young children. The artist has a wealth of experience as an illustrator of children's books. She depicts the animal world in her artworks with humour and lightness.
For older children, they may pick a different style that may appeal to them be it landscape artworks or artworks with pop art and cartoon characters.
5. Why do you think parents are purchasing artworks for their children's rooms these
days?
It is proven that art can provide certain benefits such as reducing stress levels and evoke different emotions in people. As such, exposure to artworks at an early age can contribute to an individual's personal development such astheir critical thinking, creativity and/or empathy.
6. How do you envision these art pieces bringing joy to parents and children?
Art does not address essential needs to live but it can help us to survive and make life more meaningful.
Through what the artist portrays in their artwork, it can bring up emotions that make it a good daily companion.
7. Are there any plans to include more pieces that cater to parents and children?
The artists and their artworks in the gallery are rotating on a regular basis. However, as we want to ensure that our offerings are as broad as possible to address all needs, we will always have at least one artist that particularly caters to parents and their young children.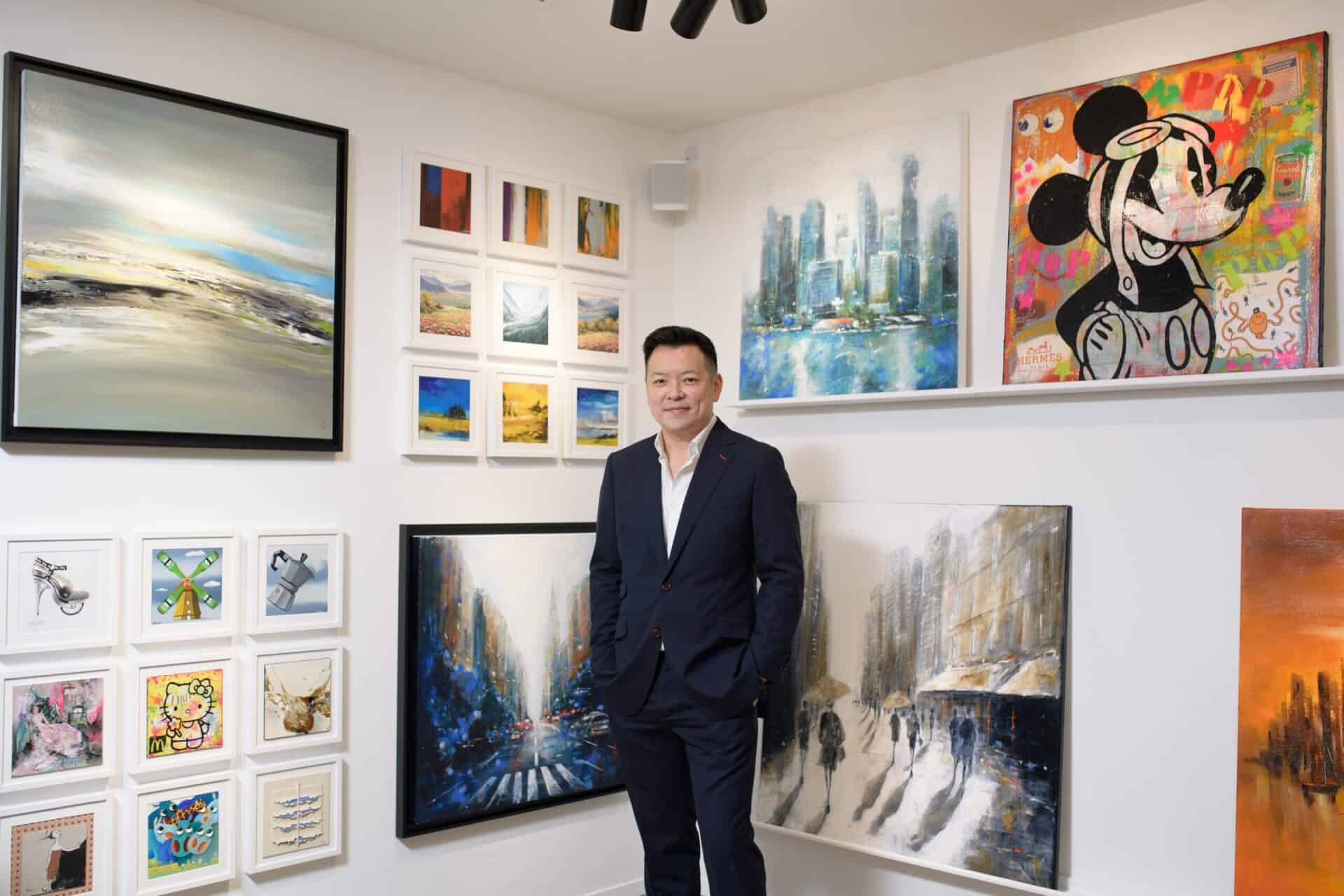 Images credit to Sebastien Chen, Carré d'​artistes
8. What advice do you have for first time art buyers when buying art? What should they look out for?
Buy something you like when you see it. Lean on artists you like at the very first glance. Seek the piece that evokes emotions in you. Follow your intuition. It needs to give you the irresistible desire to see it every day. And of course, it has to remain within your budget.
If it is for your children's room, let them (if they are old enough) pick their preferred one.
It is not the artist's success or popularity which will make it a good daily companion, but certainly the affection for what the artist has to portray, through their art.
9. Does Carré d'artistes have anything exciting in the pipeline for customers to look forward to – ie. workshops, etc.?
Once the restriction measures are eased as the situation improves, we will carry events four times per year where an artist will be invited to paint live in the gallery over a weekend. It will be an opportunity for visitors to learn more about the artist through direct interaction.
This year, 2021 marks the 20th Anniversary of Carré d'artistes as the first gallery was opened in Aix-en-Provence, France, in 2001 by French entrepreneur Stephanie Tosi. Back then, she wanted to change the notion that art is elitist and embarked on her mission to make art accessible to everyone. This concept has become so successful in the last two decades that Carré d'artistes now has a global presence with galleries opened in Amsterdam, Beijing, Barcelona, Istanbul, Moscow and more. Today, the gallery also represents and promotes more than 600 artists globally, offering a wide range of artworks across all styles. Its group of curators are constantly on the lookout for promising new artists to help them develop their craft and sell their works. More details of Carré d'artistes Singapore at www.carredartistes.com/en-sg/
Carré d'artistes Singapore
Address: Paragon Shopping Centre
290 Orchard Road, #04-08
Singapore 238859
Telephone: 6962 3550
Opening hours: 11am to 8pm daily