Super Mommy (我的妈妈是ENY?狮城温馨版), a heartwarming and entertaining Mandarin musical, makes its global debut outside of Taiwan at Resorts World Sentosa (RWS) (圣淘沙名胜世界) on Friday, 18 May 2018, after multiple sold-out runs in Taiwan last year. 
Super Mommy will be running for five weeks at Resorts World Theatre (名胜世界剧场) with a total of 30 shows from 18 May to 22 June 2018. RWS as a premium lifestyle destination resort and entertainment hub that supports home grown performing talent, RWS has pulled together a recognisable local cast for Super Mommy that paints a touching story of one modern family's love and sacrifices.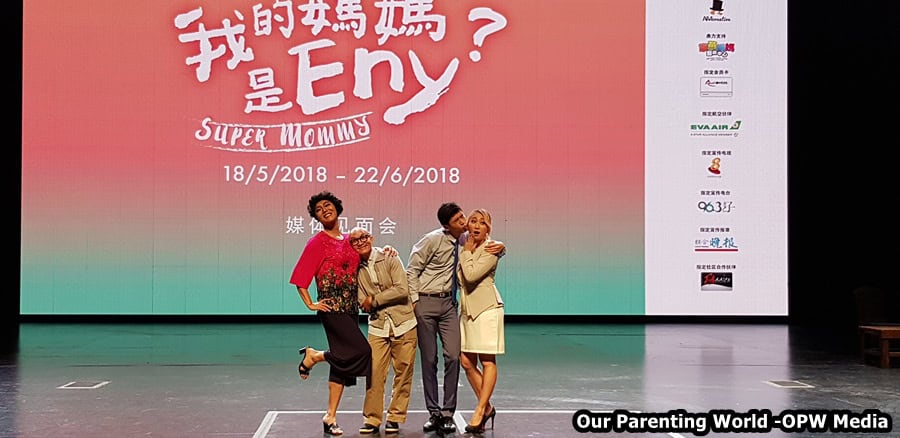 Audience can look forward to a stellar local cast of Super Mommy consisting of Jaspers Lai (赖宇涵), Lin You Fa (林尤发), Chriz Tong (汤薇恩) and Benjamin Josiah Tan (陈俊铭). The story is set in a three-generation household who grapple with real life issues like vulnerability of family ties, treatment of domestic helpers, work-life balance and dementia. 
Dramatic changes descend upon the lives of young Jeremy (小杰), Mother, Father and Grandma when Grandpa's dementia deteriorates. To better care for Grandpa, Indonesian helper, Eny, is brought in to help out. From someone the family barely knows about, Eny gradually bonds with everybody and becomes an anchoring member the family can barely do without.
Neglected by his preoccupied parents, Jeremy develops an attachment to the capable Eny, who also misses her own son in her hometown, as his motherly figure.  Expect loads of simmering tensions, misunderstood intentions, emotional outbursts and tear-jerking moments.
Through this family's experiences, the thoughtful musical fleshes out social issues close to our hearts today, the pressures felt in multi-generation households; how dual-income working parents pull off the juggling act of bringing home the bacon and caring for family; prejudices against domestic helpers; and the challenges of caregivers for sufferers of dementia; and more.
It is a heartwarming musical that will strike a cord in our hearts with issues so relevant to what most of families are facing today.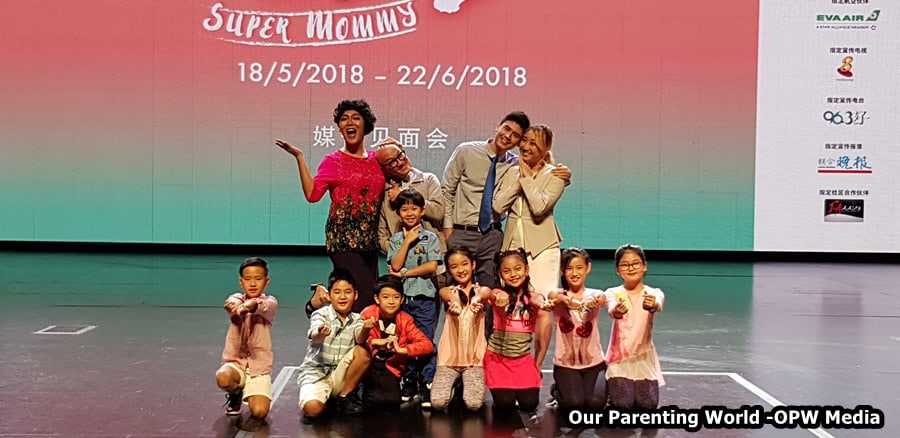 The titular role of Eny, who braves unpleasant prejudices and rises to her call of duty in holding the family together, is portrayed with great conviction by Taiwanese theatre actress and singer Luo Mei Ling (罗美玲). She has played this endearing role in previous instalments of the musical in Taiwan, to great acclaim and excellent reviews.
Separately, eight child performers including Estovan Reizo Cheah (谢颖泽) who plays Jeremy, were handpicked in person by effervescent Hong Kong actress Nancy Sit (薛家燕) through an audition for Super Mommy, and coached by Mother Hong Kong Arts Centre (家燕妈妈艺术中心), an arts centre founded by Nancy. Together with the principal adult cast, they will take theatre goers on a reflective life journey that promise to tug at one's heartstrings, as they view the complicated adult world through their innocent lenses.
Produced by RWS in collaboration with Taiwan's AMcreative, Super Mommy reflects RWS's continued efforts in pushing the creative boundaries of entertainment with relevant localised content that resonates with audiences. This live Mandarin musical, peppered with many surprising comedic yet poignant moments, also features a stellar creative team from Taiwan. 
Performing arts veteran and actress-turned-director Lang Tsu Yun (郎祖筠) takes the helm aptly as the show director (导演), where her very own Indonesian helper also cared for her late father.  Celebrated and renowned pop-music maestro Kay Huang Yun Ling (黃韵玲) has been roped in as Music Director (音乐总监) who depicts Eny's inspiring journey from outsider to fellow family member through her energetic yet soulful music.
With great acting, wonderful music, a touching storyline and backed by a well-experienced creative production team, Super Mommy is set to enthrall and move the entire family.  Tickets are now on sale.  From today till 6 April 2018, theatre goers get to enjoy an early-bird promotion where they receive one complimentary Category One ticket worth S$88 by buying three Category One tickets for any show dates during the show run.  Terms and conditions apply.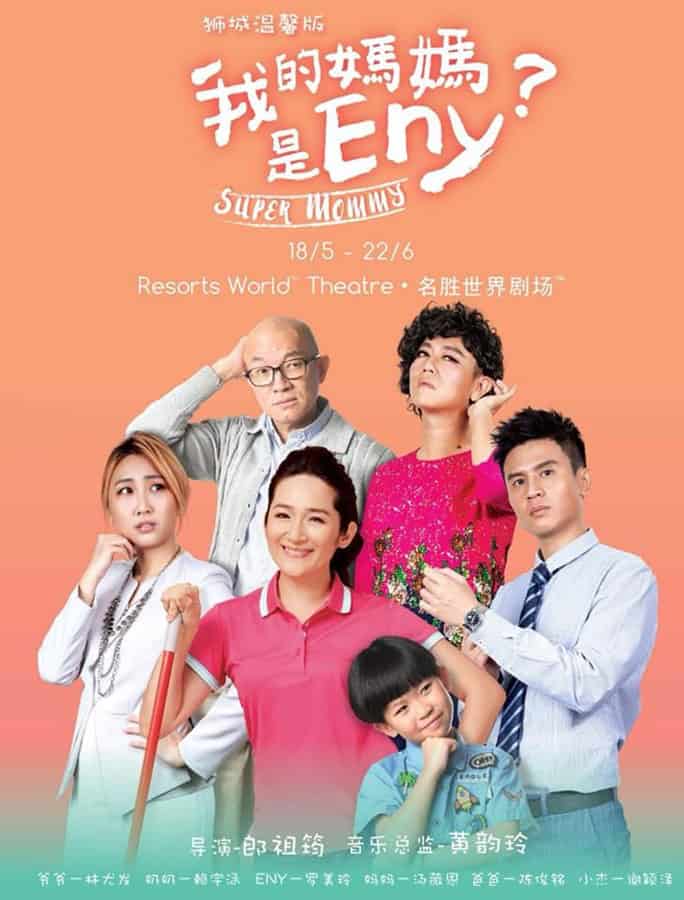 Super Mommy (我的妈妈是ENY?狮城温馨版)
Show Dates: Premieres on 18 May 2018, Friday, and running till 22 June 2018, Friday, for 30 shows on selected nights at 8pm and selected weekends' matinees at 2pm
Duration: 120 minutes (with intermission)
Show Venue: Resorts World Theatre, Resorts World Sentosa
Ticketing : Tickets are priced at S$38, S$58, S$78, S$88 and S$108. Prices exclude SISTIC booking fees and handling charges.
Tickets can be purchased via: (65) 6348 5555, www.sistic.com.sg, Resorts World Theatre Box Office
To find out more, please visit: http://www.rwsentosa.com/supermommy