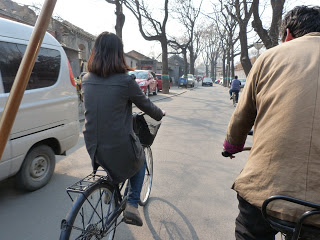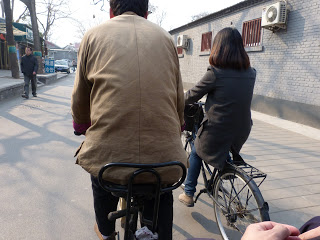 We took a trishaw ride and our tourist guide will cycle besides us whenever the road is clear. If there is an incoming car or bicycle, she will ride infront and cycle back to our side whenever the road is clear.
Our trishaw uncle will show us some of the prominent buildings that we passed by including the
former residence of Mr Mei Lanfang 
梅兰芳
(1894 – 1961),the best known Beijing Opera master ever, the greatest artist in the world, founder of one of the three greatest acting methods created by Shakespeare Stanislavsky and Meilanfang and 
the former residence of Soong Ching Ling 宋庆龄
( 1890-1981 ), once a garden of one of the Qing Dynasty princes's mansions. She was late Honorary Chairman of the People's Republic of China, be known as "the Mother of China". Our tourist guide brought us to a
Siheyuan
(quadrangle courtyard)
四合院
and she told us that by looking at the outer appearance of the house we can tell the status and background of the owner.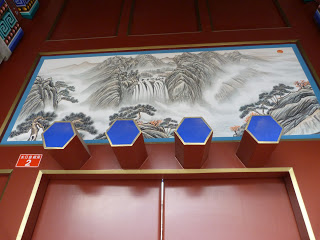 This house has four poles (in blue) which means that he is a high ranking official. If you have four poles, you should marry someone from the family of four poles or more. If you have two poles, you should marry someone from the family of two poles or more. It is ideal to marry someone of the same status or higher. This is a sign to look out for if you are arranging a marriage in ancient China. This house is not opened for public viewing so we can only look at the structure of the house outside.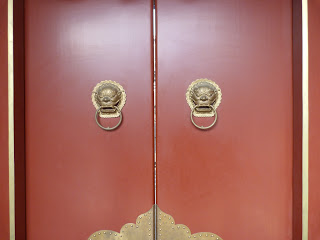 The beautiful door knock
By looking at the stone pillar, you can tell the occupation of the owner. The round stone pillar means he is a marshal.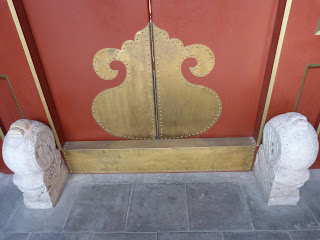 The pillar is placed on the left and right on each side of the door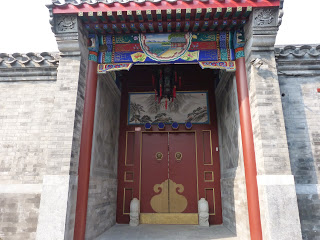 The front view of the house
Next we went to another Siheyuan 四合院 which is opened for public viewing. This house was given to a communist veteran for his contribution to the party.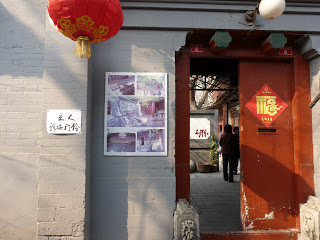 The front part of the house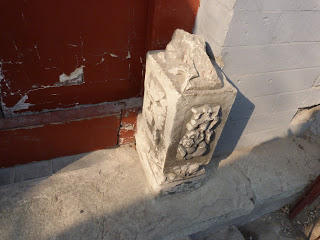 Our tourist guide told us that the square pillar means that the previous owner of the house is a scholar and unfortunately it was damaged during the Cultural Revolution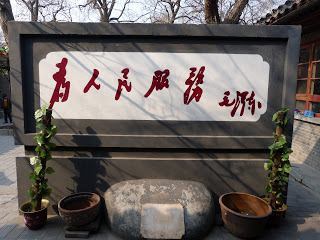 Upon entering the house, there is a huge stone screen of words from Mao Zedong 毛泽东 which means to serve the people 为人民服务.
There is a red star sign to show that the current owner is from the Communist Party of China. This house is given to him by the Party.
To be continued …