2016 Prudential Eye Awards exhibition returns to ArtScience Museum for the second year till 27 March 2016. This year exhibition sees the strongest Southeast Asian representation and works by 15 shortlisted artists which explore the unique themes of Asian history, culture, and environment.
At the exhibition, it represents a selection of the best emerging contemporary art in Greater Asia, which includes three Thai artists for the first time. They are Tawan Wattuya ('Best Emerging Artist Using Painting'), Sutthirat Supaparinya and Anupong Charoenmitr ('Best Emerging Artist Using Digital/Video Work').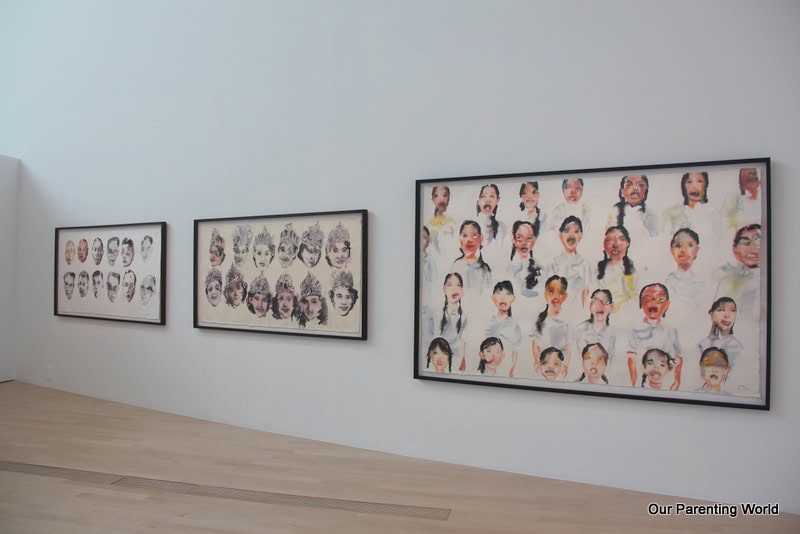 Tawan Wattuya ('Best Emerging Artist Using Painting')
Tawan Wattuya's works have been exhibited extensively in Bangkok, Singapore, Beijing, Paris, New York, Tokyo, Brisbane, and Brussels. He is known for his unique approach in using watercolour as a medium in a deliberate attempt to convey thought-provoking subject matter to explore the complex contrasts of Thai society.
Sutthirat Supaparinya, a Chiang Mai-based visual artist whose work on 'When Need Moves the Earth' captures the consequences of a coal mine and a water dam used to generate electricity, encouraging viewers to reflect on the high consumption of electrical power, and raises the question on how societies can improve its sustainability planning.
Anupong Charoenmitr's work draws on observation and experience that are rooted in being true to life, he was born in Bangkok in 1981. He graduated with a BA in Fine Art of Photography from Rangsit University and an MBA in Fine Art from Silpakorn University, both in Bangkok.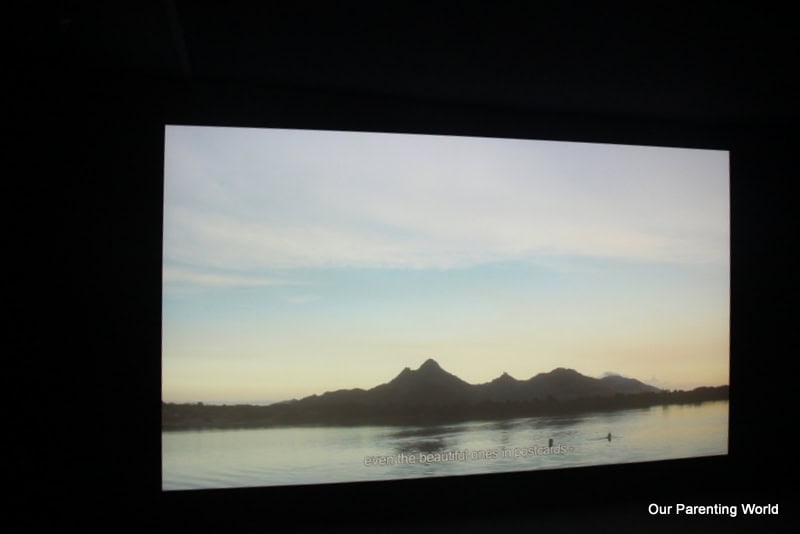 A Vietnamese artist, Trinh Thi Nguyen who is an independent filmmaker and video artist has been nominated at the Prudential Eye Awards for the first time. 
'Letters from Panduranga' by Trinh Thi Nguyen was inspired by the Vietnamese government building the country's first two nuclear power plants in Ninh Thuan, right at the spiritual heart of the Cham people, threatening the survival of this ancient matriarchal Hindu culture that stretches back almost 2,000 years. The film reflects on the legacy of war and colonisation history of Vietnam.
Metal Graves by Shumon Ahmed
Representing Bangladesh for the first time at the prestigious awards are Shumon Ahmed and Promotesh Das, their artworks reflect and express environmental and war issues. 
Shumon Ahmed's series of photographs on 'Metal Graves' portrays the ugly environmental effects at the world's second biggest ship-breaking industry. The broken ships in their metal graves embody nostalgia for a lost past, and a disregard for environmental contamination fueled by urban growth and industrialisation.
Promotesh Das' series of sculptures are imbued with a sense of tenderness and horror, juxtaposing beautiful shola flowers with war equipment and artefacts.
Warning House by Sareth Svay
Other exhibits to look out for including sculptures by Cambodian artist Sareth Svay. His practice in sculpture, installation and durational performance employ materials and processes intentionally associated with war like metals, uniforms, camouflage and actions requiring great endurance. 
Sareth Svay won the overall Emerging Artist of the Year award.
Conversation Unknown by Aditya Novali
Aditya Novali studied architecture at Parahyangan University in Bandung and his work is influenced by his architecture school, is more structural and formalistic. Recently he has tried to trace back his early passion in drawing and mathematics, emotion and calculation, archive and imagination, in more recent contexts. This can be seen in his work like Conversation Unknown (2015). 
The Prudential Eye Awards 2016 winners are:
1. Overall Emerging Artist of the Year
Sareth Svay (Cambodia)
2. Installation
Huang Po Chih (Taiwan)
3. Digital/Video
Trinh Thi Nguyen (Vietnam)
4. Painting
Manish Nai (India)
5. Photography
Shumon Ahmed (Bangladesh)
6. Sculpture
Sareth Svay (Cambodia)
7. Lifetime Achievement Award for Asian Contemporary Art
Sakarin Krue-On (Thailand)
8. Visual & Pop Culture
Slot Machine (Thailand)
9. Best Asian Contemporary Art Institution
Spring Workshop (Hong Kong)
10. Best Exhibition of Asian Contemporary Art
'Great Crescent: Art and Agitation in the 1960s – Japan, South Korea and Taiwan' from Para Site (Hong Kong)
Catch their artworks and all the shortlisted artists' artworks at the Prudential Eye Awards exhibition from now till 27 March 2016.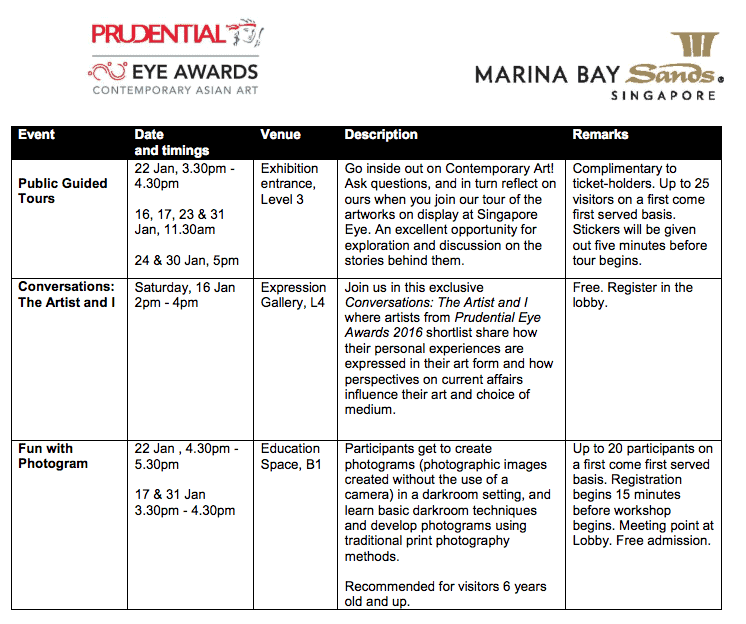 Additional Information and Highlights: 
Complementing this year's Prudential Eye Awards exhibition is a series of complimentary public guided tours, workshops and an exclusive conversations series with some of the artists. These activities aim to deepen audiences' engagement with the displayed artworks, by facilitating discussion and exploration of the stories behind them. 
Also presented exclusively during the opening weekend is the Conversations programme: 'The Artist and I'. Audiences will have the opportunity to hear selected artists from the Prudential Eye Awards 2016 shortlist share how their personal experiences are expressed in their art form, and how perspectives on current affairs influence their art and choice of medium. 
ArtScience Museum is also presenting a series of 'Fun with Photogram' workshops for aspiring artists. The public can learn how to create photographic images without the use of a camera, and learn basic darkroom techniques to develop photograms using traditional print photography methods.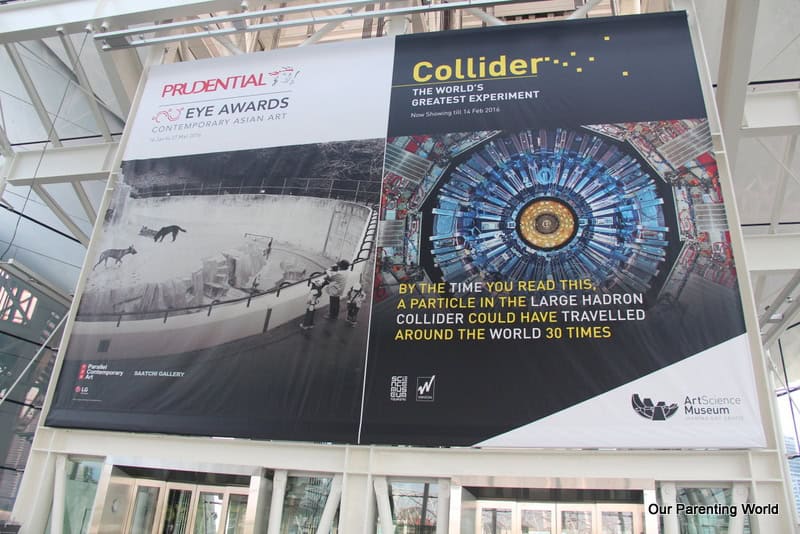 Tickets to the exhibition are available at all Marina Bay Sands box offices and ticketing portal http://www.marinabaysands.com/museum/