Our Parenting World team joined in the 3M Step-Up Challenge on Thursday, July 6, 2017, at the Singapore Sports Hub (outdoor area outside Kallang Wave Mall) where we joined other sports icons to attempt to break the previous past launch step count records.
This year 3M Step-Up Challenge @ South East's launch will mark the community initiative's fifth year milestone. The launch event took place at the OCBC Square, Sports Hub, where participants took to the stairs, trampolines and steppers to break the 200,000-step launch record, while raising 3M household products for 4,000 underprivileged elderly and families in the South East district. It is a meaningful event that Our Parenting World team is happy to support! 
Long-time supporters participating this year include PCF Sparkletots pre-schoolers and CHIJ Katong Primary students. There are also more than 240 employees from 3M, NTUC FairPrice, and Standard Chartered who have volunteered to step-up.
Leading the launch is Ms Cheryl Chan, Advisor to Fengshan GROs, Dr Mohamad Maliki Bin Osman, Senior Minister of State, Ministry of Defence, Ministry of Foreign Affairs and Mayor, South East District, and Ms Yuko Nakahira, Managing Director, 3M Singapore.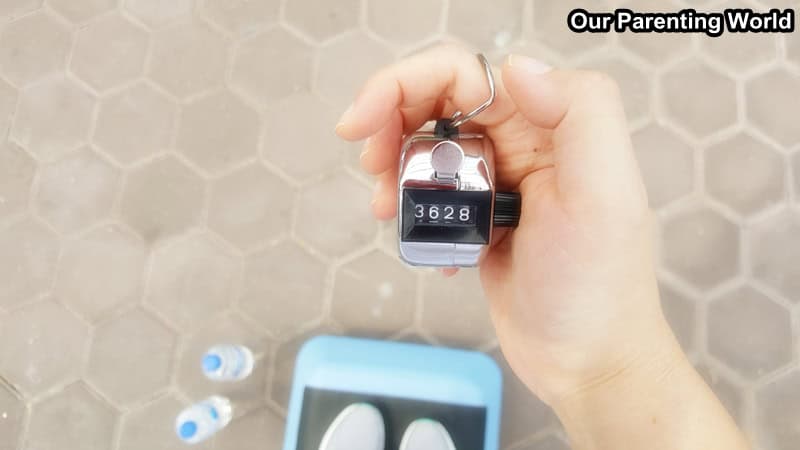 Our Parenting World team took up the 3M Step-Up Challenge attempting to clock as many steps!
"This marks the fifth year that 3M Step-Up Challenge @ South East has benefited the South East community, and we are proud to share that we have come a long way since its beginnings five years ago. The 3M Step-Up Challenge has rallied together residents from various ages and backgrounds, including those from private sectors, and community partners such as schools, grassroots, and many others for a good cause. We thank 3M Singapore and our other community and corporate partners for their valuable partnership, and look forward to continued collaboration in the years to come." shared by Dr Mohamad Maliki Bin Osman.  
Ms Yuko Nakahira added that "As we step forward towards our fifth-year milestone, in addition to improving lives at home, we are also looking at ways to go beyond products to improve the environment of a community, and plan to refurbish a Senior Activity Centre in the South East District. We are committed to continue our efforts in helping families and elderly, both at home and in community spaces, especially in highly urbanized cities like Singapore."
For its contributions to the communities of the South East District, 3M was among 33 organizations that was awarded an 'Excellence Award' at last night's People's Association Community Spirit Awards (PACS).
On the achievement, Ms Nakahira elaborated: "We are honoured to be awarded the PACS Excellence Award in 2017. This reinforces our sustained efforts over the past four years to better the lives of communities, one step at a time."
About the 3M Step-Up Challenge @ South East 2017
Scheduled to take place from July 6 to August 28, 2017, the 3M Step-Up Challenge @ South East 2017 aims to inspire 30,000 members of the public to accumulate 10 million steps to raise 3M household items for 4,000 elderly and families-in-need. The initiative is jointly organized by global science company 3M and the South East Community Development Council.
All beneficiaries will receive a 3M Household Pack worth $40 that includes five everyday household items:
Scotch-Brite™ Easy Sweeper Paper Wiper Starter Kit

Scotch-Brite® Heavy Duty Scrub Sponge, 3pc/pack

Scotch-Brite™ Kitchen Cloth

Scotch-Brite™ Japanese Sponge Cloth, 2pc/pack

Command™ Medium Hooks, 2pc/pack
Step-Up with 3M at NTUC FairPrice Outlets till July 31
To spice up the challenge, 3M Singapore is partnering with NTUC FairPrice for the second year running to have aerobic steppers at selected outlets to encourage its shoppers to step-up while they do their groceries. This will take place over three weekends in the month of July 2017.
In addition, from July 1 to July 31, 2017, five percent of the sales proceeds for every 3M product purchased at NTUC FairPrice outlets will contribute to 3M's sponsorship.
Details of the Roadshows are as follows:
Store Date/Time:
Fairprice Xtra AMK Hub July 8 to 9
1 pm – 7 pm
Fairprice Xtra Hougang Point
Fairprice Xtra Nex July 15 to 16
1 pm – 7 pm
Fairprice Xtra JEM
Fairprice Xtra Kallang Wave Mall July 29 to 30
1 pm – 7 pm
Want to Organize a Roadshow?
A number of organisations will be holding their own 3M Step-Up roadshows. Some of the more unique efforts include roadshows by the Gardens By The Bay at its iconic supertrees and a corporate roadshow involving start-ups and businesses at Paya Lebar Square.
Those who are keen on organising a 3M Step-Up Challenge event at their office, school or association and contribute to the 10 million step target can get in touch with Ms Raine Ong at 6319 8728 or [email protected] for more details.
For more information on the 3M Step-Up Challenge @ South East 2017 and how to participate in it, please visit go.3M.com/3mstepup.
3M, Scotch-Brite, and Command are trademarks of 3M.