Whether you are a culture vulture or simply looking for quirky gifts, there is always something for you in Dubai's traditional markets 
Look no further than Dubai's time-honoured markets or souqs if you're searching for an authentic Arabian shopping experience, that Bohemian top, funky memento or nicely-plated jewellery at reasonable prices. With an eclectic array of sights, scents and sounds, the city's souqs are wonderful attractions not to be missed. From chocolate dates, aromatic spices, quirky souvenirs to beautifully made clothing, you're sure to find what you're looking for. Brimming with over a thousand stores, opportunities for affordable shopping abound in Deira and Bur Dubai, just remember to practice your haggling skills before your visit!
It is incredibly easy to meander the historic alleyways of Dubai's souqs and get a taste of the city's trading history. Along with the rare and unique opportunity to witness glimpses of fair trade, the souqs showcase local produce, fabulous wears and hipster cafes – with everything else in between. Discover the allure of Dubai's souqs, which offer more than just retail therapy for families and couples!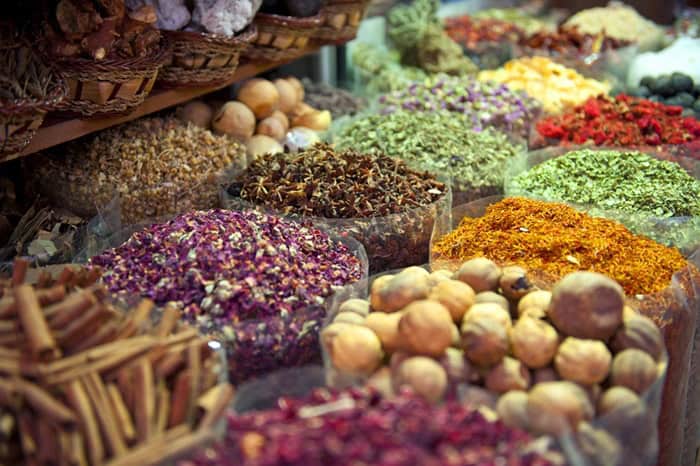 Spice Souq
Located close to the waterways of the Dubai Creek, let the scents of frankincense, citrus and rose petals guide you through the Spice Souq in Deira. Each store stocks a curated selection of the world's best spices, dried fruits and goods, along with great bargains. You'll also find premium quality dates, saffron, turmeric, indigo and many more herbs and spices, as well as commonly used spices in Arabian cuisine include sumac, dukkah, za'atar and bezar.
Transport yourself into a glimmering world filled with dazzling window displays when you visit the famous Gold Souq. Comprising 380 retailers – most of whom are jewellery traders from all parts of Arabia – the Gold Souk is a must-see for serious precious metal traders, couples looking for a statement jewellery piece, or visitors hunting for that special memento. Also on display at the souq is the world's largest ring, The Najmat Taiba or Star of Taiba, which is estimated to cost more than USD 3 million! And if you dig deep enough, you'll uncover ornate gifts, strings of pearls, platinum, silver and a tempting array of diamonds.
Worried about authenticity? The good news is that all merchandise sold is strictly regulated by the Dubai Government to ensure all gold sold is 100% authentic.  
Oud, bakhoor, myrrh…Dubai's Perfume souq has it all. Brimming with hundreds of stores selling traditional Arabian scents, let the powerful aromas tantalise your sense of smell the moment you set foot in Deira's Sikkat al Khali Street. With plenty of scents to choose from over hundreds of stores, you can find beautifully-scented fragrance options at any turn! From woody, spicy, exotic, citrusy, zesty to floral, the Perfume Souq has a broad range of scent-sational fragrances.
A short abra ride across the Dubai Creek, this souq in the old trading centre of Bur Dubai features dozens of markets and stores selling textiles in all shades, prints, weaves and textures. Whether you're looking for Pashmina scarves, a one-of-a-kind embroidered top with inspired charms or raw silks and cotton, you'll find it all at this traditional souq. Spend either the morning or afternoon skimming through the endless collection of beautifully coloured silks and fabrics.
In addition to fabrics and cloths, you'll also find a collection of buttons, sequins, stones, lace and other accessories to help you add a touch of Arabian flair to your personal wardrobe. 
Bur Dubai is also home to many cosy cafes and restaurants nestled along the banks of the creek that offer an astounding view of the river where pearl boats once docked. Pop by Mazmi Café and More, Creekside Restaurant and Café or Bayt Al Wakeel for some tantalising food and drinks.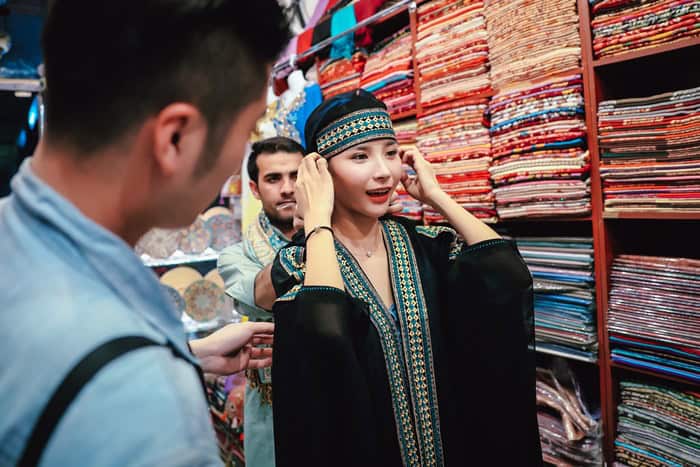 Cool Things to Buy for Family and Friends!   
Camel Milk Chocolate and Soap Products  
Combining the finest traditions of chocolate-making with creamy, nutritious camel milk, Al Nassma premium camel milk chocolates are decadent and luxurious. Their praline gift boxes, containing an assortment of flavours including whole milk, dates, 70% cocoa and Arabian spices, are must haves.
If you don't have much of a sweet tooth, bring back a gift of handmade soap and treat yourself to the powers of camel milk. These all-natural soaps from The Camel Soap Factory are made in Dubai using 25% camel milk, which is known to heal and soften skin, as well as pure essential oils and fine olive oil. Take your pick from fragrances such as lemongrass, sweet orange and cinnamon, lavender, and rosemary and peppermint.
Oud and Bakhoor
Oud and Bakhoor are everywhere in Dubai – souqs, shopping malls, homes, hotel lobbies. Derived from resin and worn by both Emirati men and women, oud is a fragrant oil with a distinctive, mesmerising scent. Oud is also one of the most expensive natural resources in the world, fetching 1.5 times the price of gold. If you prefer a woody scent, grab sticks of Bakhoor, a woodchip submerged in perfumed oil and mixed with other natural concoctions and ingredients, including resin, sandalwood and essential oils.