This year, National Day Parade 2015 for its Parade & Ceremony segment will involve more than 2,000 people in 37 contingents which will include a record of 16 civilian from social and economic contingents. They have trained for more than 200 hours including 9 weekday training sessions and 16 weekend rehearsals with 177 trainers for 52 minutes on Parade.
The 16 civilian companies and organisations will showcase in the past 50 years, how rapidly Singapore has progressed both economically and socially. Some of these companies took part in the Parade for the first time are Changi Airport Group Pte Ltd and ComfortDelGro Corporation Ltd. Other companies taking in the Parade include DBS Bank Ltd and OSIM International Ltd etc. 
At the Parade will feature four Guard of Honour contingents which include 96 personnel and 2 Continent Commanders from Singapore Armed Forces (SAF) and the Singapore Police Force. The participating units are 1st Commando Battalion (Army), Naval Diving Unit (RSN), Air Power Generation Command (RSAF) and Police Training Command (SPF). The SAF Colours Party where the colours are awarded in recognition of the achievements in the field of combat, training, administrative efficiency and community services. There will be a total of 32 regimental colours on the parade. 
The Combined Band contingent for National Day Parade includes 129 members from the SAF Band, SPF Band and students from the National Cadet Corps and National Police Cadet Corps Bands. 
Supporting Contingents at the Parade include Military and Civil Defence and 10 Uniformed group contingents representing Singapore's youth and our Nation's future.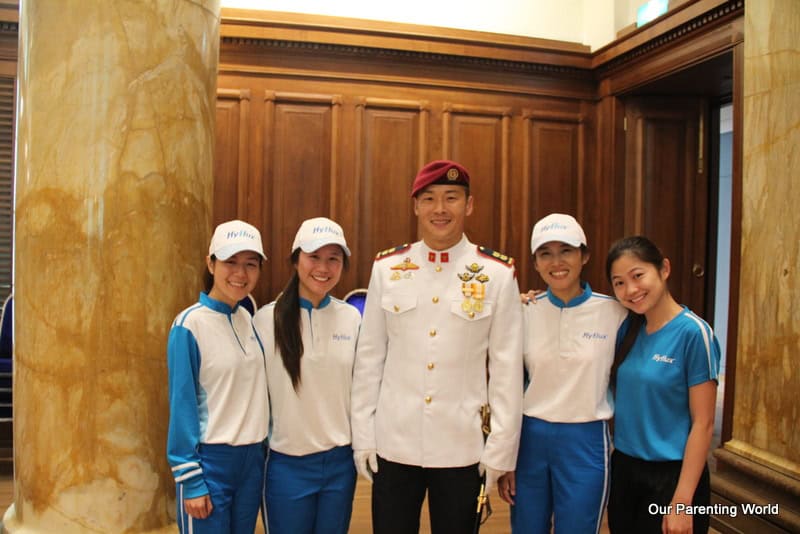 This year Parade includes Hyflux's all female contingent made up of 63 staff from various departments in the picture with Parade Commander (LTC) Alvin Tjioe Jin Kiat. 
The Chairman of National Day Parade and Ceremonies COL Simon Lee Wee Chek (at the middle in red) with Parade Commander (LTC) Alvin Tjioe Jin Kiat (fifth from the right), Parade Regimental Sergeant Major (MWO) Chua Wee Giap (fifth from the left) together with some of the participants representing the 37 contingents taking part in the Parade. This year National Day Parade Parade segment is the largest and the participants are chosen from all walks of life of different races and ethnic backgrounds to represent Singapore. Please click HERE to find out more about National Day Parade 2015.