My relatives were here to attend my brother's wedding. Gor Gor has a chance to catch up with his cousin from Canada. They became very close when they stayed at our place.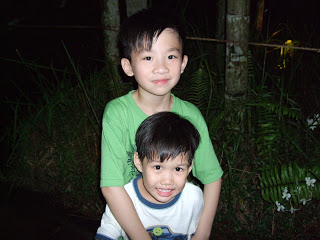 Before we go to Night Safari, it started to rain, Nathan was so worried that he began to sing "Rain rain go away" and Gor Gor was so helpful that he wanted to sing along with Nathan to help chase the rain away. They are so adorable.
Fortunately the rain stopped when we reached the place and Nathan was so happy. We all had a good time. Gor Gor saw a soft toy deer at the shop, he went to kiss it. A group of people were surrounding the shop and two ladies saw and said loudly so cute. The people around heard and they gathered to watch him kissing the toy deer.