Do you have dark circles, puffiness, and dreaded fine lines around your eye area? Now you can achieve youthful looking eyes and care for the skin around your eyes with the NEW Sigi Skin Gentle Gaze Eye Cream!
The NEW Sigi Skin Gentle Gaze Eye Cream is the ultimate eye rescue. The Gentle Gaze helps to nourish and brighten your eye area while reducing signs of skin ageing and fine lines to achieve a youthful and plump under eye area! This is the solution to protect the windows of your soul and maintain a youthful look.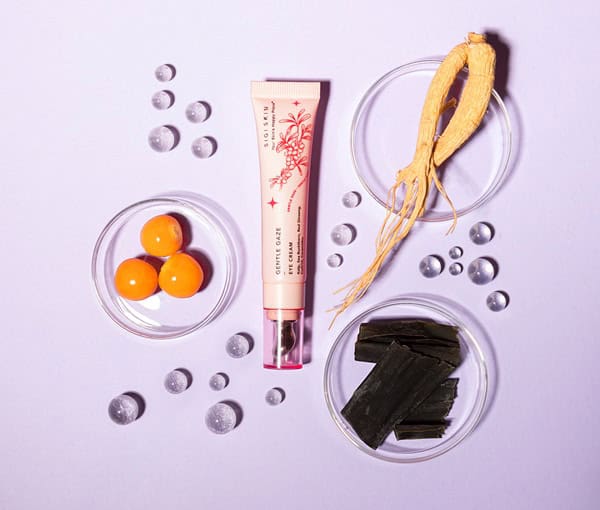 Consisting of a concoction of superfood ingredients such as Red Ginseng, Sea Buckthorn and Kelp. The powerhouse botanicals effectively reduces signs of ageing and fatigue, and boasts multiple benefits like:
Promoting collagen production to smooth fine lines

Increasing oxygenation and circulation to skin cells

Improving appearance of redness in sensitive skin

Boosting hydration and keeping the skin moisturised
More clinically proven actives include Coenzyme Q10 which aids in producing collagen and elastin, and Ceramides, which help to strengthen the skin barrier and firm the skin.
Lightweight & Pillowy Soft Texture
Consisting of non-greasy formula that is quick-absorbing and leaves no trace of sticky residue. Its lightweight texture blends effortlessly into the skin, making it perfect to use for both day and night time. Despite its non-greasy texture, it still reigns supreme in hydration and moisture.
If you're a victim of the dreaded milia seeds and clogged pores, worry no more! Gentle Gaze's airy light texture prevents milia seeds from surfacing which is a common problem in Singapore's humid weather and for oily-combination skin types.
One Swipe Is All You Need
Gentle Gaze comes with a specially designed metal applicator which dispenses just the right amount of product, making it a breeze to apply without dragging the skin. This fuss-free applicator helps to instantly de-puff eye bags and lids even when you're on the go!     
Directions for use:
Gently massage a pea-sized amount of Gentle Gaze onto cleansed skin under each eye using your ring finger or the metal applicator that is designed to fit perfectly under your undereye.

Suitable for use daily, in the morning and at night.
Sigi Skin Gentle Gaze Eye Cream ($78 for 15ml) is available at www.sigiskin.com