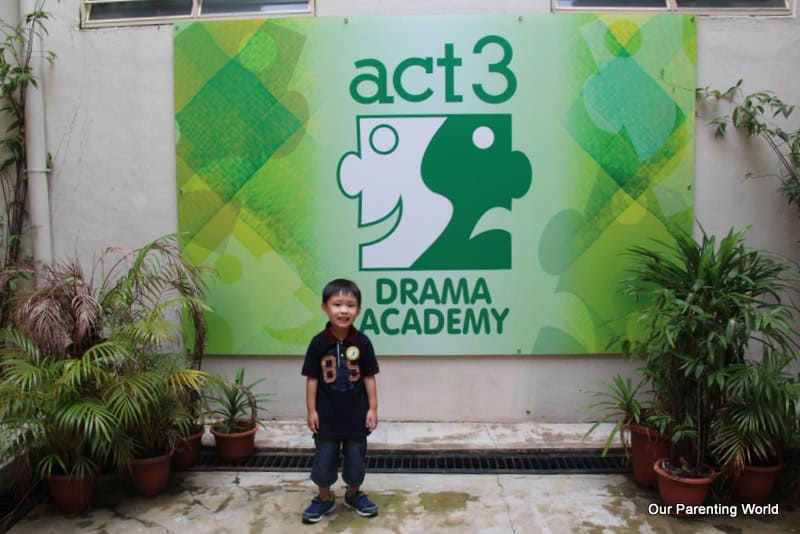 School holidays are just round the corner and Our Parenting World, Gor Gor and Di Di are all gear up on a mission to find interesting and enjoyable activities to spend a meaningful holidays!
ACT 3 Drama Academy known for its creative and innovative enrichment programmes for the young, will be conducting workshops in the November-December holidays for the following age group – 2 years old (accompanied by parent), 3 to 4 years old, 5 to 7 years old, 8 to 10 years old, and 11 to 15 years old.
The workshops are based on water-inspired classics, are highly interactive and encourage children to think creatively, verbalise thoughts, as well as discover and develop their sensory skills. Intriguing with plenty of room for imagination, the stories revolve around themes of discovery and friendship.
Sound interesting isn't it?
Gor Gor and Di Di participated in an exclusive workshop specially arranged by ACT 3 Drama Academy for 4 to 9 years old.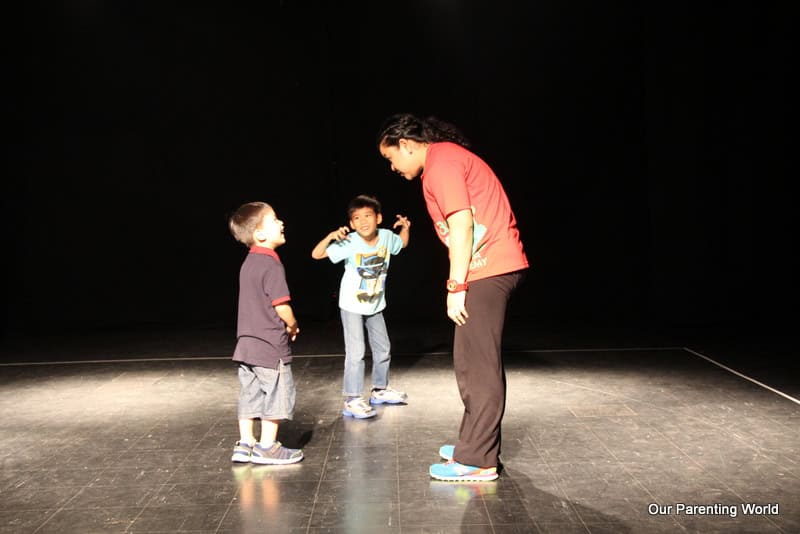 "Hello Teacher, what's my role?"
"Can you guess what am I?"
Some children are trees, some are wild things … and Di Di is a tree, he looks like a happy tree. 
Children get to do role play, exercise their imagination and creativity. 
The children all look so impressive in their roles and they have fun exploring out their characters.
Thanks to the organisers and ACT 3 International for having us, it was a fun morning for us, while the children were in their workshop, parents were also invited to have a taste of drama.
We get to flex our muscles, use our creativity and do some role playing as well. Warm greetings to all the lovely parents we met at the workshop, we all had a good time!
Additional Information:
ACT 3 Drama Academy November-December Holiday Workshops Based on water-inspired classics
For 2 to 15 years old
17 November to 20 December 2014
The workshops consist of up to 15 children and are led by drama educators who are trained in the use of drama for learning, playing and self-discovery. To register, parents are invited to book online at www.act3international.com.sg, call ACT 3 Drama Academy at (65) 6735 9986, email at [email protected] or visit the premises located at ONE-TWO-SIX Cairnhill Arts Centre, 126 Cairnhill Road at least two weeks in advance.
Nearest MRT Station
NEWTON (7 minutes away)
Nearest parking
Cairnhill Arts Centre car park
(via Cairnhill Rise)
Anthony Road car park
(5 minutes away)
Nearest pit stops
Paragon Shopping Mall/
Newton Hawker Centre
(7 & 10 minutes away) 
Discounts
20%

 

Early Bird Special till 




13 October 2014

 

 

 

15%

 

for students currently with 




ACT 3 Drama Academy

 

 

 

10%

 

if you are an OCBC Platinum Mastercard or OCBC Arts Platinium Mastercard Holder, OCBC Child Development Account (CDA) Holder and OCBC Might Savers ™ member

 

 

 

10%

 

if you register 2 children or more