ACT 3 International, Singapore's leading Arts company for the young, invites audiences on an exhilarating musical 'roller coaster' of sorts in a truly unique original performance – Crazy Classics with Sid Bowfin – a high-energy solo act promises plenty of rollicking hilarity by the talented musician and comedian!
This self-confessed "manic idiot violinist" – whose enthusiasm for the classics is highly contagious; and surpassed only by his zany antics and flawless technique promises a brilliant combination of classical music, recital, stand-up comedy, audience interaction and even a clown routine.
Our Parenting World is pleased to share a very special short message from Sid to our Singapore audiences as follows:
Sid says Hello Singapore!
Come meet Sid Bowfin, a very talented and comical musician, as he brings you on a crazy rollercoaster ride of laughter, music and great fun! With his zany antics and effortless way of playing the violin and interacting with his audience at the same time, you and your child will enjoy every moment of this classical music performance.
Sharing his love for the great classics, Sid will play famous tunes from composers such as Mozart, Vivaldi, Rossini and Pachelbel as well as surprise you with some very unexpected pop hits. And hey, if you and your child enjoy listening to what Sid is playing, he might even pick YOU to help him spread his joy!
So prepare yourself for a musical treat!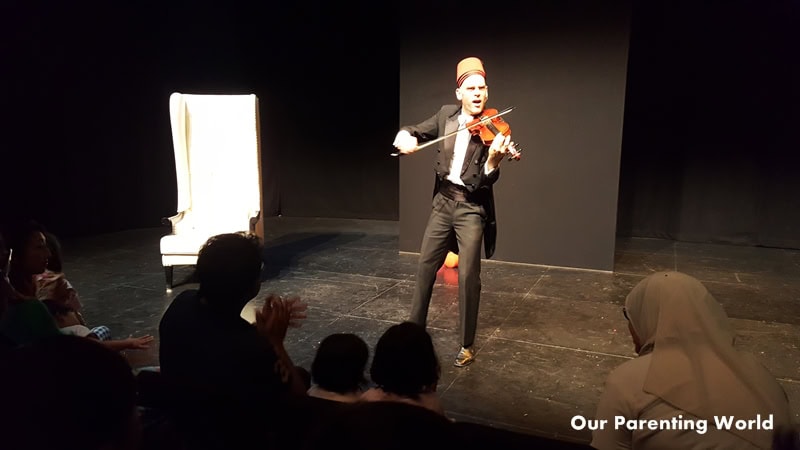 Our Parenting World's Junior Reviewer, Vincent watched ACT 3 International presents Crazy Classics with Sid Bowfin on 26 February 2017 and here's his thoughts on the show:
Sid Bowfin is such a talent! He brings a lot of fun and joy to the audience combining his skilful act of playing the violin and as well as a brilliant comedian. We are laughing throughout the show.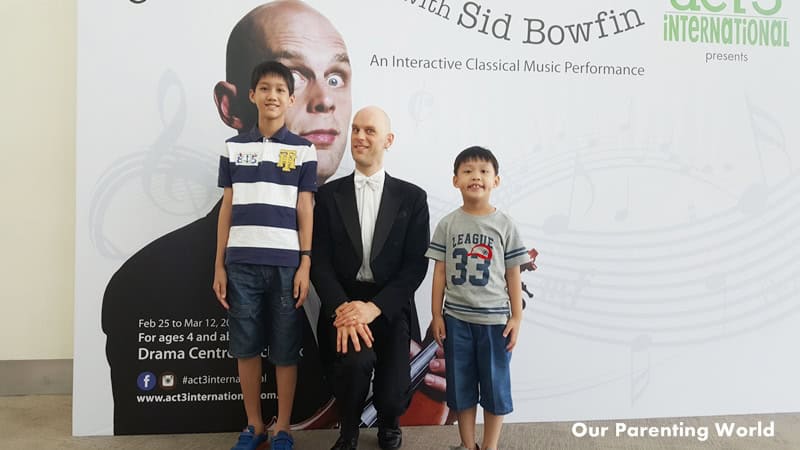 Sid Bowfin will be performing at Drama Centre Black Box till Sunday, 12 March 2017 and don't miss it! It is a great time out with your family to enjoy music and comedy at its best. Sid Bowfin will make you love classical music all over again!
ACT 3 International are the presenters for Crazy Classics with Sid Bowfin, an interactive Classical Music Performance for ages 4 years and above.
Crazy Classics with Sid Bowfin
Event Date:
Saturday, 25 February – Sunday, 12 March 2017
Weekdays: 9am
Weekends: 10.30am & 2.30pm
Venue:
Drama Centre Black Box
Ticket Pricing:
(Excludes Booking Fee)
Weekdays
Standard: S$28
Weekends
Standard: S$38
To find out more and get your tickets, please go to SISTIC at http://www.sistic.com.sg/events/ccrazy0317 
Good News! 
Facebook Contest:
ACT 3 International is giving away 1 set x 3 tickets to 1 lucky winner to catch 'Crazy Classics with Sid Bowfin on 25 February 2017, Saturday, 2.30pm held at Drama Centre Black Box.
Please go to Our Parenting World Facebook for more details. To participate in the giveaway, please click HERE.
Hurry, giveaway will close on 21 February 2017 at 23:59Hr
Thank you and Good Luck!
Show: ACT 3 International presents 'Crazy Classics with Sid Bowfin'
For 4 years old and above
Date and time of show: 25 February 2017, Saturday, 2.30pm
Venue: Drama Centre Black Box, Level 5, National Library Building
ACT 3 International's Terms and Conditions
– Prize is non-transferable, non-refundable and non-exchangeable
– Children younger than 1 year old will not be admitted
– To redeem the tickets, winner will need to come to the entrance of Drama Centre Black Box (5th floor) 30 minutes before show time and show his/her IC to the staff.
Terms and Conditions 
Entry into the giveaway contest will be deemed as acceptance of these terms and conditions. The rules of the giveaway contest and how to enter are as follows:
1) The prize is as stated, subject to change and fulfillment by the sponsors. Winners are not allowed to change the prizes. The prize will be non-transferable, non-refundable and non-exchangeable for other products/dates/times. The sponsors reserve the right to amend the giveaway contest, substitute any prize or with another of equivalent value without giving notice.
2) All participants have the opportunity to win as long as you have completed and fulfilled all the steps/requirements specified on the giveaway contest. Please make sure your likes and shares are set to public for verification purposes. Incomplete entries and fake accounts will be disqualified at the discretion of the organisers.
3) Winners of past giveaways in the last one month will not qualify for this giveaway, please wait till after one month from the date that you have won to participate in the current giveaways. 
4) Giveaway contest is open to all Singapore residents with a valid Singapore mailing address
5) The organiser (ourparentingworld.com) is not responsible for inaccurate prize details supplied to any entrant by any third party connected with the giveaway contest and by the sponsors.
6) Winners will be notified by email /Facebook/Instagram after the contest has ended. If the winner cannot be contacted or do not claim the prize, we reserve the right to withdraw the prize from the winner and or pick a replacement winner. 
7) The organiser reserves the right to cancel the contest if circumstances arise outside of its control.
8) The sponsor's and the organiser's decision in respect of all matters to do with the giveaway contest will be final and no correspondence will be entered into.
9) Other terms & conditions apply.