Back by popular demand, Singapore's leading Arts company for the young, ACT 3 International is proud to announce the return of the third instalment of ACT3i Festival for Children this June where families can look forward to world-class theatre performances and a performance workshop that are perfect activities for the school holidays.
Held at the Asian Civilisations Museum, this year's festival consists of five original theatre performances from South Africa, England, and Argentina and an immersive workshop session. Passionate about sharing the importance of this art form as a key contributor to developmental growth, ACT 3 International has curated this festival specifically for children from age four months to eight years old.
Ruby Lim-Yang, Artistic Director of ACT 3 International shares: "With technology being so prevalent these days, it is more important now than ever before to advocate Theatre and the Arts as an avenue to best nourish their artistic appetite and imagination. With our legacy and experience in theatre for children, we are committed to offering a range of quality programming that is both fun and enriching for the little ones."
Since its establishment in 1994, ACT 3 International has been the pioneer advocate of drama for babies and early years; committed to forming a holistic creative environment of learning through the Arts.
Please like @act3international 's FB / IG for updates on their shows and programmes.
Additional Information:
Event: ACT 3i Festival for Children
Dates: 1 to 9 June 2019
Venue: Asian Civilisations Museum, 1 Empress Place, Singapore 179555
Hashtag: #act3international #act3ifestival
Tel: (65) 6735 9986 
More information and updates, please visit its website as follows: http://act3international.com.sg/act3ifestivalforchildren-2019/  and http://www.act3international.com.sg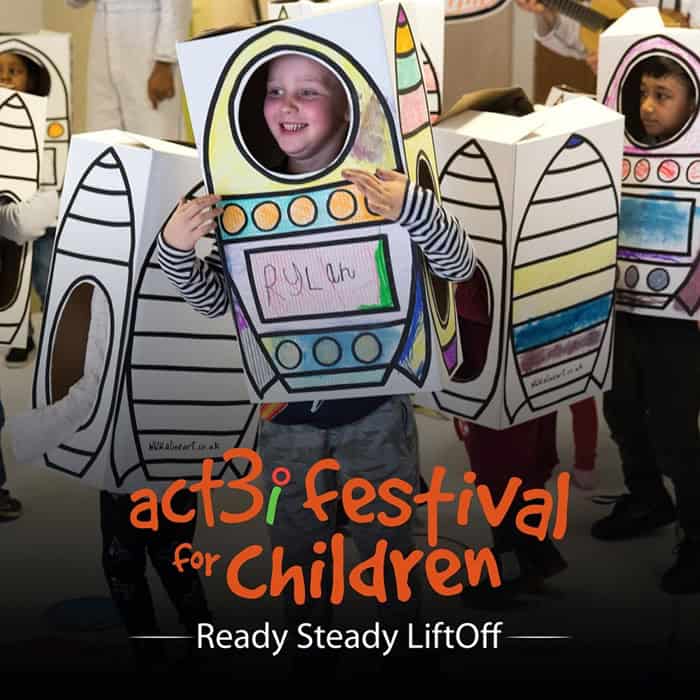 Good News! Giveaway Alert! 
Thanks to ACT 3 International, we are giving away a pair of tickets for you to bring your child to watch Ready Steady Lift Off!
Giveaway details as follows: 
Prize: 2 tickets for Ready Steady Lift Off!
Show date: 5 June 2019 (Wednesday)
Show time: 2.30pm
Duration: 50 minutes, no interval
Venue: Asian Civilisations Museum, Discovery Room
About Ready Steady Lift Off! This colourful performance trains children to be an astronaut, make their own rocket, colour it and LIFT OFF! Ready Steady Lift Off! is an immersive theatre show combining live performance, music, storytelling and painting into one interactive theatre show. This immersive experience will get the family colouring and creating together, children will decorate their own rocket and orbit around space, meeting strange creature and overcoming some cosmic catastrophes before finally flying their rocket home! Excerpt: http://act3international.com.sg/act3ifestival-2019-liftoff/ 
Here's how to enter the giveaway: 
1) LIKE and FOLLOW Our Parenting World Facebook Page and ACT 3 International Facebook Page
2) LIKE, SHARE and TAG 5 friends to share this Facebook Giveaway Post
3) FOLLOW our Instagram at @opwmedia  and @act3international
Hurry, giveaway will close on 27 May at 23:59Hr. 
Thank you and Good Luck! 🙂 
Giveaway is closed, winner has been announced and notified, for winner's announcement, please visit this LINK. 
ACT 3 International's Terms and Conditions
1)  Prize is not transferable to other show dates and times, or other shows.
2) Please arrive at the venue up to 30 minutes before show time and show print-out of notification of win to redeem tickets.
3) This show is recommended for 3 to 8 year olds.
4) Child aged 1 year old and older or adult must have a ticket to enter.
5) Children younger than 1 year old will not be admitted.
6) Children must be accompanied by an adult at all times.
Our Parenting World (OPW)'s Terms and Conditions
Entry into the giveaway contest will be deemed as acceptance of these terms and conditions. The rules of the giveaway contest and how to enter are as follows:
1) The prize is as stated, subject to change and fulfillment by the sponsors. Winners are not allowed to change the prizes. The prize will be non-transferable, non-refundable and non-exchangeable for other products/dates/times. The sponsors reserve the right to amend the giveaway contest, substitute any prize or with another of equivalent value without giving notice.
2) All participants have the opportunity to win as long as you have completed and fulfilled all the steps/requirements specified on the giveaway contest. Please make sure your likes and shares are set to public for verification purposes. Incomplete entries and fake accounts will be disqualified at the discretion of the organisers.
3) Winners of past giveaways in the last one month will not qualify for this giveaway, please wait till after one month from the date that you have won to participate in the current giveaways. 
4) Giveaway contest is open to all Singapore residents with a valid Singapore mailing address
5) The organiser (ourparentingworld.com) is not responsible for inaccurate prize details supplied to any entrant by any third party connected with the giveaway contest and by the sponsors.
6) Winners will be notified by email /Facebook/Instagram after the contest has ended. If the winner cannot be contacted or do not claim the prize, we reserve the right to withdraw the prize from the winner and or pick a replacement winner. 
7) The organiser reserves the right to cancel the contest if circumstances arise outside of its control.
8) The sponsor's and the organiser's decision in respect of all matters to do with the giveaway contest will be final and no correspondence will be entered into.
9) Other terms & conditions apply.