The modern woman is all about looking and feeling good, and having great hair is one of the major aspects of a woman's beauty. Choosing the right establishment and using suitable products can sometimes be quite challenging. Having proper hair done at a trusted place and experienced stylists is important for one's image and confidence.
Yoon Salon, one of the leading establishments in Singapore, maybe "The One" you have been looking for all these years. With a team of experienced stylists, using premium products and having 3 outlets in Singapore. They are conveniently located at Havelock II, Midpoint Orchard and Queensway Shopping Centre, this is the place you should consider. Even if you already have a regular place to go, you should come over and give this place a try.
Going to a salon should be a wonderful experience where you would expect to be pampered in a comfortable environment and treated with proper premium products and styled to your requirement nicely, and at the end of the visit, you should feel totally refreshed and rejuvenated. This is the experience you would get when you go to YOON.
The Products
We are indeed more conscious and particular of the looks and health condition of our mane nowadays, and therefore there are many products produced and sold on the market for this purpose. Majority of the women may not be able to understand their conditions and needs, and may end up using products which are not suitable for them. Although some of these are not bad, the choices may differ from person to person and due to the individual's hair and scalp conditions. Therefore, one would need professional advice and recommendations for better results before using any casual products or apply different home remedies.
Here at YOON, you can be assured of the premium quality products that are effective and gentle to treat your condition and satisfy your needs. These include shampoo, coloring, bleaching and others which your stylist will use during your session there. It is very important to use high quality stuff to avoid damaging your precious locks.
Benefits of Prioritizing a Salon
It is important to go to a reputable place as they have professional experts to help their clients choose the most effective treatments for themselves based on their conditions, and then provide them with the said services. Clients should choose a specific salon for themselves based on several factors, which may include convenience and cost. Other benefits for choosing a specific specialized salon are:
Clients can get all kinds of facilities under one roof, for example, cutting, treatments, styling, coloring, and so forth tailored to their needs.

They have professionals who can impart their expertise by recommending the best solutions for the customers as per their specific problems and requirements.

The professional staff provides clients with good pampering sessions along with some very high-quality products.

It gives customers a good feeling to take some time out of their hectic schedule and go for a relaxing and reviving session. 
Why Yoon Salon?
It offers remarkable services and provides professional consultation to their clients, so that they can get better care and assistance to have gorgeous and healthy tresses. They have many years of experience in catering to customers, helping them to resolve hair-related issues and to achieve their satisfactory look. Whether it is simply a hairstyle, or an extreme repairing treatment, this place never fails to provide the client with their professional expertise and excellent customer services. 
Here, they use only premium products to treat your locks and restore it to its luscious and natural condition. They offer a wide range of services which includes cutting, coloring, creative and different hair formations, along with highly specialized therapies. These are offered with the highest standards of professionalism the salon has set for its staff, which gives customers the best possible professional care, giving them an attractive and fresh look that they dream of.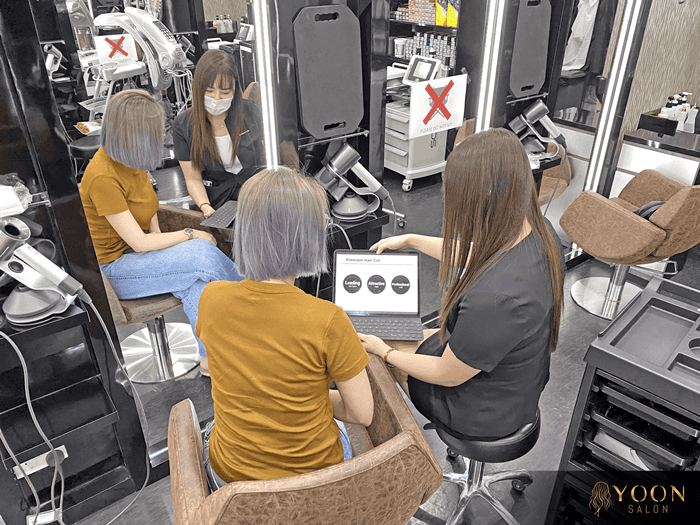 Yoon Salon Reviews: The Phenomenal Services
The following premium services are available in this high-end place as follows:
A premium hair cut, using precise modern cutting techniques, which the customer can choose after consultation with the stylist regarding their physical attributes, personality, as well as specific requirements.

Coloring, for both simple and creative colors, which are achieved through high-quality products and equipment. Their experts help customers choose the best shade and the perfect consistency to give the best results.

Rebonding which is of the highest quality that helps to prevent breakage to give a nourished, silky, moisturized look.

Perming which is provided using the most suitable techniques and products that give the customer soft curls, whilst preserving a realistic and professional feel to the final look.

Hair and scalp treatments that reinforce roots, soothe, purify, exfoliate, cleanse scalp, and get rid of all frizzy The therapy is done with the products most suitable for the customer's specific hair and scalp condition, to treat and improve with excellent results.

Relaxing head massage is also provided to clients.

Creative hair shaping services that allow customers to manage and style easily on their own.

Bleaching which helps to seal color and give smoothness to your tresses. The treatment is done using good quality and premium products.

Washing and blowing which cleans all dirt and excess oil. The service also gives more volume and a smooth and elegant look to your tresses.
All products and treatments are chosen after careful analysis of the customer's specific scalp type and hair condition. All styling and coloring are also customized to give customers a look that best suits their physical features, lifestyles, preferences, and personality.
Website FAQs and TIPs
It caters to their clients in all possible ways. Apart from providing excellent services on site, it also has a website that supports its mission to satisfy its customers. A person visiting the website for the first time can go through its pages with ease and have their main questions answered on the frequently asked questions webpage. An additional highlight of this salon is the free tips it gives its customers. These are available on their website as well, which help visitors, old and new alike, learn more about basic beauty and hair care tips. These tips are for general hair care routines and treatments, which are in addition to the premium services offered at the salon. The website also has a lot of reviews on its webpage, which can help potential customers decide and choose the most suitable service for themselves. Please visit the 'Free Tips' webpage in their website.
Yoon Salon: Redeem Your First Session at $28
The details mentioned above will give you a good idea of how things are at YOON. Come and experience it for yourself, you can simply make the appointment online and what's more, you can get to redeem and enjoy the first time offer of $28 for any of the premium services. Visit YOON and give your hair the care it deserves!