Ah Mah Homemade Cake, the most popular Castella Cake from Malaysia has finally arrived in Singapore! Yay!!!
You can now indulge in this soft and delicious cake right here without having to travel all the way to Malaysia to satisfy your cravings. It was first launched on 7 April 2017 at Restoran Poh Yap, Kota Kemuning, Malaysia. These delicious castella cakes grew so popular that 14 outlets were opened across Malaysia within a short period of just 2 months. Infact, waiting time can be up to 120 minutes when it was first opened and till now, more than 100,000 boxes had been sold. 
The friendly Ah Mah Homemade Cake's chefs posing for Our Parenting World (OPW) team 🙂
When we arrived at the media launch at VivoCity, we can already smell the aroma of the delicious cakes that were baking in the oven.
Yummy … we can't wait to try them!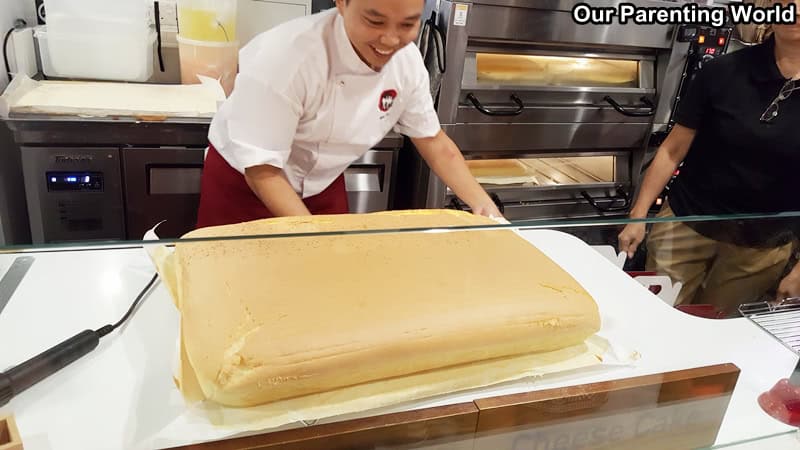 The freshly baked cake is now out of the oven!
Each of these delicious cake will have a Ah Mah's stamp to certify that it is indeed from Ah Mah!
In Singapore, there are now 2 outlets, one is situated at Bukit Panjang Plaza opened on Friday, 14 July 2017 and with the latest outlet at VivoCity recently opened on 20 July 2017. 
On its official opening day on 14 July 2017, the waiting time has reached up to one and a half hour, with 18 trays of cakes sold within two hours. Ah Mah Homemade Cake has sold over 2,000 boxes in Singapore within five days! It shows how popular the cakes are!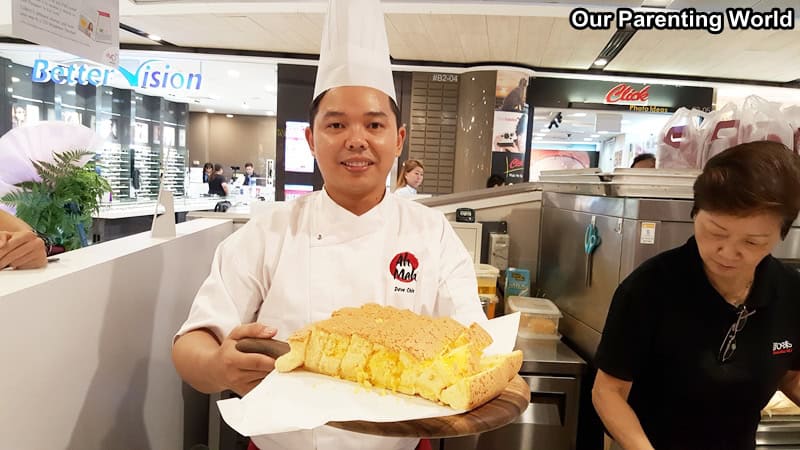 Chef showing the freshly baked cheese flavoured cake to us, we thoroughly enjoyed the cheese flavour. Thanks Chef! 🙂
There are two flavours to choose from: Original ($8) and Cheese ($11).
Ah Mah Homemade Cake's offerings are healthier and use only natural ingredients. They are all made purely with milk, eggs, and quality flour, there is no added water, preservative and colouring. As for the cheese version comes with a blend of cheese to enhance the flavour. The eggs used are all fresh, Grade AA high-quality, all locally produced eggs are procured from Singapore's N&N farm.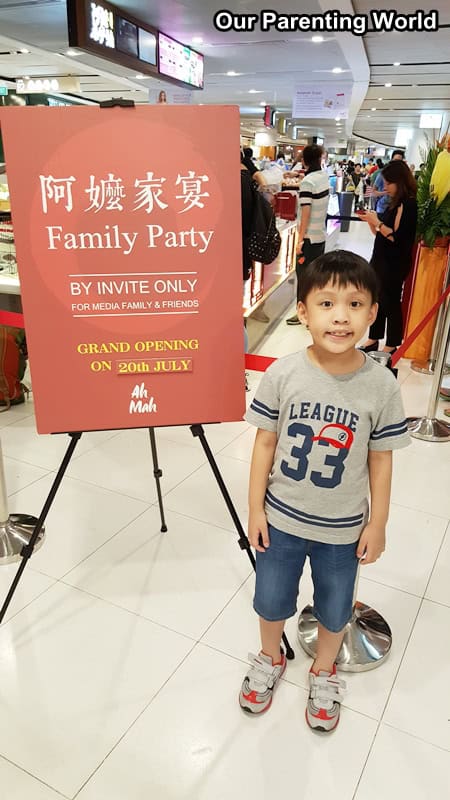 We absolutely love the soft, delicious and jiggly cake that is so full of flavour. Our kids love the cakes too! Come down to the 2 branches and try out Ah Mah Homemade Cake for yourself! 
Ah Mah Homemade Cake
Address: Bukit Panjang Plaza, 1 Jelebu Road, #01-18, Singapore 677743
Opening Hours: 10am to 10pm daily
Address: Vivo City, 1 Harbourfront Walk, #B2-K7, Singapore 098585
Opening Hours: 10am to 10pm daily
Additional Information:
Inspired by the popular egg sponge cakes originating from Tamsui (Danshui), Taiwan, Chef Jim of Ah Mah Homemade Cake has adapted traditional recipe and put a local twist on it. The cakes are freshly made every day on the spot, and each batch is lovingly baked for 80 minutes. To ensure absolute freshness and maintenance of quality, Ah Mah Homemade Cake bakes its cakes daily and discards all cakes after 12 hours if they are not consumed.
With burgeoning demand for castella cakes, Ah Mah Homemade Cake has plans to expand to Ipoh, Seremban and Malaka within the next month in addition to its strong presence in Klang Valley and Johor. The soft, fluffy, melt-in-the-mouth texture of these cakes will definitely leave customers wanting for more.
Facebook: @iluvahmahsg
Instagram: @iluvahmahsg
Hashtags: #iluvahmahsg