Alchemy Fibre For Rice is now available at more than 200 major supermarket stores, including FairPrice, Sheng Siong, Cold Storage, Giant and Prime, as well as onto leading online grocery platforms, Redmart, Amazon, etc., so that more home cooks can conveniently get their hands on it. Home cooks and health-conscious individuals can now easily prepare fluffy, fragrant, yet healthier white rice with the same taste and texture. 
Majority of the Singaporeans can hardly go without white rice. There is a comforting feeling about having a steaming bowl of rice, accompanied by your favourite dishes, which is something that healthier alternatives cannot always replicate.  While white rice is a staple at most dinner tables, it is recognised to have a high glycemic index (GI). To address this health concern, local start-up, Alchemy Foodtech, worked on research and development for more than four years, validating their food ingredient innovation before soft launching their flagship product, Alchemy Fibre For Rice, on their website last year. It was also during this time that the company started collaborating with many prominent F&B partners like Boon Tong Kee, Yu Kee and Lim Kee. Alchemy Foodtech has secured Tong Seng Produce, who also owns and distributes Song He rice, to be its retail distributor for Alchemy Fibre For Rice. 
Mr. Alan Phua, CEO and co-founder of Alchemy Foodtech shared that "These collaborations to offer healthier dining options at F&B establishments have been met with positive feedback from the market. With the trend of more home cooking as a result of the current Covid-pandemic, this is clear indication to the company that providing this product for widespread home use is important, in order to increase the health impact with the product."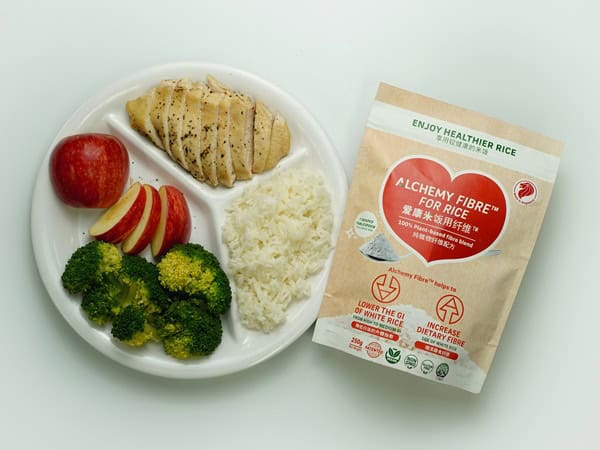 What is Alchemy Fibre For Rice?
Alchemy Fibre For Rice is a natural soluble fibre powder that dissolves to form a protective layer around the rice endosperm. In the gut, it slows down the digestion rate of white rice, eliciting slower glucose release, i.e., a lower glycemic index. Human studies have shown that white jasmine rice with 10% Alchemy Fibre has a medium GI, similar to the GI of brown rice. 
White rice cooked with Alchemy Fibre For Rice also contains up to 10 times more fibre for a healthier gut. Better yet, the rice retains its taste and fluffy texture that most of us are familiar with. Alchemy Fibre has also been tested with other types of rice, like short-grain Japanese rice, to yield similar health benefits.
Alchemy Fibre is a blend made of low GI, high fibre and high prebiotics plant-based fibres. This fibre blend offers consumers a healthier bowl of white rice without changing the taste, texture, or appearance of white rice. 
Cooking Instructions  
Wash – Wash and drain the rice. Add water as per usual cooking procedure 
Add in – For every one cup of rice (150g), add 1 heaped tablespoon (15g) of Alchemy Fibre For Rice. Stir well to dissolve the powder. 
Cook – Cook the rice as per normal.
Enjoy – Fluff the cooked rice and enjoy!  
Alchemy Fibre for Rice retails at $10.60 for 250g or $22.80 for 700g. 
The product is also available at Alchemy Foodtech's e-shop.
Please visit: https://alchemyfoodtech.com/ to find out more.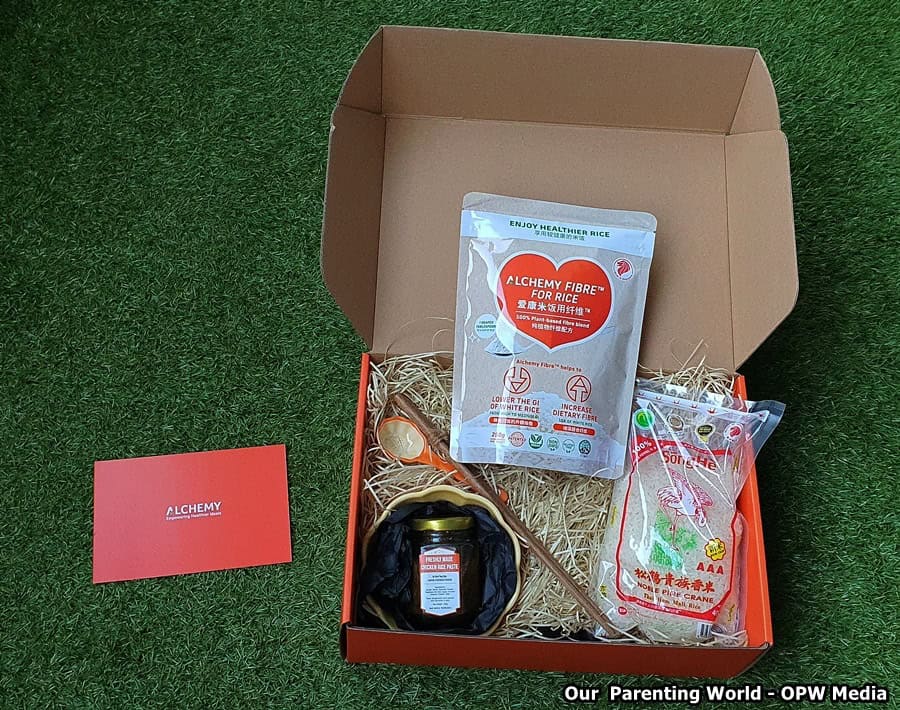 We received a DIY kit to try out using Alchemy Fibre to cook rice. The kit also includes a chicken rice sauce.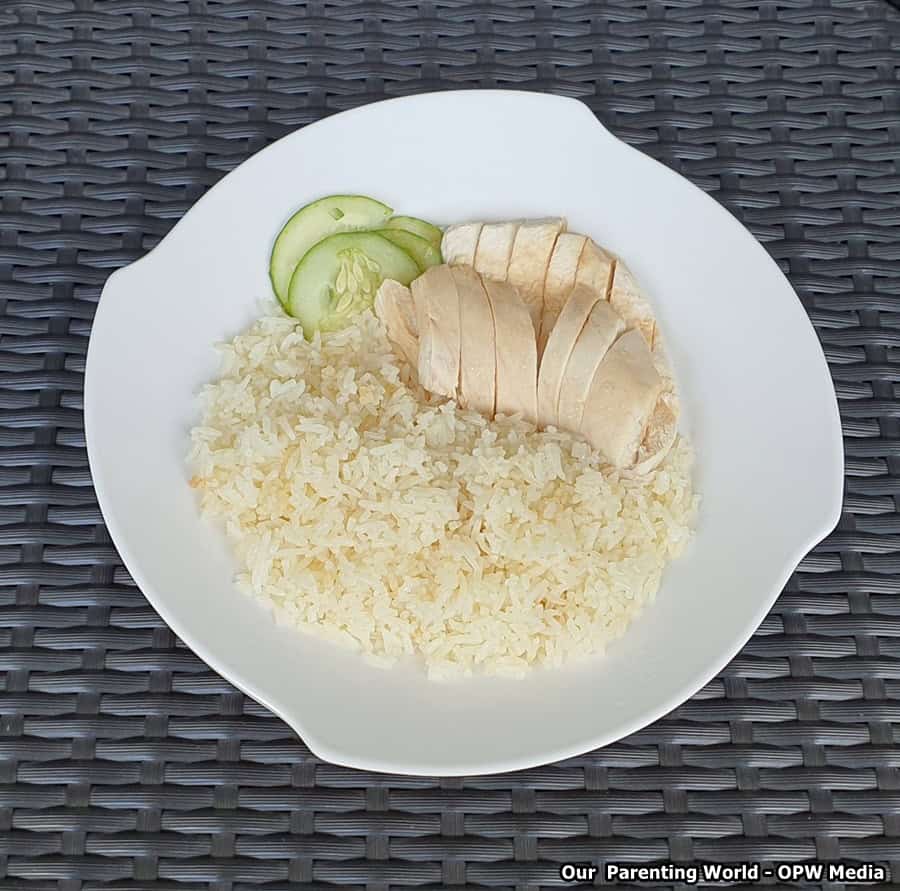 If you would like to try out using Alchemy Fibre to cook Chicken rice, here's the recipe that we received from Alchemy Fibre as follows: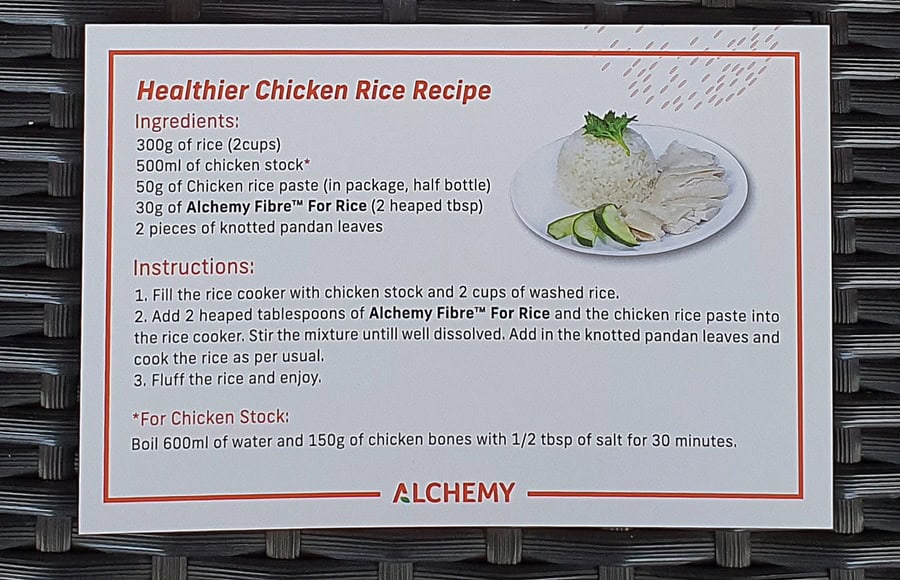 Now you can indulge in one of Singapore's favourite local food, Chicken rice that is healthy and tasty too using Alchemy Fibre. Enjoy!