Congratulations on your new baby! If you are looking for full month gift sets to announce the arrival of your baby, Chilli Padi Confinement, the popular confinement caterer has launched an all-new range of Baby Full Month Gift Sets that is set to impress!
In Chinese culture, the gifting of Full Month Gift Sets is a time-honoured tradition that has been practised for generations. The sets usually will contain red eggs and ang ku kueh (red tortoise cakes) and are distributed to friends and relatives to announce the arrival of a newborn baby.
Delicious Handcrafted Pastries
All of Chilli Padi Confinement's pastries are handmade and prepared in-house using premium ingredients for its traditional treats such as Ang Ku Kueh, Red Eggs, Nonya Kueh, and Sticky Rice, to contemporary classics such as Handcrafted Nougats, Dark Cherry Charcoal Chocolate Loaf and Fresh Fruit Tartlets.
Eye-Catching and Exquisite Packaging 
Baby Full Month Gift Sets are packaged in beautiful tingkat (tiffin carrier), kebaya box, or kraft paper box packaging. Mummies and Daddies who prefer traditional tastes, the tiffin carrier and kebaya box options adorned with Peranakan patterns and motifs such as batik, kerongsang (brooch), phoenixes, and the kebaya (traditional Peranakan dress), the packaging draws inspiration from Chilli Padi Confinement's cultural roots are sure to dazzle. Modern parents can choose the brown kraft box range which is a classy contemporary option. 
Pocket-Friendly Prices 
Now you can enjoy great quality at affordable rates! Prices range from $4.80 to $29.80. All sets include a complimentary carrier bag and message card.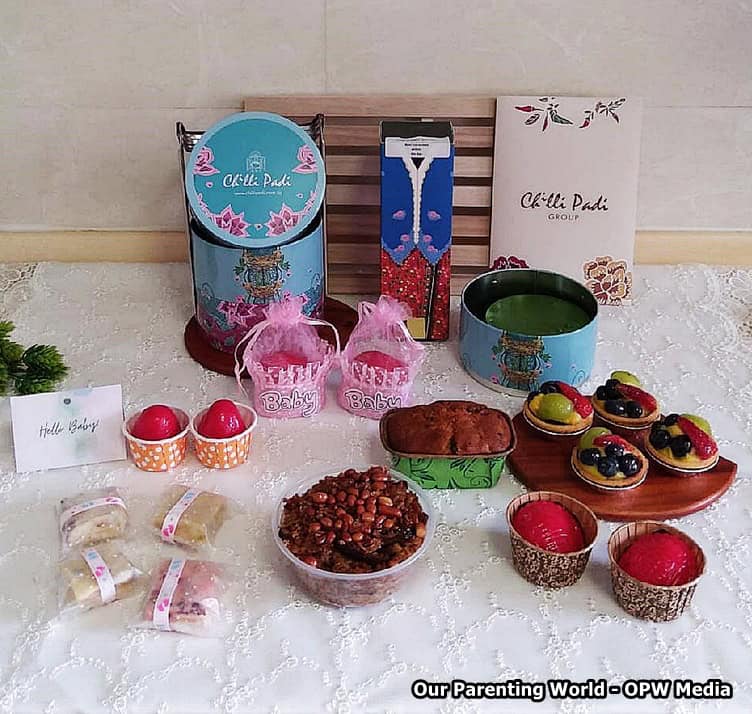 Chilli Padi Confinement's Baby full month gift sets certainly live up to our expectations! They have a wide range of delectable goodies available, beautifully packed in stylish containers/boxes, the food tastes so good and best of all, their pricing is affordable. It is a great gift that your family and friends will love and enjoy! 
Chilli Padi Confinement specialises in confinement meal catering. Its mission is to help new mothers transition into postpartum comfortably by delivering delicious meals which restore hormonal balance and increase the production of breast milk. Since its establishment in 2011, the brand has served its confinement meals to over 30,000 new mothers. To find out more and to order, please go to https://chillipadiconfinement.com/