Alvin and The Chipmunks, the story is about three lovable singing Chipmunks consisting of Alvin, the mischievous troublemaker, who is also the star of the group; Simon, the bespectacled tall intellectual and Theodore, the chubby likable one. They are adopted and managed by their human father, Dave. Alvin and The Chipmunks is a huge success after appearing in several cartoons productions. They are so popular that the well-loved singing Chipmunks have eventually moved to movies.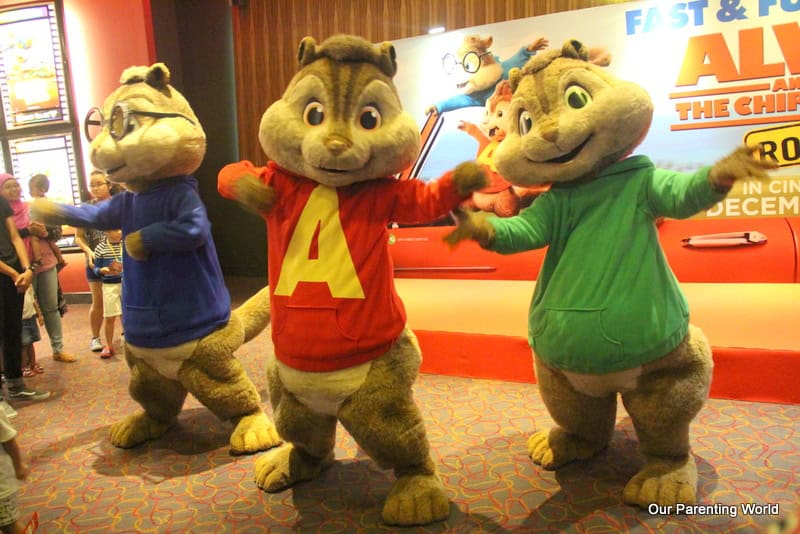 Twentieth Century Fox invited guests to the premier of Alvin and The Chipmunks at Golden Village Vivocity when we have the opportunity to watch the movie before it is officially released. Guests are so excited when Alvin and The Chipmunks appeared to perform and mingle with them. 
Aren't they adorable? We are so happy to see Alvin, Simon and Theodore!
Alvin and the Chipmunks: The Road Chip, in this fourth movie installment, the Chipmunks are out of the limelight to spend a few years as normal "kids". Things started to get complicated when Dave is dating a heart surgeon Samantha who has a moody teenager son, Miles. Chipmunks and Miles don't get along with one another and do not like the idea of becoming a family. They decided to join forces when they thought Dave intended to propose to Samantha while travelling to Florida together for an album release party in Miami. Expect plenty of fun and catchy songs and dances from the singing Chipmunks and other cast including the Chippettes in the movie. 
It is an enjoyable, light hearted comedy that is suitable for the whole family. Don't miss the fourth movie installment of Alvin and the Chipmunks: The Road Chip now showing at the Cinemas. For showtimes at Golden Village, please click HERE.