Sofia Chen, a 9-year-old is now Singapore's youngest author to receive a major publishing deal in the United States of America. Her book, AMAZING ANIMALS: Creative Brick Building with Step-by-Step Ideas, is the first in the Play to Learn… with Bricks! series, published by Post Hill Press and distributed by Simon & Schuster.
A fourth grader at Hugo Reid Elementary School in Arcadia, California, Singapore-born Sofia loves playing with building bricks with her little sister Natalie after school. Through these playtime sessions, Sofia has helped her sister learn how to use building blocks in a unique and easy-tounderstand manner. Her approach now forms the foundation of the Play to Learn… with Bricks! books, allowing other young children to develop cognitive skills and learn STEM concepts through fun, engaging brick building projects.
The first book in the series AMAZING ANIMALS includes fun and engaging sets of animal builds that will help kids aged four and older to get the most out of playtime. Using the directions provided, children and their grown-ups create a delightful collection of everyday objects and critters out of building bricks. Books are filled with examples and bright red arrows that show exactly how each item is assembled with step-by-step directions.
These highly imaginative animal projects teach children of all abilities a number of important developmental concepts including problem solving, fine motor skills, understanding of colors, shapes, counting, written numbers, and have been endorsed by child therapists and educators. By incorporating learning into playtime as shown in this guide, children will increase comprehension of the skills they'll soon be learning in school.
Exclusive Interview with Sofia Chen
Our Parenting World (OPW) team is pleased to interview the talented Sofia Chen to find out more about her and her new book. 
1. Please share with us more about your background and what made you decide to come up with the book AMAZING ANIMALS: Creative Brick Building with Step-by-Step Ideas?
(SOFIA) When I first did the book, I did it because it was fun and I made it easy so that my little sister could follow and play along. I love playing with Legos and Mega Bloks. So I teamed up with my Uncle Paul to do fun little animal projects for young kids like my little sister who has Down Syndrome. The Lego books that my mom bought us were too hard for her. So I wanted to create some easy projects that she can follow because she also loves playing with Lego. My little sister's name is Natalie. Natalie was my inspiration.
2. How long did you take to work on the book and what are the challenges that you have faced to complete the book?
(SOFIA) It took about 3 months to do the big book. My mom helped email all sorts of people that the publisher made us work with. My mom never did a book herself so I think sometimes she wasn't sure what to do. But she and Uncle Paul, and Auntie Elaine (Uncle Paul's wife) would take my ideas and share with Uncle Dan (the Publisher's Designer) and Auntie Billie (the managing editor for the project). I gave a lot of my ideas about the cover because I did the original drawings, the colors used in the book, the names of each animal, and also testing out the steps of the projects to make sure it's easy to follow for little kids.
3. Can you share with our readers about your life in U.S.? What's your favourite activities?
(SOFIA) I really like my school because I have a lot of friends that I play with.  Usually I wake up at 7am, then my Mom would drive me to school.  We get out at 2.35pm and my Mom would pick us up to come home, have snacks, do homework for half hour, then we go outside to play till dinner time.  We only get to watch TV if we're good or when my Mom needs to cook.  I also help my Mom watch my little sister.  We like to do a lot of pretend play, and play outside with our bikes and scooter.  Right now, my favorite activities are reading, playing with Legos, and playing boardgames with my mom and dad.  I also like to help my mom do fundraising activities because I get to meet a lot of people and ask them to donate money for good causes.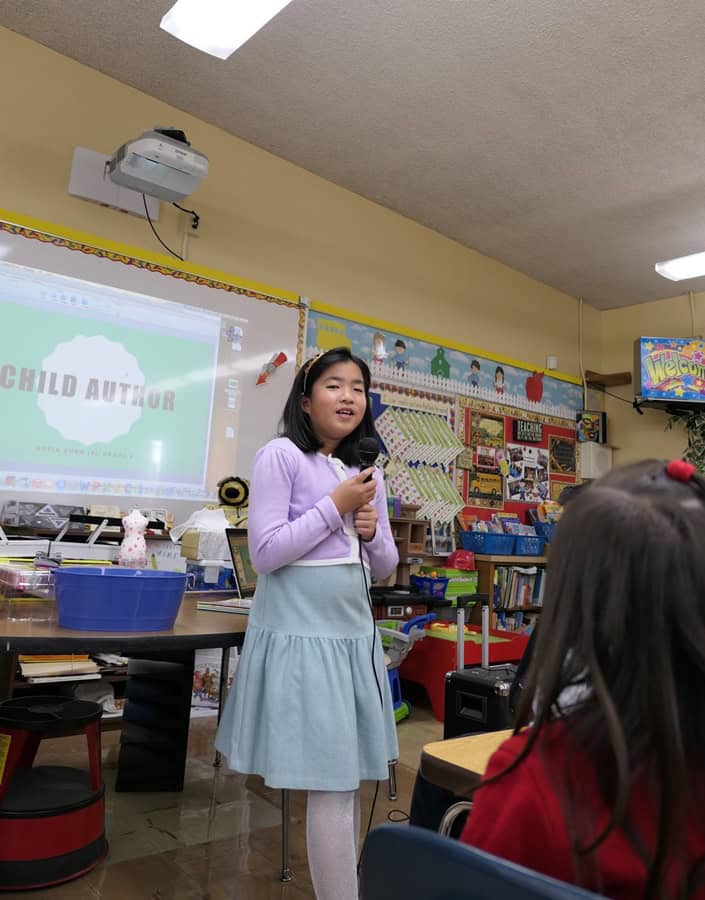 4. What is your favourite book of all time and who is your favourite author?
(SOFIA) Harry Potter by J.K. Rowling.
5. Who played the greatest role in you becoming an author and why?
(SOFIA) My mom helped us the most.  And her friend, Uncle Soon, was the one who introduced us to his publisher.  Uncle Soon (Yu) is a famous author here in the US.  He writes about business stuff that I don't understand.  When he saw our book at our house when he came to visit, he told my mom that we did a great job.  And then he emailed his publisher about our book.  Then my mom talked on the phone and then the next day she told me that we got signed by Uncle Soon's publisher (Post Hill Press, distributed by Simon & Schuster).
6. Can you tell us more about your journey in becoming an author and how did you manage to secure a major publishing deal in the U.S.?
(SOFIA) Actually I don't think I had a journey…we wanted to do a fun book for young children to play with their Lego, and then my mom published the book herself first.  When my mom mailed our book to the publisher, he really liked it and asked us to do a big book for him.  My mom got to know the publisher because of Uncle Soon.
7. What's your advice to young children like yourself who aspire to be an author?
(SOFIA) Never give up your dreams!  If you try hard and do your best, then your work will speak for itself. 
8. Lastly, what would you like to be when you grow up and any interesting things about the book that you would like to share and highlight to our readers?
(SOFIA) When I grow up, I would like to be a cupcake decorator!  My ("Amazing Animals" creative brick building) book is easy enough for young children aged 4 to understand and have fun playing with their friends, parents and grandparents!  I really want young kids everywhere to enjoy playing bricks using my book.
Thank you Sofia Chen for taking our interview! 
AMAZING ANIMALS: Creative Brick Building with Step-by-Step Ideas suitable for children aged four and older is co-authored by Sofia Chen and Paul Bacio Jr. and will be available in Singapore from May 2018 at Books Kinokuniya and MPH Bookstores. It is also widely distributed throughout the United States and is available at major retail outlets such as Target and Barnes & Nobles. 
Good News! Giveaway Alert!
We have TWO Books to giveaway and each lucky reader will receive a copy of the AMAZING ANIMALS: Creative Brick Building with Step-by-Step Ideas book. The books will be sent to the winners and each book will be retailed at SGD24.90 before GST. Be the first to get this book!
To WIN the books, please move over to Our Parenting World Facebook Page to participate at https://www.facebook.com/our.parentingworld/posts/1642098092570442
Hurry, giveaway will close on 30 April 2018 at 23:59Hr. Winners will be announced and notified on 4 May, please check this space for announcement.
Thank you and Good Luck! 🙂 
Giveaway Closed and Winners Announced, please refer to our Facebook Page for winners' details at
https://www.facebook.com/our.parentingworld/posts/1642098092570442
Terms and Conditions 
Entry into the giveaway contest will be deemed as acceptance of these terms and conditions. The rules of the giveaway contest and how to enter are as follows:
1) The prize is as stated, subject to change and fulfillment by the sponsors. Winners are not allowed to change the prizes. The prize will be non-transferable, non-refundable and non-exchangeable for other products/dates/times. The sponsors reserve the right to amend the competition, substitute any prize or with another of equivalent value without giving notice.
2) All participants have the opportunity to win as long as you have completed and fulfilled all the steps required by the giveaway contest. Please make sure your likes and shares are set to public for verification purposes. Incomplete entries and fake accounts will be disqualified at the discretion of the organisers.
3) Winners of past giveaways in the last one month will not qualify for this giveaway, please wait till after one month from the date that you have won to participate in the current giveaways. 
4) Giveaway contest is open to all Singapore residents with a valid Singapore mailing address
5) The organiser (ourparentingworld.com) is not responsible for inaccurate prize details supplied to any entrant by any third party connected with the giveaway contest by the sponsors.
6) Winners will be notified by email /Facebook/Instagram after the contest has ended. If the winner cannot be contacted or do not claim the prize, we reserve the right to withdraw the prize from the winner and or pick a replacement winner. 
7) The organiser reserves the right to cancel the contest if circumstances arise outside of its control.
8) The sponsor's and the organiser's decision in respect of all matters to do with the giveaway contest will be final and no correspondence will be entered into.
9) Other terms & conditions applied.