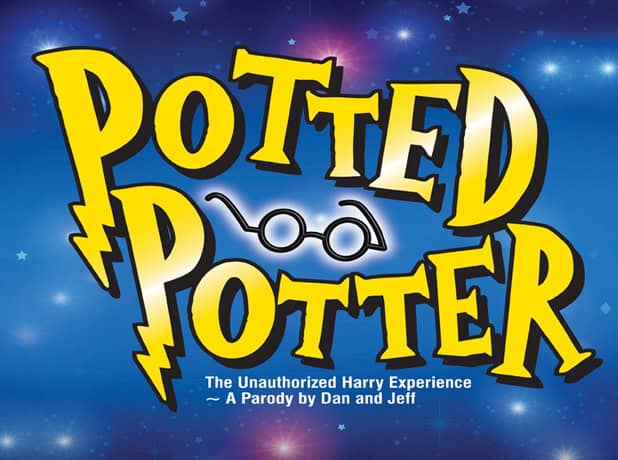 Our Parenting World has earlier announced that the smash hit Potted Potter is coming to Singapore on 9 to 14 September 2014 and we are so excited that it is finally here!
Our Parenting World team, Gor Gor is a big fan of Harry Potter. He has read all Harry Potter books and even watched all the movies. When he knew that Potted Potter is coming to Singapore, he is so happy and eager to watch the show.
Daniel Clarkson (Photo Credit: Potted Potter)
Jefferson Turner (Photo Credit: Potted Potter)
Before we go on to review Potted Potter, Our Parenting World is very honoured to be able to interview the creators of the show, double Olivier Award Best Entertainment nominees Daniel Clarkson and Jefferson Turner.
1) What makes you decide to do the show, Potted Potter? 
JEFF TURNER
Dan & I were both such fans of Harry Potter, that doing a project based on him really was a bit of a no brainer! So, back in 2006, we wrote Potted Potter, and now it is our job, which we still can't believe. We get to mess around, being characters from some of the greatest books around, and we get paid to do it. We are waiting for someone to realise that we are having WAY too much fun!
DAN CLARKSON
We were huge fans of the books, (I dressed up as dobby for the launch of the fifth book, thats how huge!) And back in 2005 a London books store asked if we could do something for the launch of the sixth book to entertain the crowds at midnight. So I had the idea of doing the first 5 books in five minutes. This I guess was the both of Potted Potter!
2) What are the challenges you face in condensing all seven Harry Potter books into one show?
JEFF TURNER
Obviously there is an awful lot of material in all seven Harry Potter books and all eight films. So we decided to focus on what seems to us the central relationship between Harry and He Who Must Not Be Named. It does help that we are quite happy to throw out 500 pages of plot, and just put on a silly wig!
DAN CLARKSON
Trying to get as much in as you can! I think the first draft of the script was seven harry potter books in seven days as posed to seventy minutes! But we try and get as much of the story as we can in although often large sections of subplot have been kicked aside so we can all dress up in silly hats and wigs!
3) How does the show manage to cater and entertain audience from a wide range of age group, from young children to parents?
JEFF TURNER
It was really important to both of us that we created a show that everyone could enjoy. The books are enjoyed by all ages, and so we wanted our show to do the same. Dan & I have both been to shows aimed at kids that are boring for adults, and vice versa. So the show has got a fair bit of slapstick and silly jokes for the kids (and adults like us), and more intelligent comedy for the adults – but there is a lot of crossover, and it is wonderful to see an 8 year old and his Dad laugh at the same joke!
DAN CLARKSON
One of the beauty's of the books, is that they are accessible to both children and adults, and we tried very much to carry this across to the show. There are some jokes in there that are just for the older members of the audience but also many that only the kids will get. I remember once seeing a young boy leaning across to his grandmother to explain the joke and them both then laughing, thats when I knew we'd done something right!
4) What can the audience in Singapore look out for in the show?
JEFF TURNER
Flying Ford Anglias, Fire breathing dragons, real life magic, wizards on broomsticks, burning phoenixes and two guys having the time of their lives on the stage!
DAN CLARKSON
Without a doubt the game of Quidditch. We believe this is the only time in a theatre anywhere in the world that the audience is able to play a real life game of Quidditch, complete with brooms, seekers and a snitch. And I believe we are still waiting for the first goal to be scored in Asia, so Singapore the gauntlet has been laid!
5) Any interesting thing that you would like to share about the show and the casts with our readers?
JEFF TURNER
This is the only chance you will have to play Quidditch indoors, and it has to be experienced to be believed. Where else could you catch the Golden snitch to win the match for Gryffindor? Or Slytherin? (OK, or even Hufflepuff)…? 
DAN CLARKSON 
Well both James and Ben are fully trained wizards, graduates of Hogwarts no less. James a true and brave Griffindor, scored top marks in his N.E.W.T.S. and when not doing the show is a fully fledged Auror. Ben on the other hand didn't do as well, he slept through his N.E.W.T.S and according to the Hufflepuff news letter go a job on the knight bus as a pillow plumper… We thought we'd give him a chance.
Thank you to Jeff Turner and Dan Clarkson for taking our interview and sharing with us. We are sure many readers will benefit from their valuable insights and understand more about Potted Potter.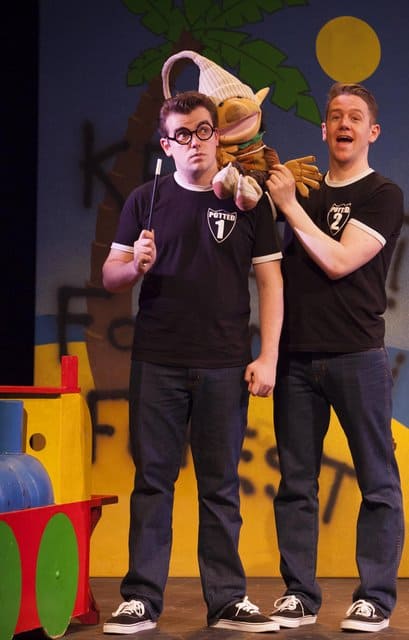 Photo Credit: Potted Potter
Our Parenting World team attended the Opening Show of Potted Potter yesterday at Jubilee Hall at Raffles Hotel. Are you a Harry Potter fan? If you are, like us, you have to see it! The show is performed brilliantly by the two actors, James Percy and Benjamin Stratton currently showing at Singapore from now till 14 September 2014. 
At the start of the show, we are surprised when the actor came to greet and shake the audiences' hands. What a pleasant way to warm up the audience before the show began! Throughout the show, we are immediately transported to the actors' hilarious way of portraying Harry Potter and its characters from the books and like we are under some magical spell, we kept laughing.
You may wonder is it possible to condense all 7 Harry Potter books into one 70 minutes show? Yes, it is! The show has cleverly streamline the plots down to its essences and even managed to weave some references to other series like "The Chronicles of Narnia", "The Lord of The Rings" etc as one of the actors kept confusing Harry Potter with other stories that continued to tickle the audiences' funny bones with their performances. 
The show managed to delight and amuse audience, it is highly interactive that involves audiences' participation through the Quidditch match between one side of the audience and with the other side. Horray! Our side won and we have lots of fun!
It is a clever, funny, family-friendly show that is suitable for adults and children especially the children, many of them are roaring with laughter throughout the entire show. Bravo to the two actors, they are simply awesome in their performances! 
We shall not be a spoiler and reveal too much, do go and watch the show. Don't miss it as it is only here for 10 shows till 14 September 2014 only! 
Additional Information:
Event Date:
Tuesday, 9 – Sunday, 14 September 2014
Tuesday & Wednesday: 7.30pm
Thursday – Sunday: 5pm & 7.30pm


Venue:
Jubilee Hall, Raffles Hotel
Nearest MRT City Hall and parking wise, you may wish to park at Raffles City Shopping Centre
Ticket Pricing:
Standard: S$85, S$70 (Exclude booking fees)
Tickets available through SISTIC.Internet: www.sistic.com.sg
Hotline: 6348 5555
All SISTIC authorized agents island-wide
For more information: www.lunchbox-productions.com or www.pottedpotter.com.au