Antipodes is the award-winning New Zealand green beauty brand's pioneering science that has generated exciting discoveries based on their formulations featuring native New Zealand botanicals and superfoods that has even attracted investment from its government.
Its range of skincare products contain a bioactive ingredient found only in New Zealand nature using the manuka honey. This honey can only be produced in New Zealand by bees that pollinate  the flower, Leptospermum scoparium, commonly known as the Manuka bush. It is one of the most powerful and effective honey in the world. It has been proven to provide many benefits to the skin for example, it has antiviral, anti-inflammatory, antibacterial and antioxidant properties and helps to repair, hydrates the skin especially good for those with blemish-prone skin.
Antipodes is founded by Elizabeth Barbalich who is interested in natural health when she became a mother. Drawing heavily on her background in science and training with Australian and New Zealand surgeons and registrars in the use of their leading-edge equipment, she learnt that innovation is key. The brand uses a high-level bioactive and sustainably-sourced manuka honey in its cleansing and moisturising products, dubbing it 'Liquid Gold' for its skin-enhancing potency. As a skincare ingredient manuka honey promotes deeply clean, fresh and youthful-looking skin.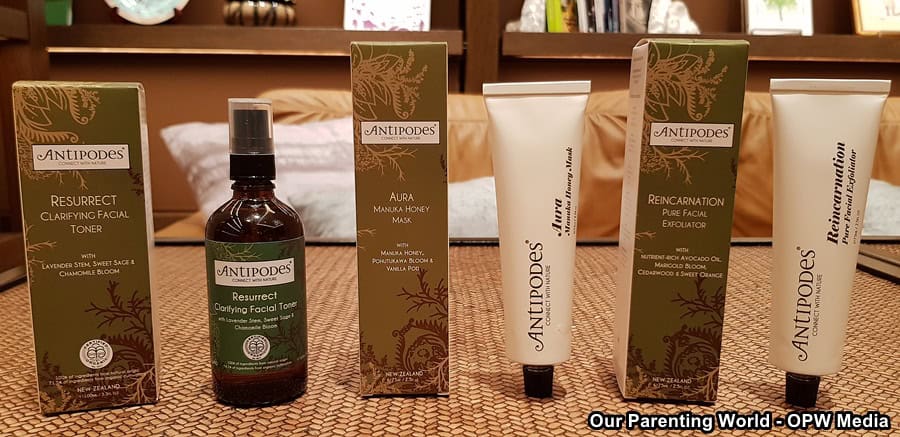 Resurrect Clarifying Facial Toner (L),  Aura Manuka Honey Mask (M) and Reincarnation Pure Facial Exfoliator (R)
Thanks to Antipodes for introducing and sending to us its lovely range of products, we get to try out its products to find out more! We would like to highlight some of the fabulous Antipodes products that we have tried as follows: 
Resurrect Clarifying Facial Toner is very refreshing upon applying on our face and has a pleasant fragrance of Lavender & Sage. This active, clarifying toner awakens our skin, helps to clean our skin well and minimise the appearance of open pores. 
Aura Manuka Honey Mask is very easy to apply, just smooth the creamy mask over your face, leave it for 15 minutes and then rinse off. We find that our skin is clean, very soft and smooth after using it. This mask is well-loved by leading international beauty bloggers such as Estée Lalonde and Em Ford credited the product in helping her to win battle against severe adult acne. This effective face mask is perfect for use twice a week.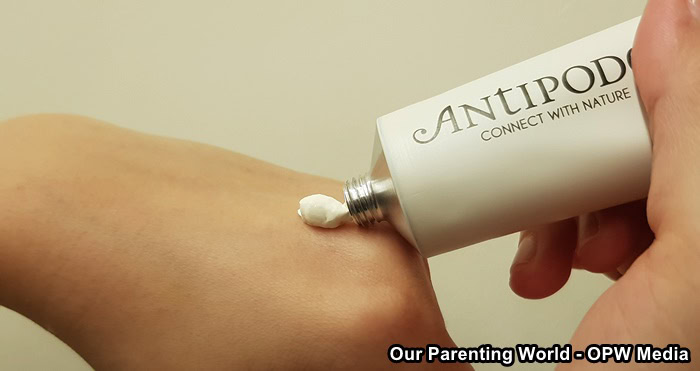 Reincarnation Pure Facial Exfoliator is a gentle and effective facial exfoliator. A good facial exfoliator is an important part of any skincare regime. This product consists of Avocado oil and Jojoba beads that will help to remove dead skin cells, clean out your pores and help your skin glow. We love how this product gently cleanse our skins and make our face look so bright and smooth after using it.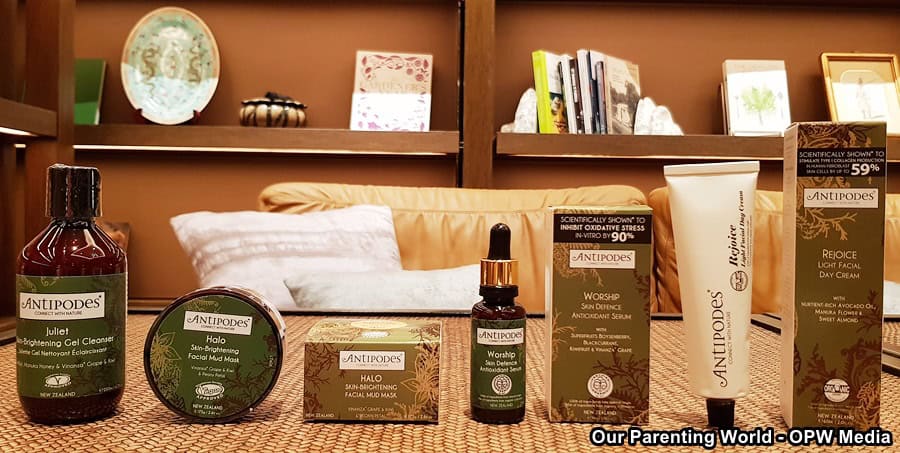 Juliet Skin-Brightening Gel Cleanser (Extreme Right), Halo Skin-Brightening Facial Mud Mask (R), Worship Skin Defence Antioxidant Serum (L) and Rejoice Light Facial Day Cream (Extreme Left)
Juliet Skin-Brightening Gel Cleanser is great to help you reduce and balance your skin's oil production especially useful if you have blemish-prone skin. Wet your skin, gently massage the gel cleanser onto your skin and rinse off. Our skin is squeaky clean after washing, face feels fresh and soft to touch. This product is good to keep your skin clean, clear and most importantly, blemish-free! 
Halo Skin-Brightening Facial Mud Mask helps to improve your skin's appearance and has effective skin-brightening extracts for instant light and lift. The product comes with a mini spatula, apply a thick layer of this mask over your face and neck, leave for 15 minutes and then rinse off. The mask comes with a nice fresh scent and face looks brighten, radiant and dewy after using it. This mask is best to use twice a week.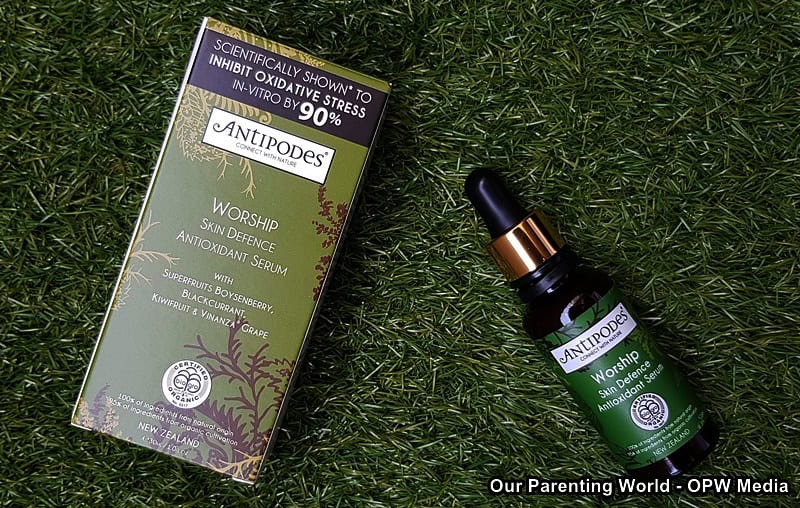 Worship Skin Defence Antioxidant Serum is an organic skin booster that is good for anti-aging. Apply this product all over your face and neck daily to help protect cells against the oxidative stress that can lead to your skin's early ageing. We like to use this product, it absorbs quickly and does not leave our face sticky. Skin feels really smooth and supple after using it.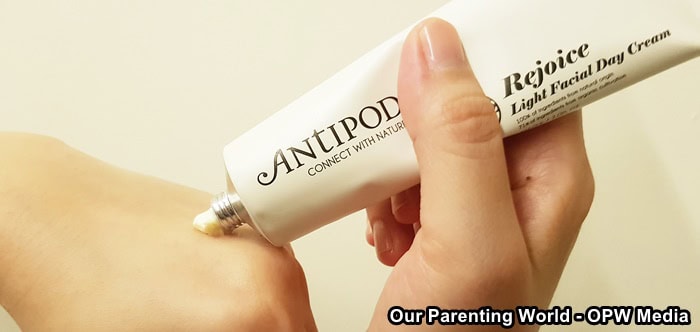 Rejoice Light Facial Day Cream is packed with organic ingredients filled with powerful properties of Manuka and Avocado Oil combine with Macadamia and Jojoba to balance and moisturise the skin. This product is easy to apply all over your face and neck, our skin looks hydrated, radiant and soft to touch after using it. Use this product daily to help to regenerate, revitalise and boost the appearance of your skin.
We are glad to know that Antipodes is scientifically validated products, each undergo an intensive 18-month period of Research & Development. A range of trial product formulations are tested on human fibroblast skin cells in-vitro in an independent laboratory, where their effects are studied over time. Only the formulations with the most scientifically significant results make it to market. It is important that we know the skincare products we use are ethically produced using safe and effective ingredients that are good for our skin. 
"We often hear from women all over the world who have experienced significant skin improvements after using our manuka honey skincare range," says Elizabeth Barbalich, Antipodes® founder and CEO. "They adore the brightness and freshness of their skin."
Antipodes is now available in Singapore, try out this Award-Winning New Zealand-Based Green Beauty Brand today! The Antipodes skincare range is available exclusively in Guardian.
Website : https://www.antipodesnature.com/
@antipodesskincare
 #antipodesskincare