Daddy says:
In today's newspaper, there is an interesting article that for the enrolment of medical students in the new NTU Medical School next year, all short listed candidates are required to pass an aptitude tests and 8 mini interviews. I know of many parents who are grumbling "Is it really necessary?"
For those of you who have followed our blog, you can read our two earlier posting on this topic :
1. How to get a place in medical school
2. Advice to parents who are keen to encourage their children to study medicine
Today's blog post here is to add on what I have commented earlier. As a senior doctor who have worked for almost 20 years and also an adjunct lecturer teaching medical students in NUS and Duke-NUS medical school, I hope to share my opinion here.
The aptitude test and the mini interviews are quite important as if its done accurately, it can help to shortlist those who are suitable to be doctors. Do not despair if you do not pass the aptitude test, as you will be thankful later on in your life, realising that being a doctor is really not what you like to do based on your interest and personality.
What are the characteristics of a doctor? I think the easier way to ask this question is, "Imagine you are a patient, what do you expect of your doctor?". I am sure some of these characteristics will be what you expect from your doctor:
Willing to sacrifice his time to treat you when you are sick. He should not take long holidays (if he does, he should have arranged his colleague who is as good as him to take over)

Willing to work long hours, as you may fall sick middle of the night

Good communication skills, willing to listen to all your complaints (even though it will take a lot of his busy time) and then explain clearly to you your condition and how he will treat your illness

Experienced. That means long training hours and treated many patients

Compassionate. Able to emphatise with you, not only your illness but also your other social and family problems which affect the recovery of your illness.

Not money minded. If he is in private practice, he should not charge high fees, preferably even provide free treatment for those who cannot afford it.

Willing to sacrifice for the patients. For example, if you have a highly infectious disease like SARS or AIDS, your doctor should not be scared to come near you and treat you.
Now, after you look at this list of expectations from the patients' point of view, put yourself in the doctor's position, if you think you are able to deliver these expectations and yet be happy and contented of your life, yes, you have the aptitude to be a doctor.
Some parents ask me, "Is there any training required for your child during his school days so that his chances of getting into medical school is higher?" Generally, I will say that if they have the opportunity to hold leadership position in school like being the school prefect and class monitor, captian of their sports etc, they stand a higher chance as these leadership skills teaches them to handle the interviews better, as they are more mature and confident than the other students. In fact, sometimes students who comes from neighbourhood schools in their Primary school does better than those from "elite" primary school as they have more opportunities to hold these leadership position due to lack of competition from their schoolmates (students from "elite" primary schools have lesser opportunites for these leadership position in their schools as their classmates are as good or better than them). These leadership skills learnt during their school days will be an advantage during the aptitude tests and interviews. Another area to prepare is to participate in community service like "Red Cross", "St John Ambulance", "Boys Brigade" etc as these CCAs expose the children to community services which will teach them to understand how to be compassionate to the less fortunate.
I believe that it is important to get the right people to study medicine, otherwise when we are old, we don't have good doctors to look after us.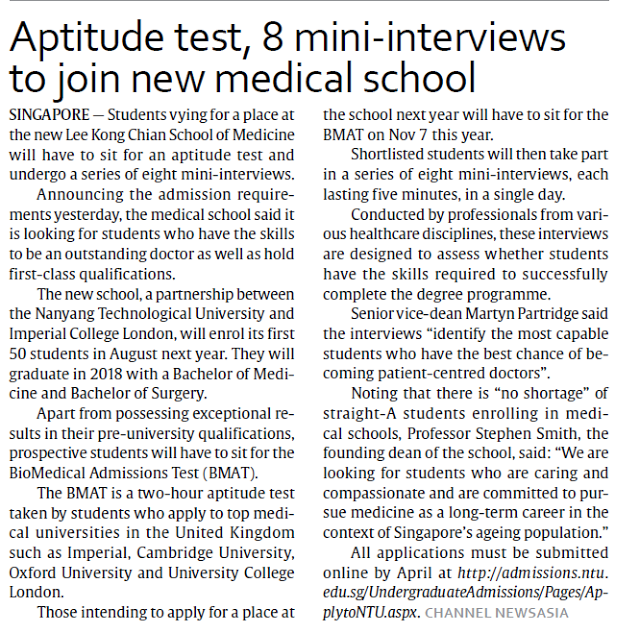 News article from Today online 13 Mar 2012