We brought Gor Gor back to Kuala Lumpur after his trip to Ipoh. We asked Gor Gor what he would like to see in Kuala Lumpur and Gor Gor said he wanted to go to an aquarium.
So we brought him to Aquaria KLCC  which is one of the regionally renowed underwater aquarium, quite similar to the Underwater world in Singapore.
What is Gor Gor's most exciting fish? The Piranha fish ! Actually the fishes are quite big, bigger than one human palm and they look very scary.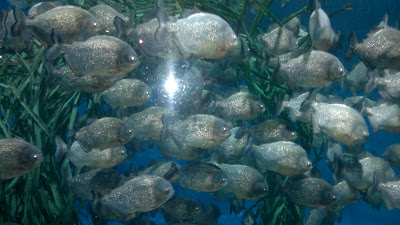 The large and scary Piranha fishes in KLCC Aquaria