Where can we soak ourselves in this festive seasons and celebrate Christmas, where else but in our very own world famous airport, Singapore Changi Airport! This Christmas, Changi Airport will transform into a winter wonderland, bringing yuletide festivities to life and experience a touch of Disney Magic with the very popular Mickey Mouse & Friends.
This month is a busy month for us, we have been going to the airport many times as our relatives and friends from overseas have been coming back to Singapore for holidays and to celebrate Christmas! Each time we will go to the Christmas theme displays to take pictures and look at the lights shows. 
Our Parenting World team listed a number of Christmas highlights to look out for at Changi Airport.
Changi Airport Christmas Highlights 1
Lights! Snow! Action! 
Look out for the 8 minutes showtime where visitors will be treated to a spectacular, interactive, dazzling and multi-sensory lights show that comes with songs that has an engaging storyline.
At the end of the show, visitors are treated to a pleasant surprise, snowfall! Adults and children are seen trying to catch hold of the snow.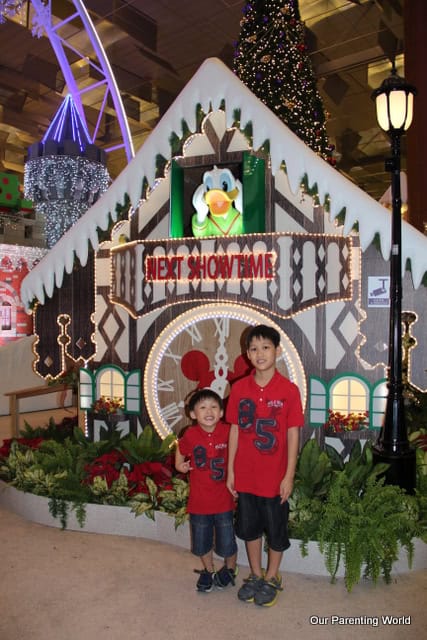 Our Parenting World Gor Gor and Di Di enjoy watching the dazzling show and trying to catch hold of the snow. Visitors can check the showtime located just besides the lightshow.
Duration: Approx 8 min
Weekdays: 5pm, 6pm, 7pm, 8pm, 9pm
Weekend PH & PH eves: 1pm, 3pm, 5pm, 7pm, 8pm, 9pm
Changi Airport Christmas Highlights 2
Mickey and Minnie Mouse Meet-and-Greet sessions
To Disney fans, especially Mickey and Minnie Mouse fans, this is an opportunity to catch hold of them and take photo with them during the Meet-and Greet sessions on 19, 20 and 21 December 2014 at Terminal 3 Departure Hall beside Check-in Row 11 at these timing at 1pm, 2.30pm, 4pm, 5.30pm and 7pm.
Changi Airport Christmas Highlights 3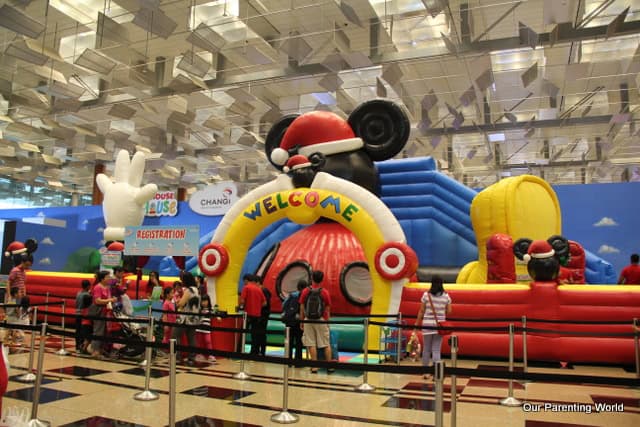 Mickey Mouse Club House Bouncy Playground
This is easily most children's favourite, the bouncy playground located at Terminal 3 Departure Hall.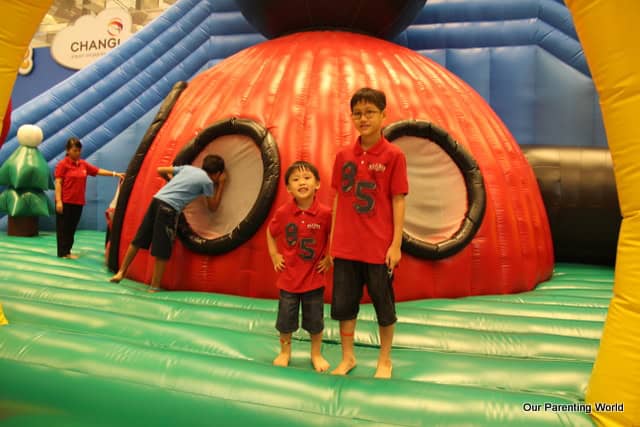 Gor Gor and Di Di can't wait to get into the bouncy playground to start playing.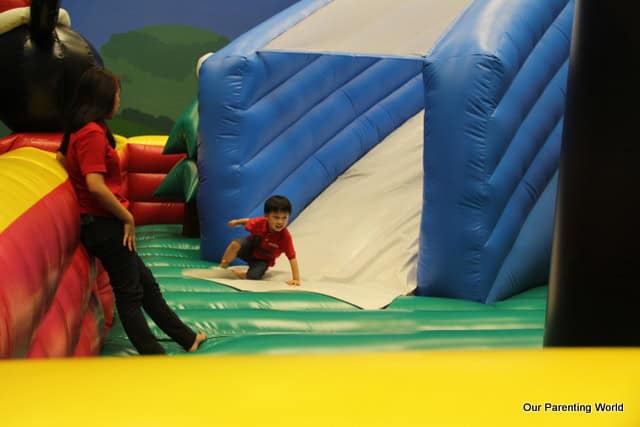 Children will have a great time in this adventure trove which includes play activities like a three-metre high slide, bouncing off sticky Velcro walls and leaping into the colourful depths of the ever-popular ball pit.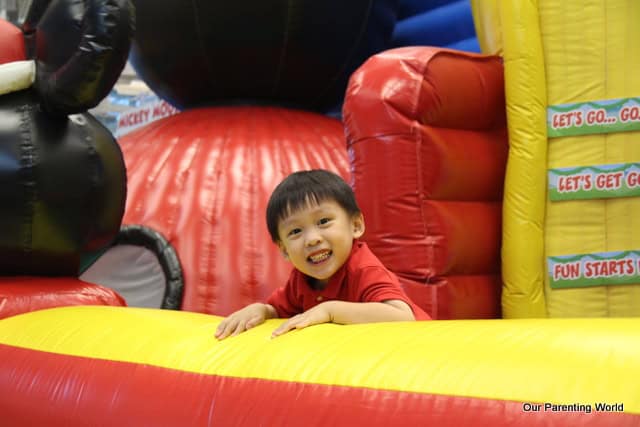 Di Di giving us a happy smile when we looked at him. He really enjoyed himself at the playground. 
Mickey Mouse Club House Bouncy Playground opens daily from 12pm to 10pm. To enter the playground, simply present any same-day receipt with a minimum spend of $30. Every $30 spend allows a single entry.
Changi Airport Christmas Highlights 4
Captivating country-themed decorations
At Terminal 3 Departure Hall centre stage is a three-storey, interactive Neuschwanstein Castle. This castle is inspired by the original Cinderella and Sleeping Beauty Castles that are featured in Disney theme parks and movie. It also feature a moving train experience from within, taking visitors through the idyllic charms of Germany's countryside.
Changi Airport will be giving away Christmas freebies and visitors at the Neuschwanstein Castle can collect tickets before each show time to exchange for a special Disney gift at the redemption booth while stocks last. Roving performers will also be handing out goodies for guests airport-wide at various times of the day.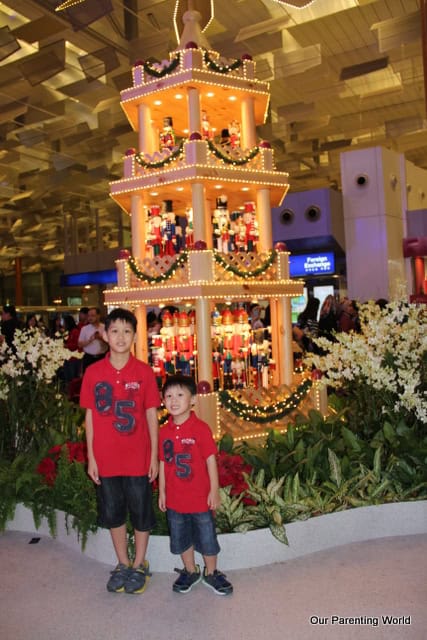 Many visitors, parents and children are seen taking photos with the various displays at the centre stage of the Neuschwanstein Castle. There are other places at the airport where you can take beautiful pictures, some other areas include Spanish costumes adorned on larger-than-life Mickey and Minnie Mouse topiaries (T2 public area) at five-metres tall and or if you are at the transit areas, look out for the picturesque displays of snowy Swiss chalets (T3 transit area), traditional Japanese cottages (T2 transit area), Broadway-styled New York City (T1 transit area). Changi Airport hopes that visitors can read more about the different country destinations, giving them inspiration for their next holiday destination. 
Changi Airport Christmas Highlights 5
Fans of Disney can look forward to collect a full set of six limited-edition Christmas plush toys featuring Mickey and Minnie Mouse in various country-themed costumes. Shoppers and diners can purchase each of these plush toys for S$3 when they spend a minimum of S$60 in a single receipt in Changi Airport's public area, or S$100 in the transit area while stocks last. A new pair will be launched for redemption every fortnight from now till 4 January 2015. In addition, the first 1,000 Changi Rewards members who accumulate a nett spend of S$1,200 during the promotion period will receive a full set of six Disney plush toys for free.
Changi Airport Christmas Highlights 6
Children will have the opportunity to be a part of something big by participating in a Community Art Wall project at Terminal 3. Over the course of the Christmas celebrations, children can channel their creativity onto tile-pieces before placing them up on the community wall to form part of a larger art mural. There will also be booths offering other fringe activities like origami sessions.
Changi Airport Christmas Highlights 7
Changi Airport will be launching a special Christmas micro-site for users to send Disney-themed festive greetings from Changi to their friends and families around the world. Every time a customisable Disney-themed e-card is sent, the user will stand a chance to win a full set of six Mickey and Minnie Mouse plush toys. Fans can also share the festive joy over social media using the hashtag "#ChangiXmas14".
Our Parenting World team would like to thank the lovely organisers of Changi Airport Group for inviting us to experience a magical holiday winter wonderland especially the Disney-themed set-up which the children simply love it!
Additional Information
Christmas festivities at Changi Airport will be held from 14 November 2014 to 5 January 2015. Please click HERE to find out more about the various performances and showtimes at the Airport.