Singapore Art Scene is very vibrant from January onwards with Singapore Art Week 2015 starting off Singapore's visual arts calender with more than 100 events.
Our Parenting World team has earlier covered the Prudential Singapore Eye which showcase some of the finest and talented Singapore artists in contemporary art held at ArtScience Museum. Please click HERE to read about it.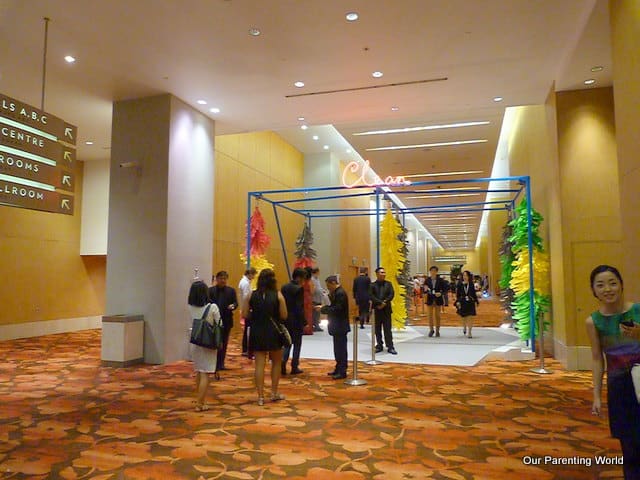 Entrance to Art Stage Singapore
Art Stage Singapore is the leading Asian art fair is back for the fifth year. Visitors can expect to see a wide variety of Asia's dynamic arts scene from countries like Southeast Asia, China, India, the Middle East, Australia and New Zealand. 
The picture above featured Suzann Victor's chandeliers swinging from the ceiling.
The event is held at Marina Bay Sands Expo & Convention Centre from a limited time from 22 – 25 January 2015. Be prepared to spend some time at the exhibition as there are so much to see and visitors can expect to indulge in visual pleasures on the art and creative pieces by many of the finest artists from 29 countries spanning over an area of more 1,000 square metres.
Join Our Parenting World team as we highlight some of the stunning pieces of art at the event: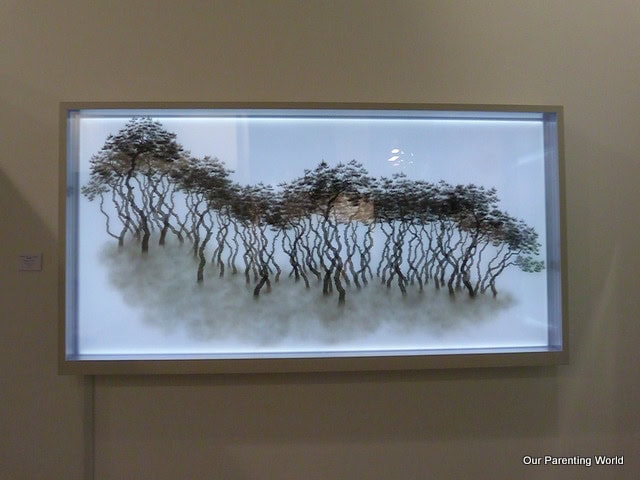 The above art pieces by Son Boon Chae who is born in Korea. Son makes his painting three-dimensional by combining it with built in LED lighting and polycarbonate. 
Visitors can sit on a chair which is provided to admire the Lee Lee Nam's masterpiece where he uses technology to create a pure moving image art effects. In this work, he created a swarm of butterflies of various shapes and colours moving from one screen to another. 
In this picture is called "Mona Lisa – Ruin", Lee Lee Nam adds the background of war, parachutes, a combat of plane and bombs on the famous Mona Lisa. She is able to turn her astonished eyes to follow the airplane and Lee explained that behind Mona Lisa's mysterious smile is her puzzlement and she expresses worry about the world some fifty years later. 
Another of Lee Lee Nam's exhibit titled "Travelers Among Mountains and Streams", the visually stunning art piece has captivated many visitors at the fair.
Visitors can spot a number of Mr Lee Kuan Yew's portraits all over the exhibition. Here are some of the pieces that our team has found.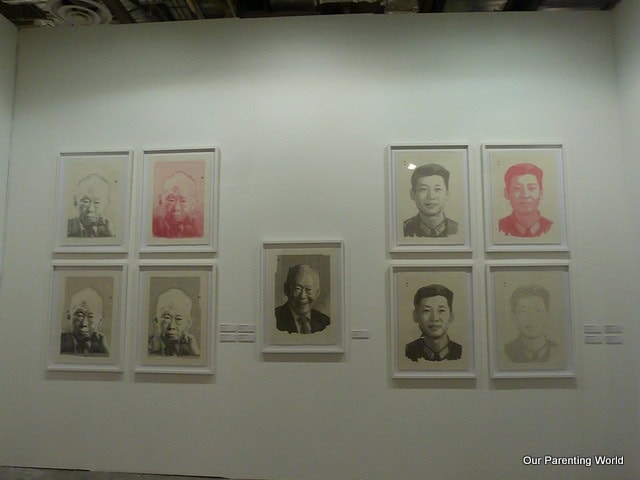 Sketches of Mr Lee Kuan Yew by Nan Qi from China from Art Plural Gallery.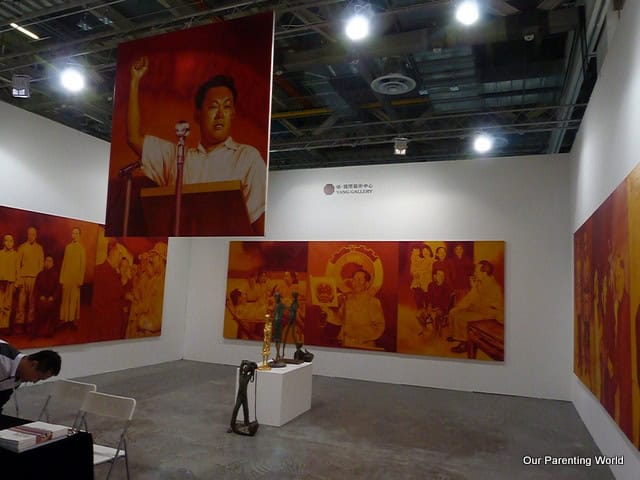 Painting of the younger Mr Lee Kuan Yew by Yang Gallery.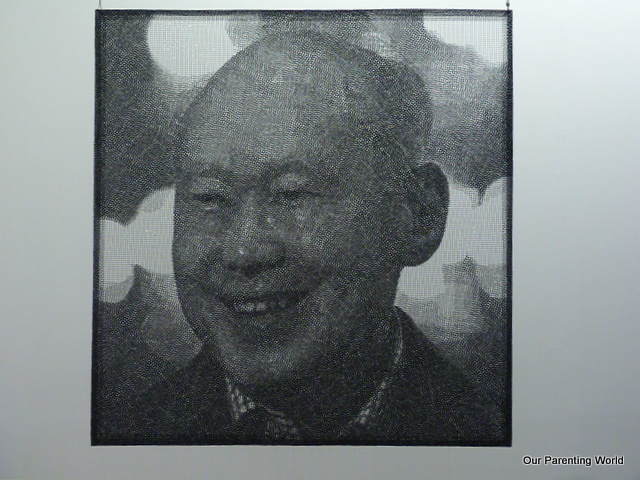 Stainless steel wire mesh portrait of Mr Lee Kuan Yew by Park Seung Mo.
"On the Balcony" by Fernando Botero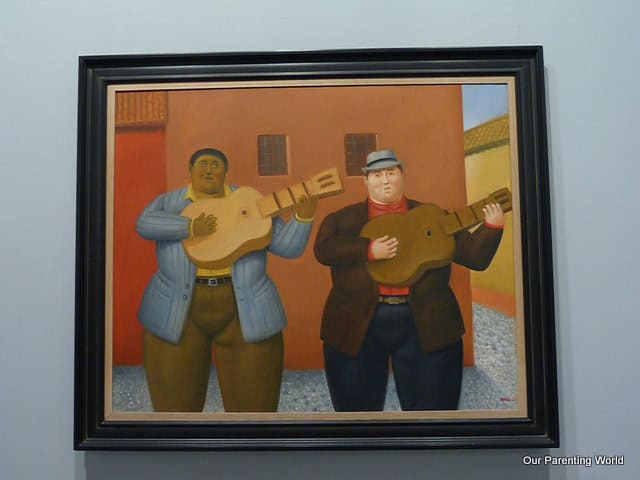 "Two Musicians" by Fernando Botero
Fernando Botero is a Colombian artist who is best known for his interests in drawing and creating bloated, oversized people, animals and elements of the natural world.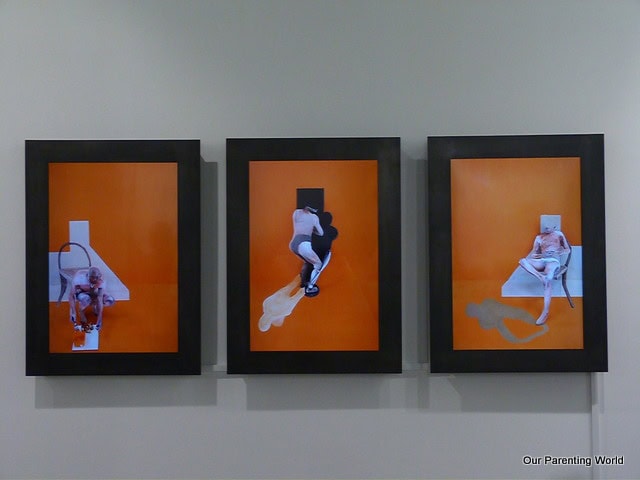 "Triptych, 1983" by Michel Platnic is a video demo and for her works, she often employed drawing, painting, sculpture, photography, video and performance.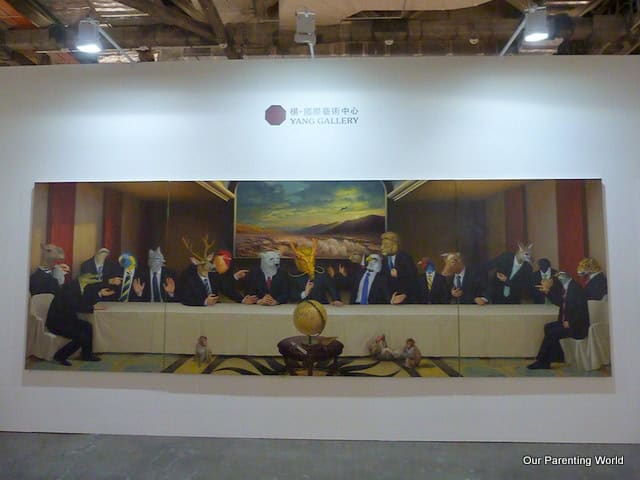 "The Conference" by Zhang Mo, China where he painted animals in suits and ties to replace the religious figures inspired by the famous "The Last Supper" from Leonardo Da Vinci. 
"Blue Tiger on Blue with Red Stripes" by Koller Helmut whose style is one of the most original and promising examples of the Contemporary Figurative "Animalier" movement. He devoted his passion to drawing animals for many years. 
Another stunning tiger drawing that we saw is done by Kim Nam-Pyo from Lee Hwaik Gallery.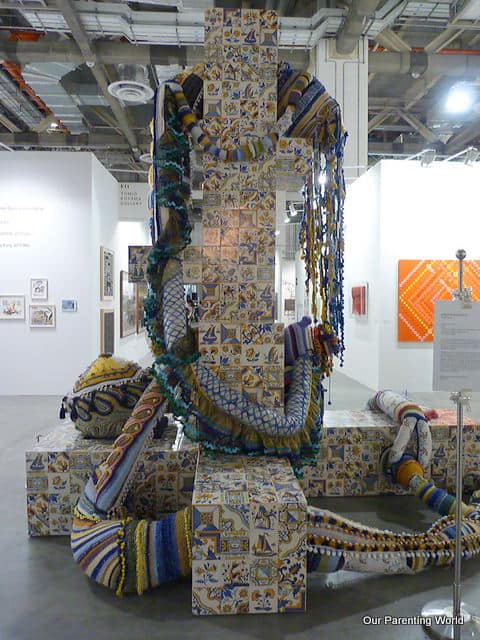 "Tetris" by Joana Vasconcelos is made of hand-painted tiles, handmade woollen crochet and various fabrics and materials.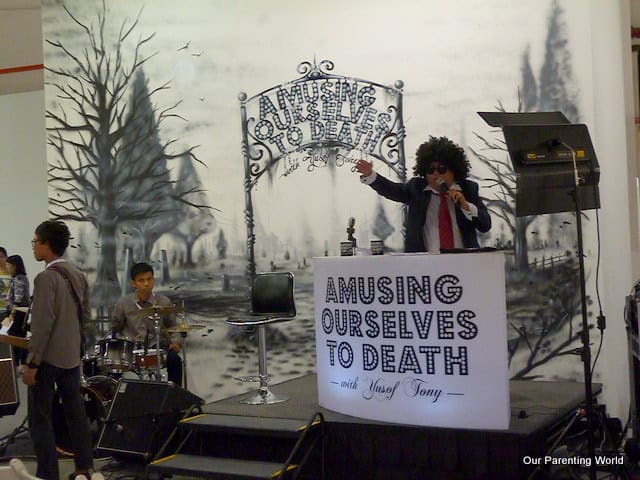 Look out for Zaki Razak's talk show titled "Amusing Ourselves To Death". Please check the show time at the venue on the day of your visit.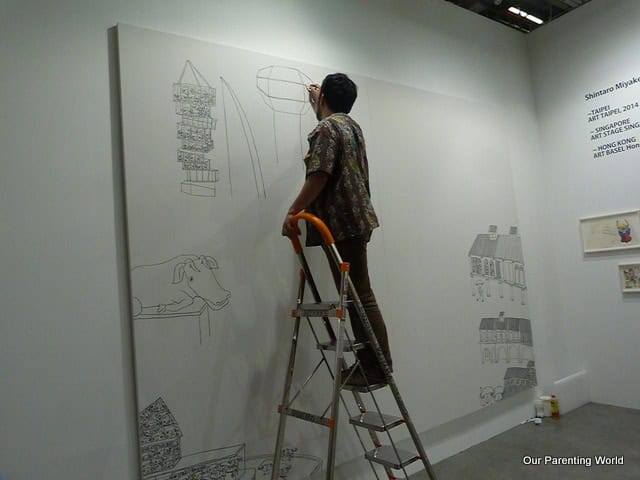 Visitors can also admire the art pieces being drawn by some of the artistes on the spot. In addition, look out for the Singaporean artists, Singapore art schools like LASALLE College of the Arts, Nanyang Academy of Fine Arts (NAFA) and Latent Spaces booths at the event.
Additional Information:
Art Stage Singapore fifth edition is a must see for all art lovers, collectors and art connoisseurs featuring more than 130 galleries from 29 countries.
Period from 22 – 25 January 2015
Venue : 10 Bayfront Ave, Marina Bay Sands Expo and Convention Centre (Halls D, E & F) Singapore 018956

Tel: 6224 4975