Artbox Singapore is Singapore's largest pop-up creative market is back for its 2nd edition, bigger and better than before. This year's theme is // Oasis // – representing an annual urban escape from cityscape into a sanctuary of experiential imagination. It will be held across two weekends from 25th to 27th May 2018 and 1st to 3rd June 2018, located at the Bayfront Event Space, next to Marina Bay Sands – The Shoppes.
Due to the overwhelming reception to last year's edition (600,000 visitors), Artbox Singapore 2018 will spread across the Bayfront Event Space of over 140,000 square feet, nearly three times bigger than last year's event. It is expected to cater to an estimated 700,000 visitors this year with more than 400 regional and local creative retailers and partners.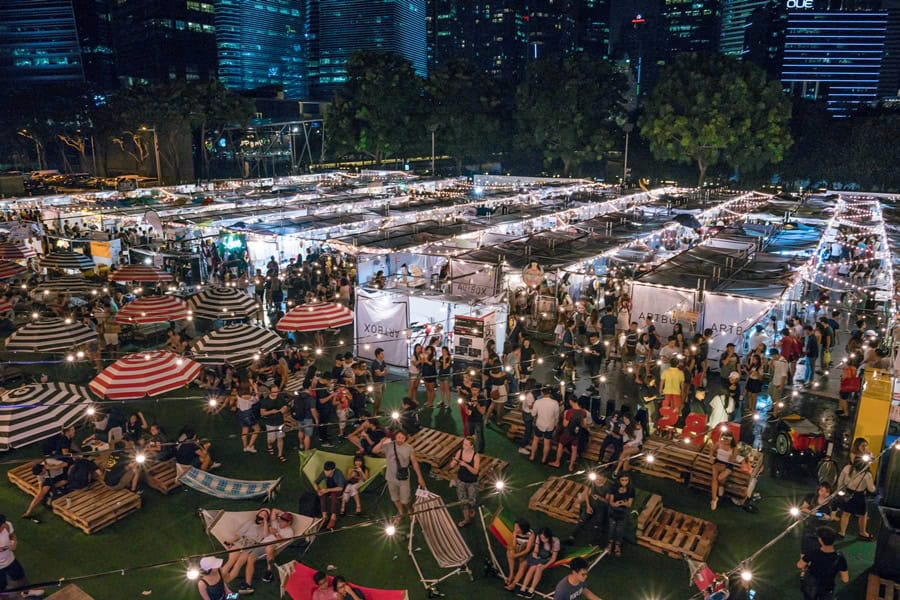 Highlights include:
Massive entrance archway and media viewing deck constructed from Artbox's iconic 20-foot shipping containers

Over 20 (mix of 20-foot and 40-foot) shipping containers to be re-purposed for event usage including an exclusive Artbox Singapore merchandise shop

Quintessential Artbox elements such as stunning fairy lights spanning across 5 km, with an official light up on 25 May, 7 pm

More than 400 booths of beauty, fashion, food and art from regional vendors and partners including new vendors Thai designers Porky Studio, Moonset and Nokkajib, as well as Singaporean brands such as Cereal Citizen.

Creative art installations crafted on Artbox's unique shipping containers
Infused with local elements from Bangkok's highly acclaimed art-ivity container marketplace, Artbox Singapore 2018 is organised by Invade Industry (@invade.co) in conjunction with Artbox Thailand (@artbox_th). Visitors of all ages can look forward to a variety of interactive elements and activities, creative art installations and a wide variety of delectable food, in celebration of the local creative retail landscape. DBS Singapore is also proud to be the presenting sponsor for this year's edition once again.
Delivering an Improved, Multi-sensory Retail Experience with Artbox 2018: Oasis
Garnering massive crowds last year, Artbox Singapore was a rousing success. Improving on feedback from vendors and consumers, this year's event will increase its capacity to accommodate more visitors and retailers. With nearly thrice the amount of space compared to last year, there will be greater overall crowd holding capacity and more spacious walkways between booths, to prevent bottlenecks and overcrowding. Introduction of a dedicated entrance archway means enhanced security and controlled entry. Visitors are also encouraged to lighten their environmental footprint and avoid long carpark queues, by utilizing public transport to reach the event space, which is just a 5-minute stroll from the nearest MRT Station, Bayfront.
Celebration of Creativity with Artbox 2018: Mix of Retail, Revelry and Refreshments
A pioneer in Singapore's contemporary pop-up retail scene in their inaugural launch, Artbox Singapore showcases the novel concept of a creative market to Singaporean consumers. The event provides a supportive platform to showcase local and Thai retailers and entrepreneurs, serving up innovative snacks and selling unique knick-knacks such as quirky designer bags and jewellery. "Beyond providing an alternative art-retail experience for Singaporeans, Artbox is committed to empowering and celebrating young talent in the local retail scene. The event's success proves that there is indeed overwhelming potential in Singapore for local creatives and homegrown retail-entrepreneurs," said Mr. Kent Teo, founder and chief executive officer of Invade Industry. "As such, consumers are becoming more discerning, as they demand better quality and idiosyncratic purchases, which come with higher valuations."
Artbox Singapore 2018: Oasis
Event Details
Dates:
May 25 – 27 2018 (Friday to Sunday)
June 1 – 3 2018 (Friday to Sunday)
Time: 3 – 11 pm
Venue: Bayfront Event Space, next to Marina Bay Sands – The Shoppes, 12A Bayfront Avenue, Singapore 018970
Nearest MRT: Bayfront
Our Parenting World team will be bringing to you more on the happenings at Artbox Singapore and stay tuned to our coming feature on Artbox Singapore 2018!