ArtScience Museum presents Patricia Piccinini: We Are Connected from 5 August, visitors can look forward to experience a sculptural universe that imagines a world where human-animal hybrids, cloned creatures and cyborgs exist alongside humans.
Presented in collaboration with the Institute for Culture Exchange, Patricia Piccinini: We Are Connected marks the Australian artist's first major solo showcase in Southeast Asia, bringing together more than 40 significant artworks forged at the intersection of art and science. Piccinini has explored the evolving relationships between humans and nature as biotechnological advancements such as genetic engineering has progressed over the last 30 years. She has since emerged as one of the world's leading contemporary artists, representing Australia at the Venice Biennale in 2003 and holding notable solo shows in Europe, the United States, South America, Australia and Asia.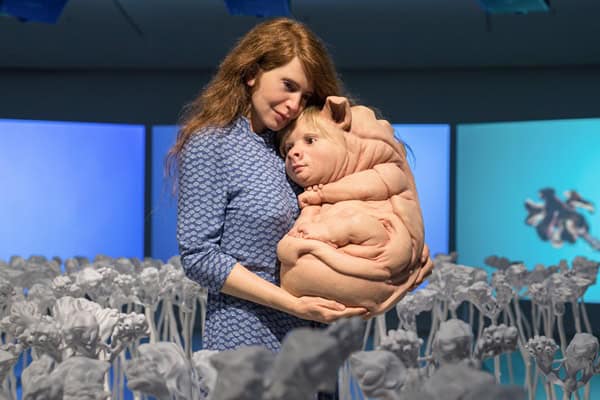 The Bond, 2016 (detail)
Her menagerie of hyperrealistic sculptures is brought to life through a sophisticated process that combines silicone, fibre glass, resin, automotive paint and unorthodox components like human hair. These strange and wondrous creatures straddle the artificial and natural, embracing potential new lifeforms and the ever-changing human body that may emerge from today's digital age. 
Despite their alien appearance, Piccinini depicts her hybrids as engaging intimately and lovingly in everyday scenarios through vivid installations. In these futuristic yet domestic narratives, vulnerability and tenderness are brought to the forefront, prompting a sense of empathy among viewers in the face of the unfamiliar. By imagining new communities and kinships across species and contemplating societal ideals, visitors are encouraged to adopt different perspectives when relating to others.
Patricia Piccinini: We Are Connected Highlights
There are seven key sections in the exhibition that feature sculptures, installations, videos and collages by the artist from the early 2000s to 2021. Among the issues she confronts in her work are DNA editing, cloning, interspecies connections, scientific intervention, evolution, and their roles in the present and future based on the bioethical challenges associated with humans' manipulation of nature.
In addition, several artworks also address pertinent issues such as climate change, technology and existence, as well as challenge conventional notions of beauty, perfection and the ideal body. In Patricia's universe, children and adults alike are invited to step into a world of loving interspecies kinships, where messages of empathy and care are communicated for not only the creatures and plants we share this planet with, but also those who will follow.
Patricia Piccinini: We Are Connected
Dates: Opening on 5 August 2022 to 29 January 2023
Operating Hours: 10am – 7pm (Last entry at 6pm)
Ticketed Admission:
Singapore Residents:
Adult: S$18, Child: S$14
Tourists:
Adult: S$21, Child: S$16
For more information on Patricia Piccinini: We Are Connected, please visit https://www.marinabaysands.com/museum/exhibitions/patricia-piccinini.html
All images credit to Marina Bay Sands