Honeypeachsg Bakery is an online bakery that specialize in customised cakes and desserts for birthday, wedding, and corporate events. All their custom cakes are freshly made, using only the highest quality of cake ingredients and with timely, responsible delivery at affordable rates. They also accept last minute cakes with a minimum of 2 to 4 days lead time.
Thanks to Honeypeachsg Bakery, we get to try out their lovely cake and cupcakes as follows:
White Swan
We are so impressed with the stunning cake named White Swan that comes with dreamy white pastel scheme with 3D feather wings, glass bubbles, roses and elegant crown as decorations. It is now available at a promotion price of $109 (U.P. S$138) and comes with free delivery. It is so pretty and makes a perfect cake for birthday celebration. We chose Strawberry Short Cake flavour, the texture of the cake is soft and moist, the cream is light, not too sweet and filled with juicy strawberries. 
Classic Gold Cupcakes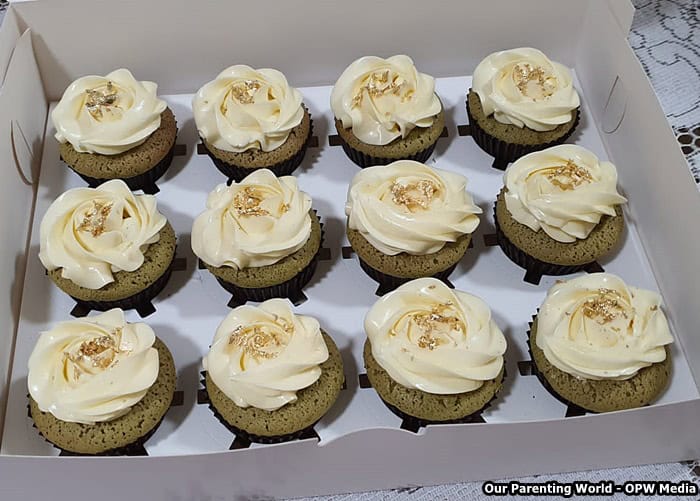 Classic Gold Cupcakes comes in a box of 12 at $58, these elegantly made cupcakes come with a touch of gold. We chose the Matcha White Chocolate with White Choco Bits flavour, this is a unique combination of earthy matcha with delicious white chocolate. The texture of the cupcake is very moist, light, full of flavour with slightly chewy white chocolate bits. 
Mermaid Ombré Swirl Cupcakes
Mermaid Ombré Swirl Cupcakes comes in a box of 12 at $65, this is a beautifully-made, visually appealing, whimsical ombre swirl cupcakes adorned with the prettiest pastel mermaid tail made of delicious white chocolate. We chose Earl Grey Lavender flavour and the aromatic cupcake pairs perfectly with the flavourful earl grey and the sweetness of lavender. So tasty! 
Honeypeachsg Bakery produces gorgeous, high quality cakes and cupcakes made with the finest and freshest ingredients that are set to impress! They create customised cakes that matches the theme of your party and includes your favourite cake flavours. To find out more and to order from Honeypeachsg Bakery, please visit their website at https://www.honeypeachsg.com/
Their Cake Shop:
The Promenade @ Pelikat
183 Jln Pelikat #B1-64
Kovan, Singapore 537643
*by appointment only
Contact:
Whatsapp: +65 9088 4932
Email: [email protected]