Auntie Anne's turns 25 in Singapore and since its launch in 1996 with the first and still operating Auntie Anne's store at Parkway Parade, the signature warm, buttery soft pretzels have become a simple yet satisfying snack to enjoy with family and friends. Today, Auntie Anne's has expanded to eight existing stores islandwide; providing happy moments through freshly-baked pretzels for Singaporeans of all ages.
In celebration of Auntie Anne's 25th Anniversary, get ready for an exciting celebration as the family favourite American pretzel brand, Auntie Anne's has come up with a slew of activities this August and September; including new limited-new flavours and a Soft Pretzels Baking Workshop.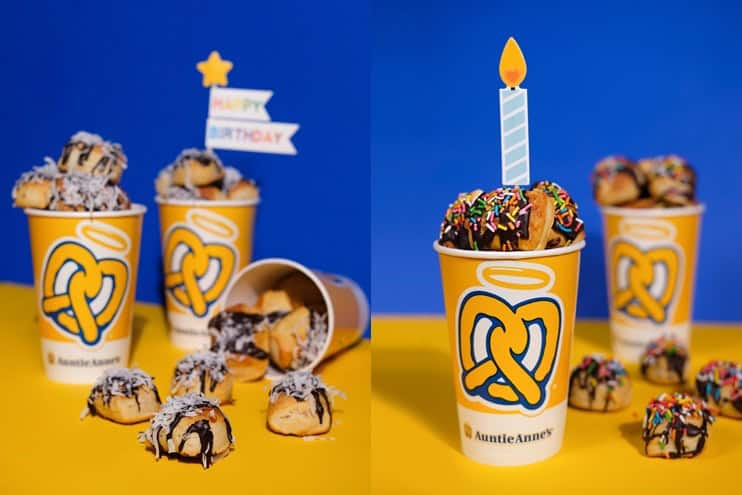 Birthday Pretzel Nuggets, available with Coconut Flakes or Rainbow Sprinkles at $5.20 each
Auntie Anne's 25th Anniversary and Birthday Pretzel Nuggets Specials 
Auntie Anne's is launching a new and limited-time addition to its menu: the Auntie Anne's Birthday Pretzel Nuggets, which will be available for purchase online and in-store from 2pm during this festive period of 17 August 2021 to 10 October 2021 only.
The Birthday Pretzel Nuggets, coated with the brand's signature semi-sweet chocolate sauce that fans have come to love, fans can also opt for the cute multi-coloured Rainbow Sprinkles toppings for that added sweetness or go for a localized spin to the American pretzels, with the desiccated nutty-flavoured Coconut Flakes toppings that makes for a light yet irresistible pairing! 
Look out for the limited-time promotion of its Birthday Pretzel Sets and 25th Anniversary Celebration Set, each set will also come with collectible Auntie Anne's merchandise – a Pretzel plushie keychain and/or a canvas tote bag available from 17 August 2021 in-store and online for a limited-time only!
In addition to the Birthday Pretzel Nuggets and a choice from the Top 3 Pretzels (Cinnamon Sugar, Almond Crunch and Parmesan Cheese), the Birthday Pretzel Set A will include one Pretzel Plushie while the Birthday Pretzel Set B will include one Auntie Anne's tote bag. Each set retails at $10.30 and $14 respectively.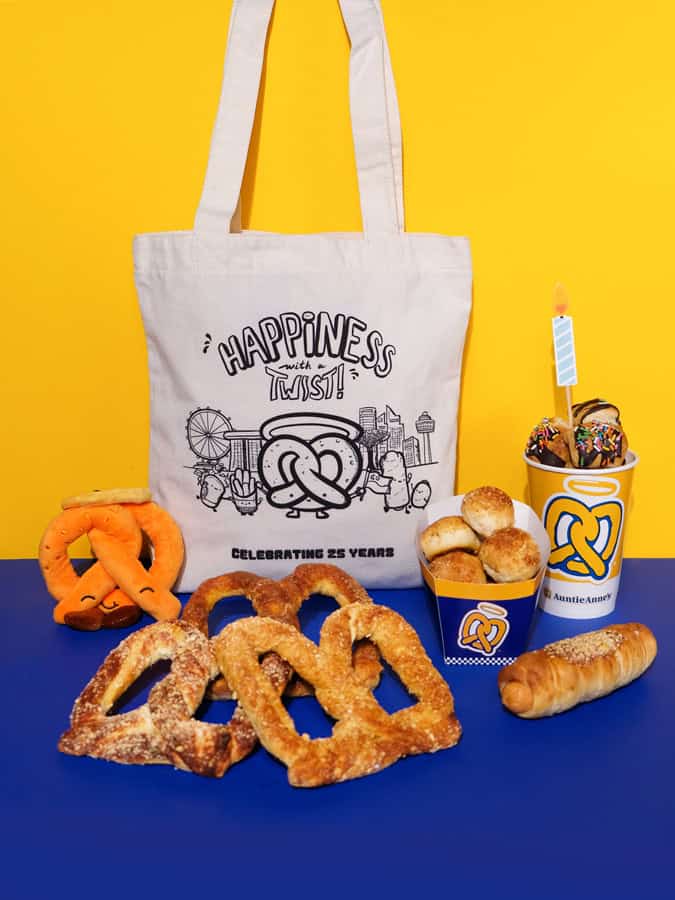 You can also go for Auntie Anne's 25th Anniversary Celebration Set for that added-value, with each set retailing for $25.00 and includes the Birthday Pretzel Nuggets, the Top 3 Pretzels, one Cheese Dog, one Chocolate Almond Bites, as well as one Pretzel plushie and collectible tote bag. Each merchandise was also specially designed in collaboration with homegrown artist, Ho Junsheng. Better known online as '@meetmito' for his whimsical webcomics and stickers, the artwork's merchandise is a nod to Auntie Anne's authentic 25 years of history on the island having seen distinctive landmarks such the Singapore Flyer and Marina Bay Sands being constructed into Singapore's skyline. The canvas tote bag is also playfully designed with Auntie Anne's iconic pretzel and other offerings reimagined as adorable cartoon characters.
Bond over Baking: Auntie Anne's Exclusive Soft Pretzel Workshop
Auntie Anne's will be hosting eight exclusive Soft Pretzel Baking Workshop sessions in September for fans to bond over their love for soft buttery pretzels while learning insider tips to get the perfect twist of Auntie Anne's pretzels right!
With the recipe passed down by Anne Beiler, the founder of the brand herself, attendees will be guided by second-generation owner of Auntie Anne's Singapore to bake and bring home three soft pretzels and/or pretzel nuggets with toppings of their choosing.
From 17 August 2021, head over to https://auntieannesg.com/ and click 'Order' to be prompted to Auntie Anne's online web ordering form to purchase tickets. Limited slots will be available, with each ticket priced at $15 per person.
Fans can also join Auntie Anne's 'Pretzel Hearts' Loyalty Programme to not miss out on any special deals as well as collect e-loyalty points to redeem free Pretzels! Registration is free and can be made online, with every new member to receive a 1-for-1 voucher with their first Pretzel purchase.
The Ties that Bind: 'Hearts for Knots' Pretzel Donation Campaign
Having received strong support from Singaporeans in the last 25 years, Auntie Anne's is also calling for generosity and giving back to the community. Amid this anniversary celebration, Auntie Anne's will also be launching a pretzel donation campaign, Hearts for Knots' Pretzel Donation, where members of the brand's loyalty programme can donate their e-loyalty points to provide complimentary pretzels to healthcare frontliners of Singapore General Hospital and Khoo Teck Phuat Hospital, as well as to beneficiaries from SHINE, The Salvation Army and the Willing Hearts from 17 August 2021.
With a goal to contribute 2,500 pretzels over 2 months, the campaign will also be utilising a lower rate conversion of 25 Hearts for 1 Pretzel with the usual conversion being 40 Hearts for each Pretzel redemption. New customers can also join in the campaign just by signing up to be a Hearts Rewards member.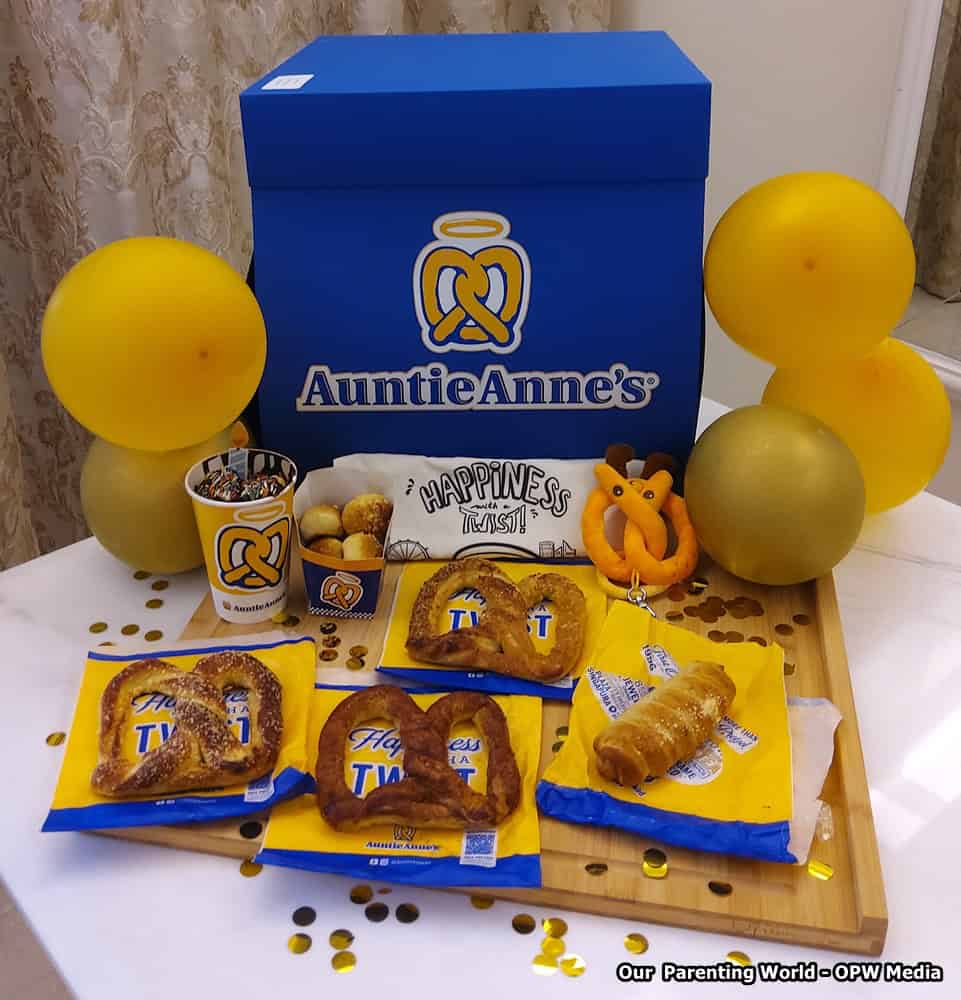 Happy 25th Anniversary to Auntie Anne's! Thank you for the delicious and specially-created Auntie Anne's 25th Anniversary Celebration Box!
For more information, please visit auntieannesg.com.