Auolive, is the latest premium multi-functional skincare line in Singapore. This trendy brand is the brainchild of a Singaporean female entrepreneur Claire Au, who believes time is precious and effective skincare should be hassle-free. Auolive is the new skincare regimen hack for modern busy women. 
Our Parenting World team is very honoured to be able to interview Ms Claire Au, founder of Auolive where she shares her thoughts and insights into creating Singapore's very own premiere multi-functional skincare for the modern busy ladies. 
1. Congratulations on the launch of Auolive Skincare products! We are very excited to know about your products and can you share with us what motivated and inspired you to start your own skin care business?
It was my dream to have my own beauty business since school. In fact, I joined a local FMCG doing skincare not long after graduating.
And how it all started was I've grown up knowing the multi-step skincare regimen as the defacto standard for a beauty routine to have good skin, watching my mum put on creams after creams as a little girl, and me following suit when I grew up.
It used to be the 3-step cleanse, tone, moisturise, but with time, more steps like serum, essence and sunblock were added. And it came to a point where I couldn't keep up with the routine when I was running my own F&B business because of the long hours. On some nights, I have to head to the wholesale fish market at 2am in the wee hours- and by the time I'm home, I try my best to still stick to the routine, but many times I fall asleep after just one step- cleansing. It was the same thing in the morning – I had no time for an elaborate multi-step skincare routine because I had to rush out to make deliveries
And as I was preparing for the next stage of life- marriage, I knew I would get even busier. I know that for a fact because I watched my mum juggle family, career, overseas business trips and a social calendar. So that convinced me that I'm on the right track- skincare has to be made easier and faster with multi-functional products, allowing all the other time-strapped, busy, multi-tasking women out there and myself, to skip the multi-step skincare regimen with simple and effective skincare solution.
After more than 2 years of research and development, Auolive was born!
2. How do you come up with this beautiful name, Auolive for your skincare business?
We brainstormed many names and at the same time prayed really hard for a name. God downloaded the name to my dad and we all loved it! It is pronounced as 'olive', and is a combination of our family name Au, and the evergreen tree olive. Olive trees and olive oil are known to be symbols of strength, health and beauty. Many olive trees are centuries old, and can live beyond a 1000 years and still bear fruit. Olive oil is natural and multi-functional, and can be used for cooking and also sooth and nourish skin, which is really in line with our brand because we're bringing women multi-functional beauty products using natural active ingredients.
3. Can you tell us more about your skincare products? What is unique about Auolive range of skincare products and how does it differ from other brands?
Auolive skincare products are very targeted, and cater to busy women with no time for the multi-step skincare regimen and prefer something simple and effective. What is unique is that Auolive products are multi-functional in efficacy. After cleansing, instead of applying several anti-ageing and brightening products- e.g. toner, essence, serum and sunblock, you just need to apply our Day Glower product (which also doubles up as a primer), pat on some face powder and you're ready to leave the house looking good. We really put a lot of thought into how to save women time and still have good skin!
We also put in a lot of thought and effort into ensuring the quality of our products. All our products are dermatologically and clinically tested, which means that there's an added level of trust because the products have been tested by the independent experts. We've also formulated all our products to be water-based so that it's suitable for the tropical weather, and for ladies who prefer lighter formulations in their skincare products. Auolive products contain natural active ingredients, and are also paraben, colour and sulphate free.
For our bottles, we use Korean-made Airless Pump bottles which are airtight to ensure that the product has zero exposure to air, thus preventing contamination and delivering maximum performance of the ingredients in our products. We also noticed that many times, people misplace the bottle caps of their skincare products, so we selected a bottle with a twist cap so you would not have this issue! Also the bottles are leak proof so it is convenient for travel. No more need for zip block bags in case of leakages.
4. What is your suggested skin care routine to maximize the benefits of each of your products?
In the morning- after cleansing, gently dab on our Eyes Lifter, which is our Invigorating Eye Serum, followed by applying on your face our Day Glower, which is an Antioxidant Brightening Moisturiser with SPF 30 and UVA protection. Pat on some powder and you are ready to go.
At night- after cleansing, gently dab on our Eyes Lifter on your eyes, followed by the Night Booster which is an anti-ageing Collagen Restorative Moisturiser. You will wake up to soft, hydrated skin the next morning.
Once or twice a week, give your skin a much needed boost by using our Radiance Revealer, which is a gentle, Superfruit Exfoliating Gel. This will help to refine pores, get rid of dead skin cells, rejuvenate and brighten your complexion. This product is used at night after cleansing, on dry skin. We received a lot of feedback from customers that their skin does look radiant (as suggested in the name) and pores are finer.
We've spoken to many women and realised that there are many misconceptions about eye creams- from what to apply, to how to apply. So we've written an article entitled "The Who, Why, What, Where, When & How of Eye Creams". Please read this in order to maximise the benefits when using our eye product. You can read more from the link here:
https://auolive.com/en/blog/the-who-why-what-where-when-how-of-eye-creams-n5
5. Which Auolive product that you could not live without?
I love and use all the Auolive products. But the one that really helps me get out of the house fast each morning is the Day Glower – in the past I'll apply 3 to 4 products, now I just need to put the Day Glower, pat on some powder I'm ready to go.
Similarly, at night, the one that helps me get to bed fast is the Night Booster- I can skip the multi-step regimen (toner, essence, serum, and moisturiser) and just use the Night Booster and head to bed.
In my recent short trip to Bali, other than a cleanser I only had to carry 3 Auolive products (Day Glower, Night Booster and Eyes lifter) while in the past I carry at least 6 besides the cleanser. Like the toner, day cream, serum, sunblock; night cream, serum and eye cream. Though it was hot in Bali, my face did not turn red as I was using the Day Glower which has soothing properties to minimise skin irritations.
6. What are your views on using skin care products of different brands at the same time and changing brands often? What will be the impact on our skin?
It's alright to mix and match brands, and even to change brands, but really keep in mind that what you're buying matches your skin requirements- from the key ingredients to the texture. Our skin is dynamic, and can change in response to the environment, climate, hormones, the skincare products you use and the makeup you wear. Hence it's important to choose your skincare according to your skin condition.
For example, if you're travelling to a cold country with a dry climate- your normal moisturiser may not work and you may need to use something richer. That doesn't mean you have dry skin, your skin is simply responding to the environment.
Also on the texture, you would like to choose products that are easily absorbed so that you do not have a cloying feel or have to walk around with an oily looking face. Make up will sit better on the skin when the products are absorbed well.
7. On a personal note, can you share with our readers any tips and advices for maintaining healthy, glowing skin and looking young?
Yes I'm really glad you asked that! As women, we need to feel beautiful to look beautiful! It's very important to nourish and protect your skin in order to look young. But beyond that a lot of factors also come into play when it comes to how we look.
Do take care of yourself, meaning to get enough sleep, drink enough water, eat healthily and exercise. When you're stressed, try and relax – perhaps you could read a book, paint or nails, or go for a massage and if time is really tight, just burn a nice candle- otherwise the stress could be "written" all over your face.
A note on eating healthy- choose food that are good for your complexion- e.g. superfruits like pomegranates or berries (blueberry, raspberry, blackberry) which are packed with antioxidants which help your body (and your skin) fight ageing.
8. You are certainly an inspiration to many who wish to be entrepreneurs. What advice would you give to those who wish to start up their own business?
Before you start, first make sure there is demand for your product or service! Before embarking on Auolive, my family and I had been in the skincare business for 3 years. And it was through conversations with many women that we knew Auolive would be a hit because there was pent-up demand from time-strapped, busy multi-tasking women who simply cannot afford the time for a multi-step skincare regimen.
Once started, you need to stay focused and persevere as there will be challenges and distractions.
9. What are your upcoming plans for Auolive that we can look forward to?
We will continue with R & D for products that are in line with our brand of multi-functional effective skincare using natural active ingredients, and some are in the pipeline for launch soon.
We also intend to build Auolive into a regional and global brand.
10. Lastly, do you have anything else you would like to share with our readers about Auolive brand and Auolive Skincare products?
We believe that good skincare should not be a hassle and can be achieved in a jiffy. With Auolive, you can hack the traditional multi-step skincare regimen, and use the time saved for other important things in your life- example spend time with your children, catch more sleep, or simply indulge in a bit of "me" time.
Auolive is about embracing women and in the future we will look at CSR projects which will help marginalised women, be it here in Singapore or in the region.
Thank you Claire Au for taking our interview!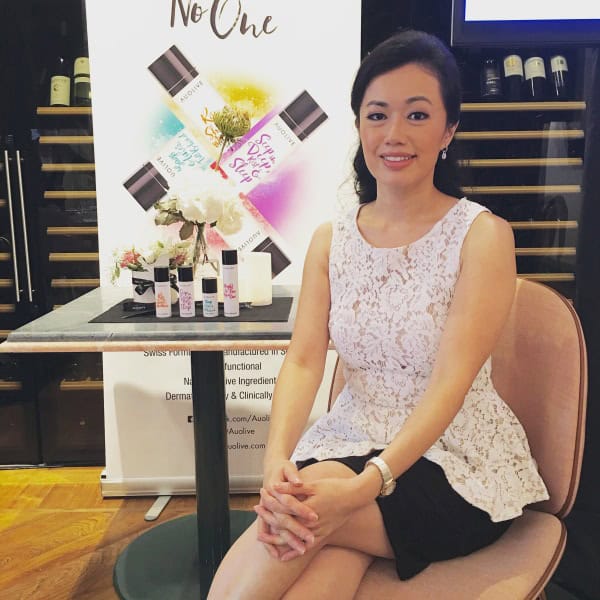 Images credit: Auolive
Our Parenting World team has earlier attended and shared about the launch of Auolive products. We are very excited to see our very own Singapore's brand of skincare products, Auolive is the latest premium multifunctional skincare line by Singapore's entrepreneur, Ms Claire Au.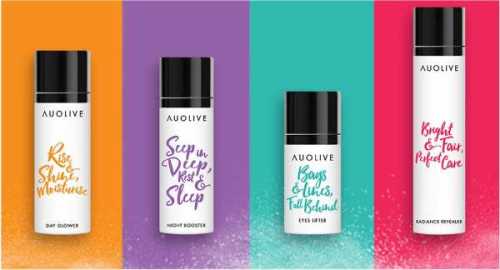 Image credit: Auolive
Auolive's four products at the launch event (from left to right) are the Day Glower, Night Booster, Eyes Lifter and Radiance Revealer.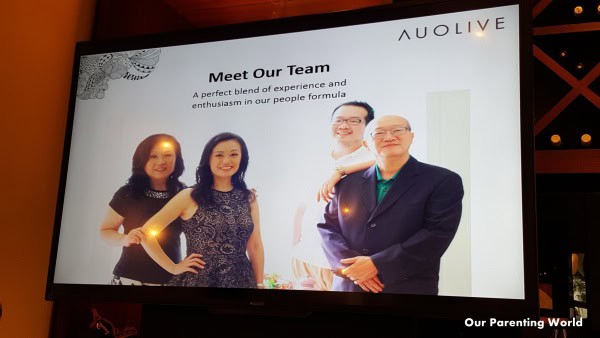 Its skincare products are the result and brainchild of Ms Claire Au and what we realized at the launch event is that the whole Au family has actively played a significant part in finding the right skincare for the benefit of modern busy women. Many of the women nowadays are struggling to find time to fit in and or to find a suitable skin care regime to maintain beautiful and healthy skin.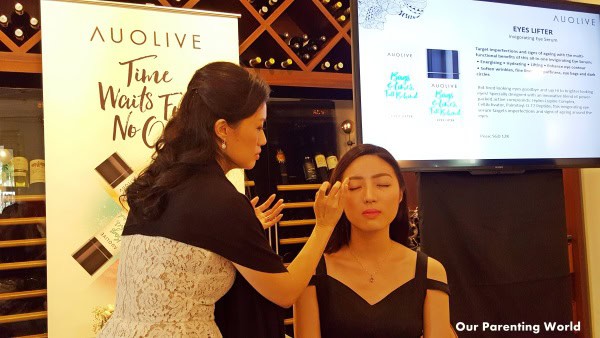 Auolive's founder, Claire Au demonstrating to us on the right way to apply its Eyes Lifter.
Claire grew up watching her mum, Lisa juggle between a full time management job, business trips, family and her social calendar. After years of observation and from Claire's and her mother's experiences of using various skincare products. Having also going through all kinds of skin care regime as well as trying out various skincare products, coupled with a deep desire to formulate a multifunctional skincare products that are suitable for modern ladies, Auolive is born!
The aim is to use less products, having to spend less time applying various products to achieve the best benefits of just using the four key Auolive's products. Auolive was produced after two years of intensive research and development and feedback from trial users. 
Image Credit: Auolive
Auolive has also come up with an unique packaging that makes it easy for us to use its products. Introducing the airless pump bottle, all you need to do is to twist and turn the top part of the product, the content will come out easily, it hygienic, helps to prevent wastage and save time too!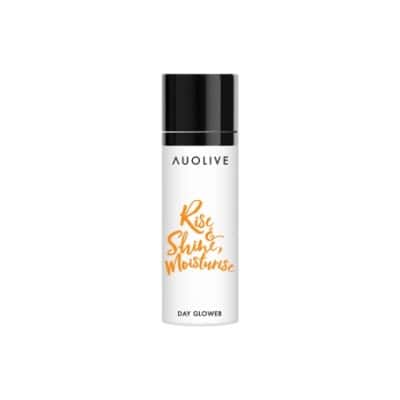 Image Credit: Auolive
DAY GLOWER – Antioxidant Brightening Moisturiser (Water-based) SPF 30 with UVA Protection
Size: 30ml and SGD$118
Every morning, apply this lightweight, non-greasy antioxidant moisturiser that comes with a luxurious blend of natural active ingredients, it will help to protect your skin from premature ageing, against UV rays and environmental pollutants. Your skin will be soft, supple and glowing with radiant!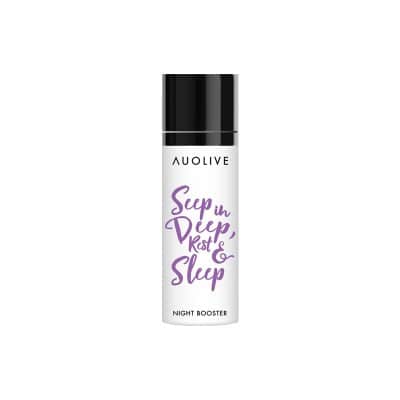 Image Credit: Auolive
NIGHT BOOSTER – Collagen Restorative Moisturiser (Water-based)
Size: 30ml and SGD$138 
Use this at night, it contains more than 80% of pure concentrated Marine collagen that helps to smooth out skin's surface lines creating an unique self-remodelling feature to make your skin more supple, radiant, firm and youthful.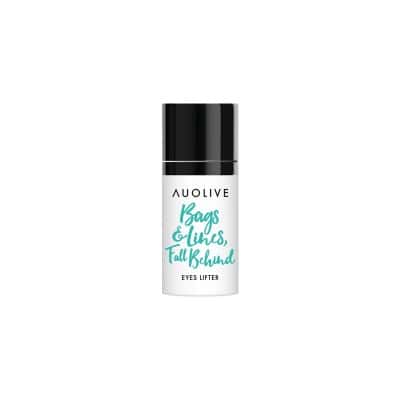 Image credit: Auolive
EYES LIFTER – Invigorating Eye Serum (Water-based)
Size: 15ml and SGD$128
The eyes' area are the most fragile, nourish and protect your eyes' area from signs of ageing using this eye serum that is filled with an innovative blend of active compounds: Hydro-Lupine Complex, CellActivator and Palmitoyl-O-T7 Peptide. 
Image credit: Auolive
RADIANCE REVEALER – Superfruit Exfoliating Gel (Water-based)
Size: 50ml and SGD$58 
Use this gentle exfoliation to lift dead skin cells and support skin's renewal process. After exfoliating, your skin will be soft, smooth, cleaner and it will help your skin to better absorb skincare products.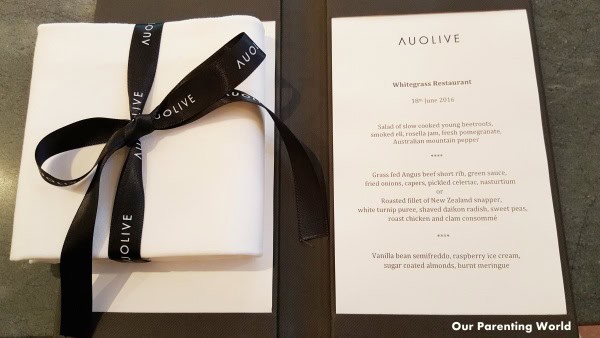 Media and bloggers attended Auolive's media launch at the fabulous Whitegrass Restaurant at CHIJMES.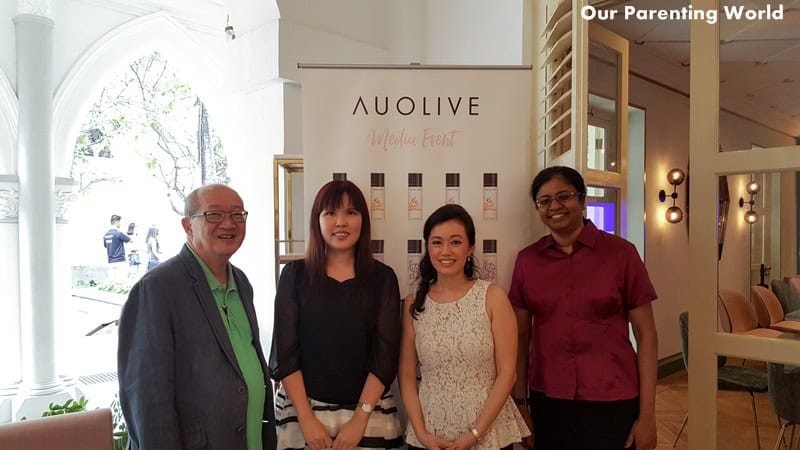 Our Parenting World team together with the very lovely Auolive's founder, Ms Claire Au and her father, Mr Boyd Au. It is a great pleasure meeting them!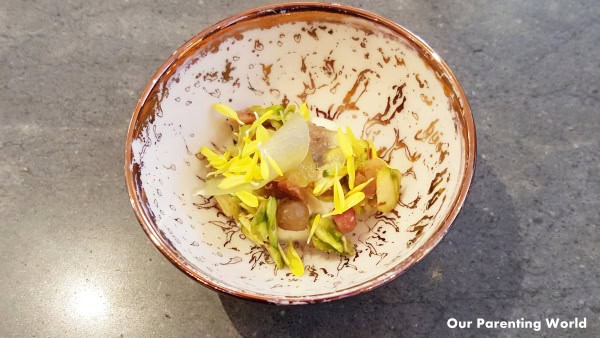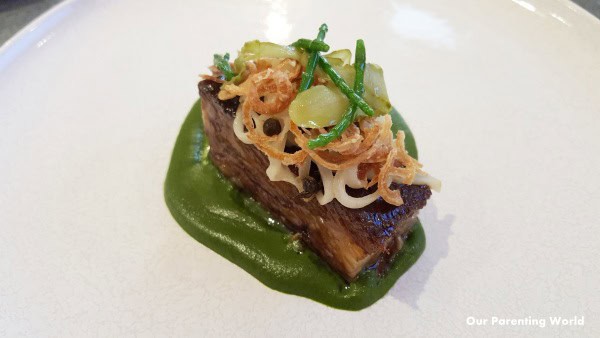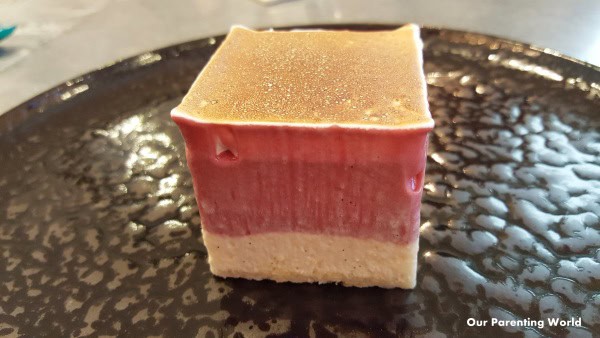 Whitegrass restaurant, is a modern Australian fine dining restaurant and bar located in the historical Chijmes complex. The restaurant is helmed by Chef Sam Aisbett and we thoroughly enjoyed the meal. Each dish is a piece of art with many of us admiring and taking photos of each of the dish presented to us and not to mention, they are absolutely delicious! 
Whitegrass restaurant
Address:
#01-26/27 Chijmes, 30 Victoria St, Singapore 187996
For more information on Whitegrass restaurant, please go to:
http://whitegrass.com.sg/#reservations
Auolive is Swiss formulated with active ingredients used. The four products are the Day Glower, Night Booster, Eyes Lifter and Radiance Revealer. 
Dermatologically and Clinically Tested

Non-allergenic Fragrance

Paraben, Alcohol and Colour Free

Swiss Formulated. Made in Singapore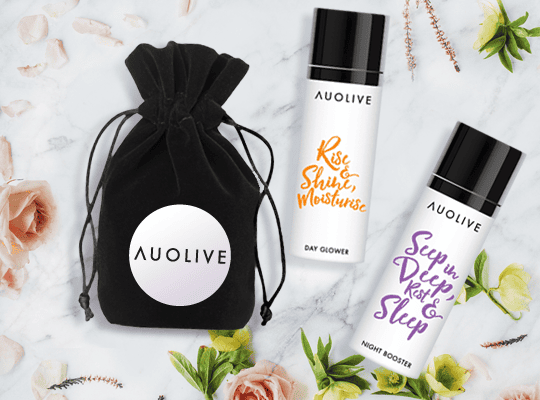 Image credit: Auolive
You can request for a try me kit at http://auolive.com/en/content/24-day-glower-night-booster-try-me-kit. In addition, you can quote <Auolive20PW> to enjoy SGD$20 off any purchase at their e-store at www.auolive.com!
Auolive products are currently available online. To find out more about the products, its benefits and to purchase them, please go to 
Website: http://auolive.com/en/