Celebrate Chinese New Year at the award-winning Gu Ma Jia where you can enjoy a sumptuous, delicious and healthy meal with your family and friends! 
To welcome the Year of the Pig, customers can place orders in advance for its Roasted Suckling Pig and ala carte dishes during the festive season. Chinese New Year Reunion Set Meals with an impressive assortment of delightful dishes are also available.
Our Parenting World – OPW Media team is delighted to present the highlights of some of the fabulous dishes at Gu Ma Jia as follows: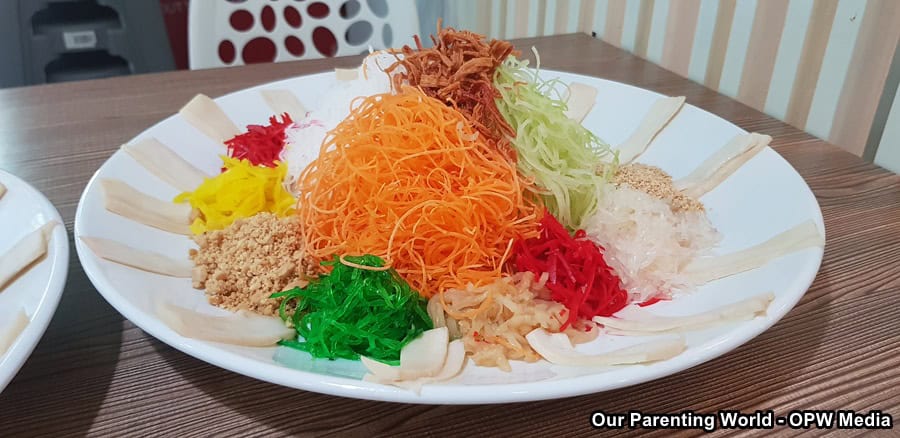 Prosperity Yu Sheng (Gui Fei Abalone) at $40.80/$50.80
This Yu Sheng consists of a mix of delectable ingredients with Gui Fei Abalone to symbolises good luck and wealth!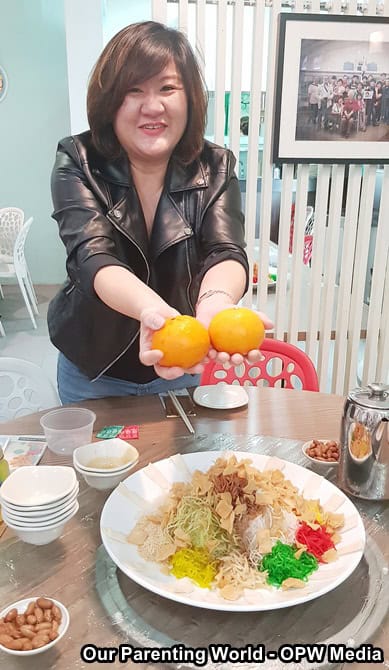 We enjoyed tossing this colourful Yu Sheng filled with fresh and crunchy assortment of vegetables, crackers and accompanied with sweet and tangy sauces that are so refreshing and appetising!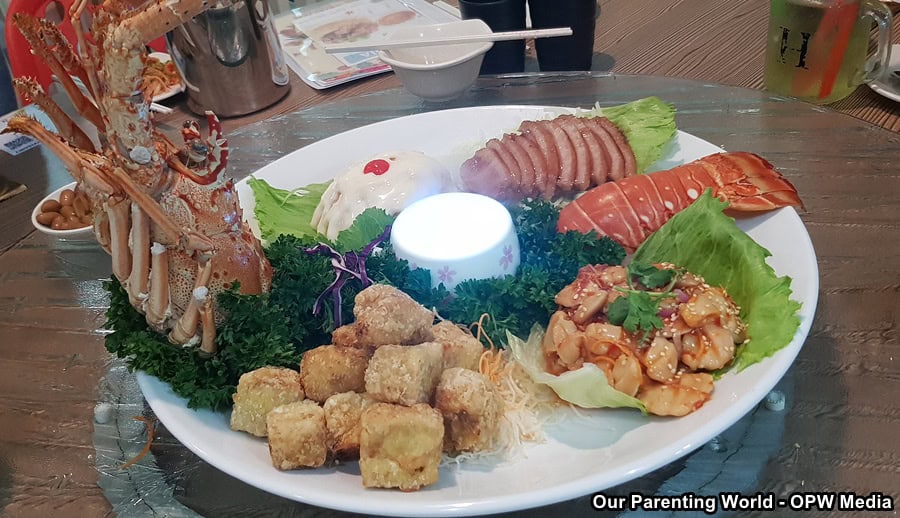 Lobster Cold Platter $138 
This is Gu Ma Jia's Special CNY Lobster Cold Platter consisting of premium quality and fresh lobster, Smoked Duck, Mixed Sauce Pacific Clams and Gu Ma Beancurd that is specially prepared for this Lunar New Year. This is one impressive and sumptuous platter that everyone will enjoy! 
Lychee Sweet & Sour Grouper (Market rate)
The bones have been removed from the fish and the meat comes in the form of cubes that makes it so convenient to tuck in. Lychee is one of our favourite fruits and it is a delight to indulge in this fresh, tender and well-seasoned fish that is further enhanced with the fruity sweet and sour sauce.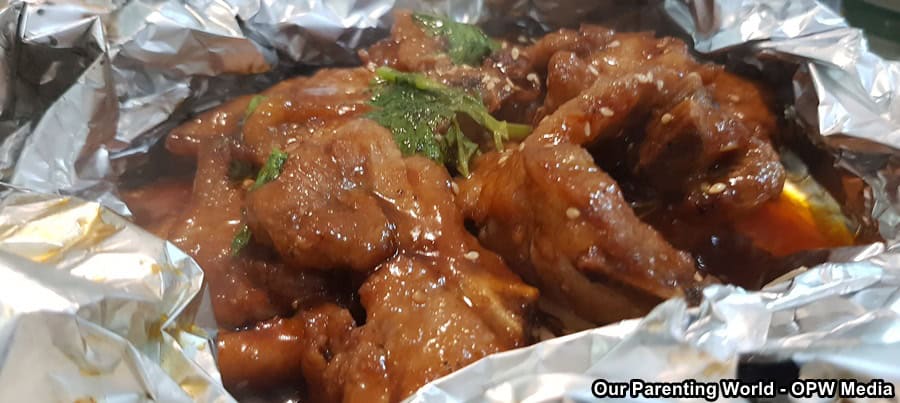 Kyoto Pork Ribs $20
This is one of Gu Ma Jia's signature dishes and we were told that this is one of the favourite and must ordered dishes among the regulars. The pork ribs are wonderfully braised till golden brown colour and served in aluminum to keep the natural flavours of the meat. The meat is so juicy, tasty and tender that falls off from the bones easily.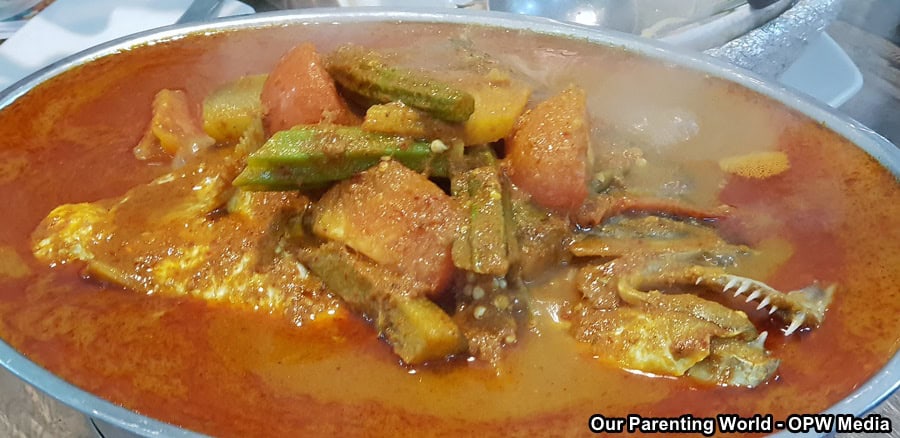 Gu Ma Jia Award Winning Assam Fish Head
Snapper $30
Grouper $30 / $32
(subject to availability)
(Take away add $1)
This is Gu Ma Jia's Signature and Award Winning Assam Fish Head using fresh fish head and drenched in Gu Ma Jia's exclusive spicy and tangy Assam blend gravy that brings out the freshness and robustness flavour of the meat.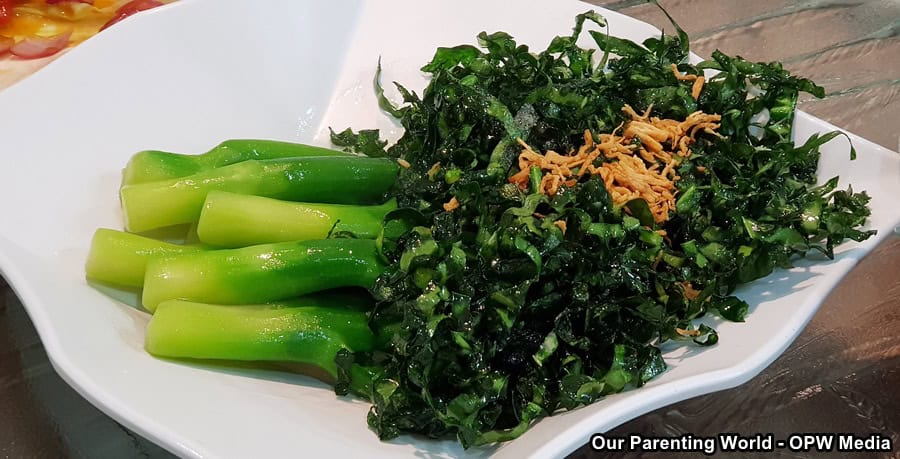 Kai Lan 2 Styles (Yuan Yang)
$12 $18 $24
This vegetable dish is so unique and cooked in two styles, blanched and fried. The leaves have been deep-fried till it looks and tastes like seaweed and a perfect combination with the thick and crunchy stems. Yummy!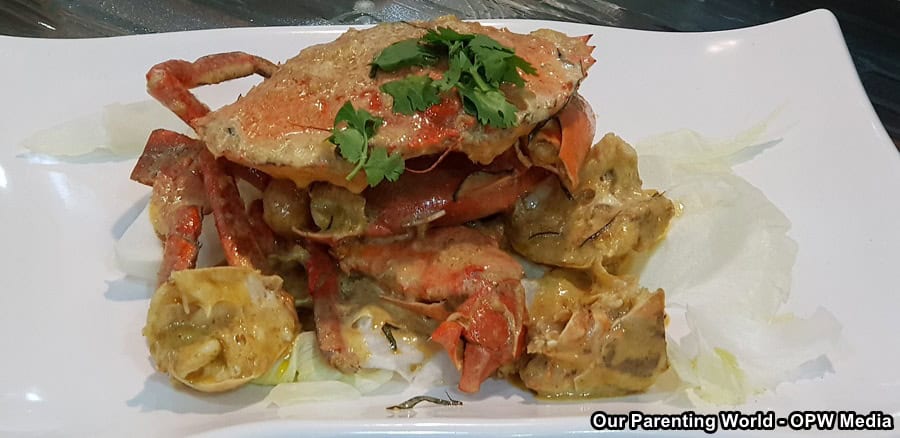 Butter Salted Egg Yolk Crab (Seasonal Price)
White Pepper Crab (Seasonal Price)
If you are craving for crabs, Gu Ma Jia is the place to visit. We tried two types of crabs, Butter Salted Egg Yolk Crab and White Pepper Crab.
Using fresh and succulent Sri Lankan crabs, for the Butter Salted Egg Yolk Crab version, the crabs are stir-fried to perfection and coated with luscious sauce made with salted egg that can be really addictive. For the White Pepper Crab version, Gu Ma Jia uses special Sarawak white pepper that will bring out the sweetness of the crabs. All the crabs are cooked well till the meat is easily separated from the shell that makes it easy for diners to consume.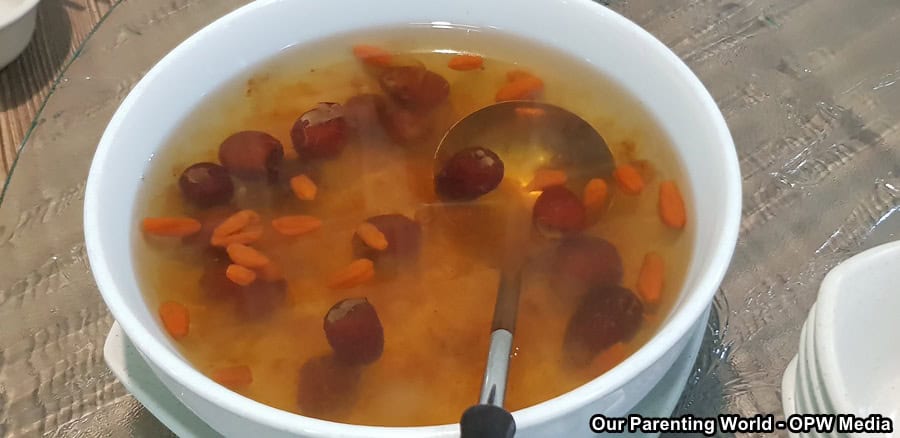 Double-Boiled Beautifying Peach Gum with Red Dates $32.80
For desserts, we had Double-Boiled Beautifying Peach Gum with Red Dates. Using Peach Gum which is an edible resin that is exuded from the bark of the peach tree which is rich in collagen. This is an excellent delicacy and tonic that will rejuvenate and nourish your skin.
This coming Chinese New Year, diners can try out the Chinese New Year sets and receive a Gu Ma Jia $50 Cash Dining Voucher with purchase of a $799++ Reunion Set Menu. Special Chinese New Year dishes are available for add-ons ala carte orders during your reunion dinner at Gu Ma Jia. All the Chinese New Year Set Meals and Chinese New Year ala carte dishes are also available for delivery with advance booking. To find out more about the Chinese New Year sets and more, please visit its website at https://gumajia.com.sg/
Reserve your Chinese New Year Reunion Dinner at Gu Ma Jia in advance to avoid disappointment!
Gu Ma Jia
Venue: 45 Tai Thong Crescent Senett Estate Singapore 347866.
Tel: 6285 2023
Email: [email protected]
Operating Hours
• Monday to Friday:
11am to 2.30pm (Last order 2pm) 5.30pm to 9.30pm (Last order 9pm)
• Saturday, Sunday and Public Holiday:
11am to 10pm (Last order 9.15pm)
For more information on Gu Ma Jia, please check out the following:
Website: www.gumajia.com.sg
Facebook: https://www.facebook.com/sg.gumajia
Instagram: https://instagram.com/gumajia/