Media Invite and Food Review: Authentic Thai cuisine at Spicy Thai – Thai Cafe
We love Thai food and one of the best places to visit if you are looking for delicious and authentic Thai cuisine at affordable prices, it has to be at Spicy Thai – Thai Cafe! In fact it is one of our favourite places to dine whenever we are craving for Thai food.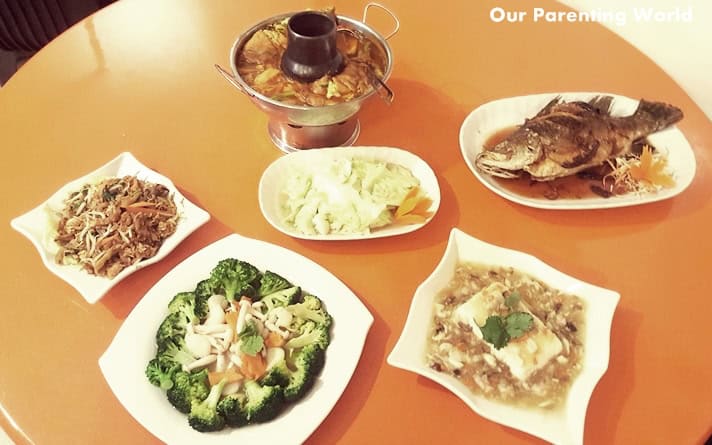 At Spicy Thai-Thai Cafe, you can enjoy a wide variety of mouth-watering Thai food and it is one of the few restaurants that uses charcoal for soup and steamed dishes to maintain heat consistency and quality.
Our Parenting World team is delighted to introduce some of the new dishes which include Thai-Chinese and Thai style dishes that you can enjoy at Spicy Thai-Thai Cafe as follows:
Thai-Chinese Dishes
Spicy Thai-Thai Cafe has expanded its menu recently to add some Thai-Chinese dishes for those who prefer to have some simple home-cooked food and for those who are not able to take spicy food. These new dishes are very well-received by diners, families with grandparents and suitable for children who can't eat too spicy.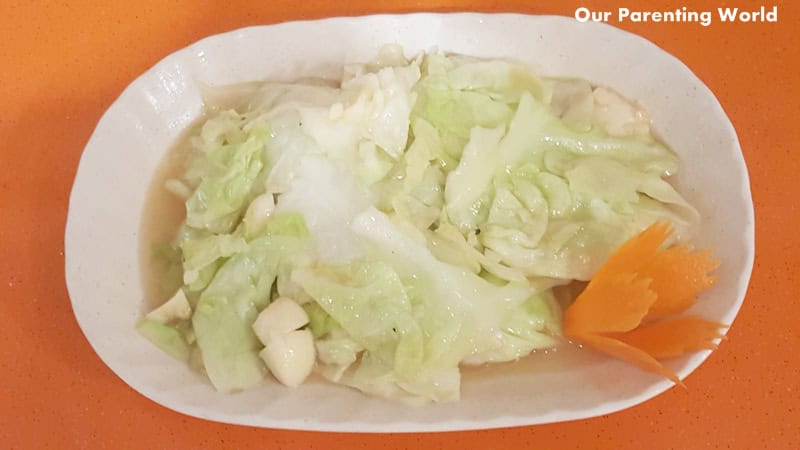 Stir-Fry Cabbage with Thai Sweet Fish Sauce 泰式鱼卤炒包菜 $10
The cabbage is expertly stir-fried to maintain its moist and crunchiness. The Thai sweet fish sauce further brings out the sweetness of the cabbage. This dish may look simple but it is actually very delicious!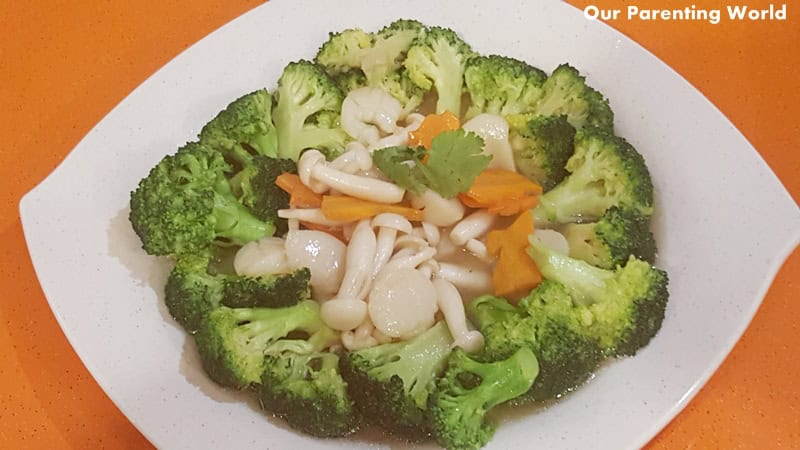 Stir-Fry Broccoli with Scallops  干贝炒西兰花 $25
Stir-fry Broccoli with Scallops is a very popular and healthy dish. Our kids love to eat broccoli and this dish is made even more appetizing with fresh and soft scallops together with plump and juicy mushrooms.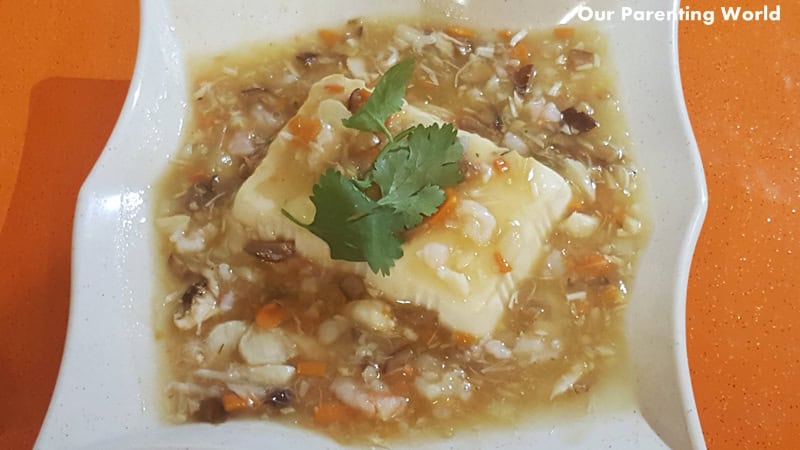 Cold Tofu with Special Thai Seafood Sauce 泰式海鲜酱汁冷豆腐 $16
This soft tofu dish is no ordinary tofu dish, it is even more tasty with the special thai seafood sauce. You can also use the yummy sauce to dribble over your rice.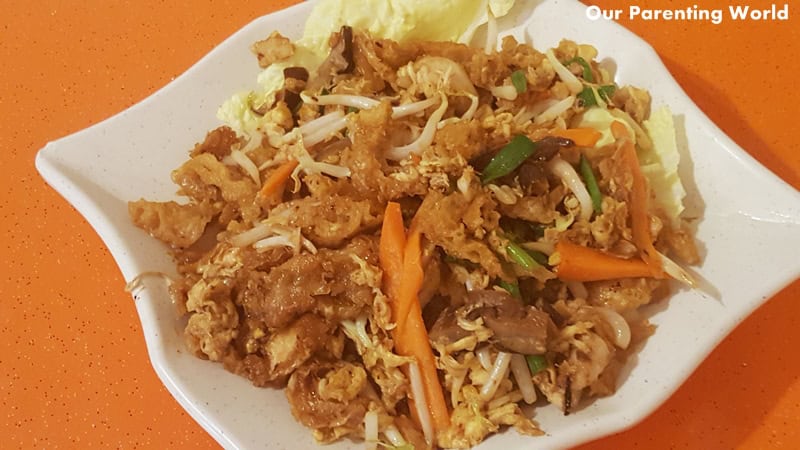 Stir-Fry Fish Maw with Crab Meat 蟹肉炒鱼鳔 $20
We usually eat fish maw with soup. This dry version of stir-fry fish maw is very popular at Spicy Thai-Thai Cafe. The fish maw has been deliciously stir-fry together with crab meat, the fish maw is so soft, flavourful and moist. Very impressive! 
Thai Style Dishes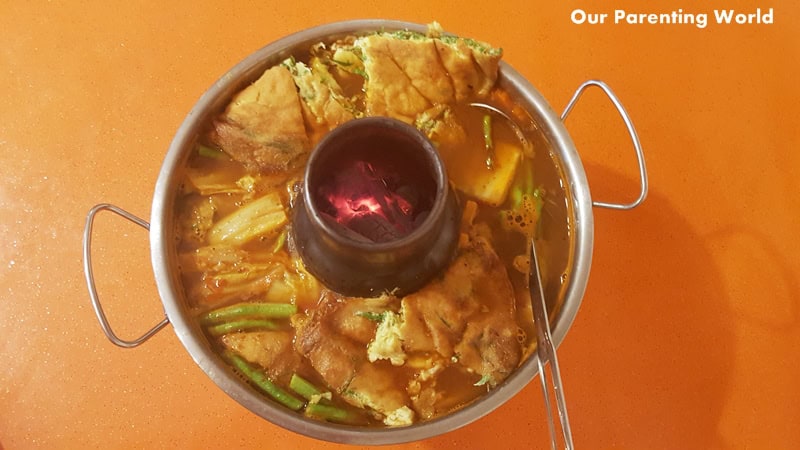 Kaeng Som Cha Om 泰式野菜煎蛋辣汤 $18
This is an interesting soup based dish and it is our first time trying with dill omelet being put into the soup. The soup is rich with lots of ingredients and has a spicy and sour flavour. If you enjoy tom yam soup and like to eat hot and spicy, this soup is for you!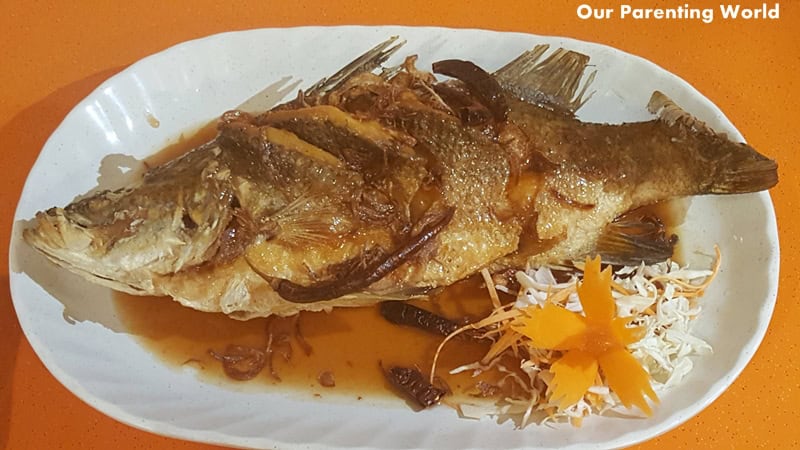 Deep Fried Sea Bass with Thai Turmeric Sauce 泰式酥炸黄酱汁鲈鱼 $Seasonal Price
We love to eat fish and we are absolutely satisfied with this sea bass that is so fresh and meaty. The fish is deep fried to perfection with golden brown crispy skin on the outside while the meat inside remains soft and tender. The whole fish is generously soaked with sweet turmeric sauce.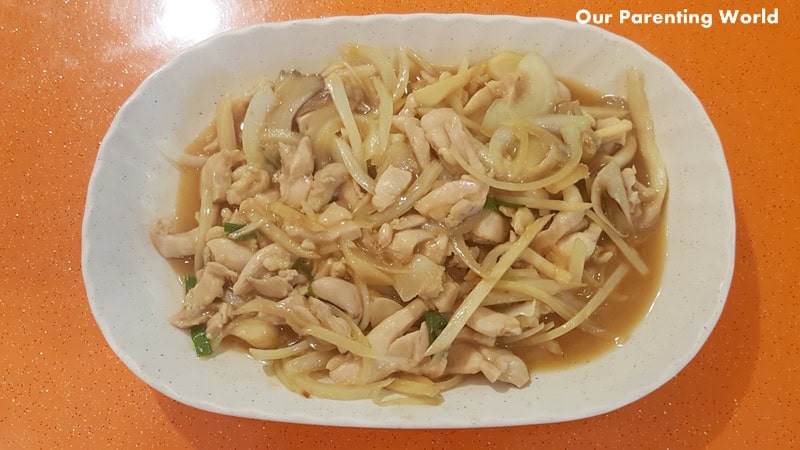 Onion Chicken $12
In addition, we have also tried out other dishes like Onion Chicken and Red Curry Prawns. Onion Chicken is a stir-fry dish with generous strips of tender chicken together with flavourful onion. This dish is so yummy and good to go with rice. 
Red Curry Prawns $28
This delicious red curry prawn is a must-try if you love to eat prawns. Enjoy juicy and fresh prawn soaked in finger-licking rich and creamy red curry sauce. 
Look no further if you are looking for authentic and tasty Thai cuisine, Spicy Thai-Thai Cafe is a good place to visit! The dishes are reasonably priced and you can enjoy good food at pocket-friendly prices. 
We absolutely love the food and will be back to Spicy Thai-Thai Cafe to try out more of its dishes!
Spicy Thai – Thai Cafe
Address: Blk 115 Aljunied Avenue 2, #01-35
Tel: 6747 8558
Opening hours: 11 am to 12 am daily
Website: http://www.spicythaicafe.com/
Facebook: https://www.facebook.com/SpicyThaiThaiCafe