Singapore's beautiful and well-known Gardens by the Bay celebrates the season of Abundance with Autumn Harvest as its latest floral display at the Flower Dome from 1 September to 29 October!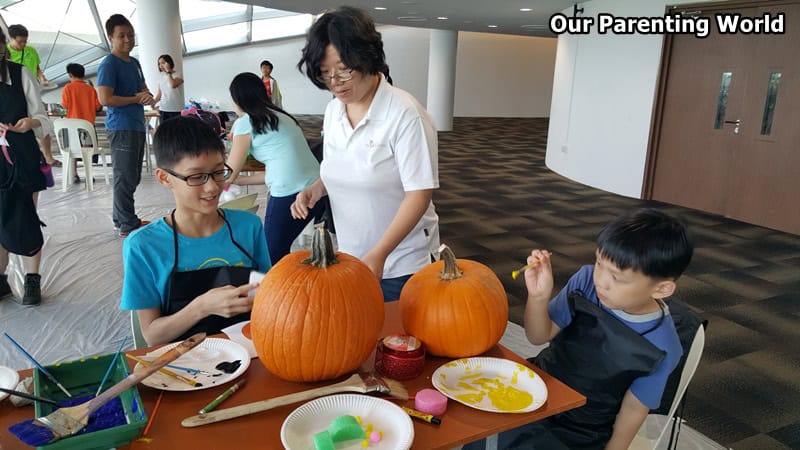 Our Parenting World team together with our blogger friends had a fun time painting and decorating our very own pumpkins.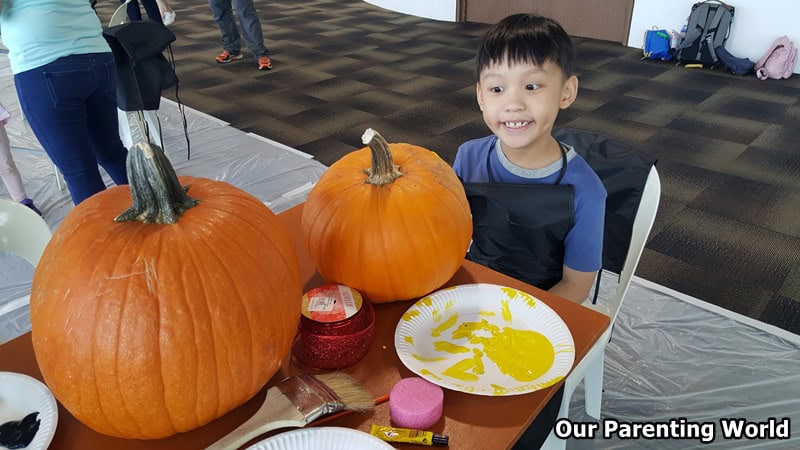 Wow, look at these pumpkins!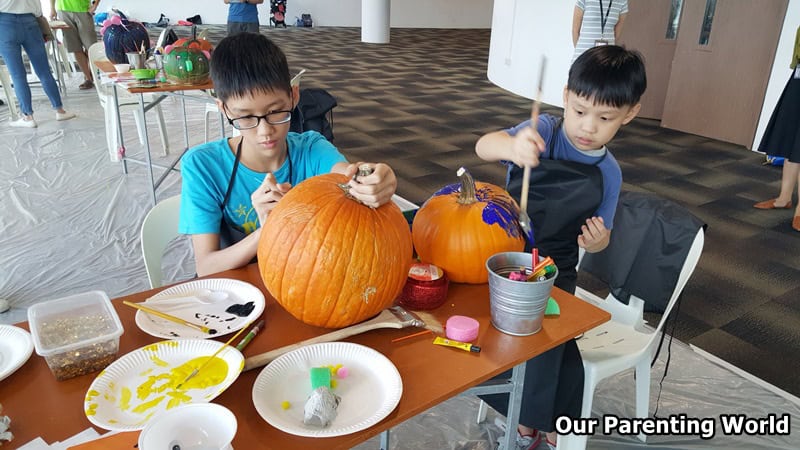 The kids wasted no time to start working on decorating their pumpkins diligently.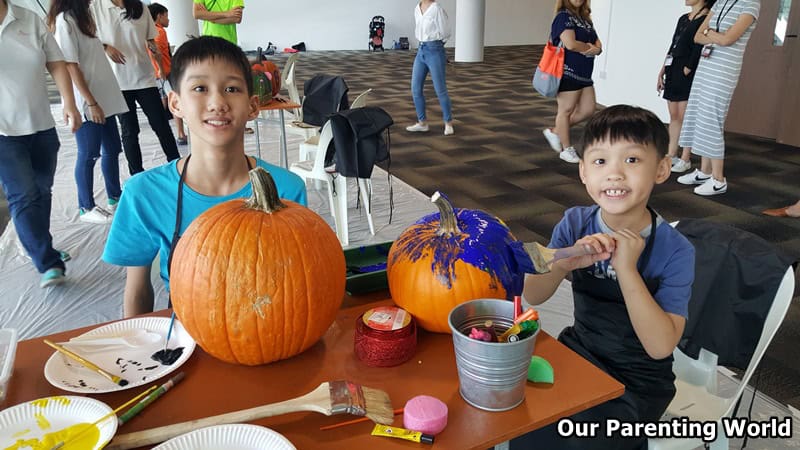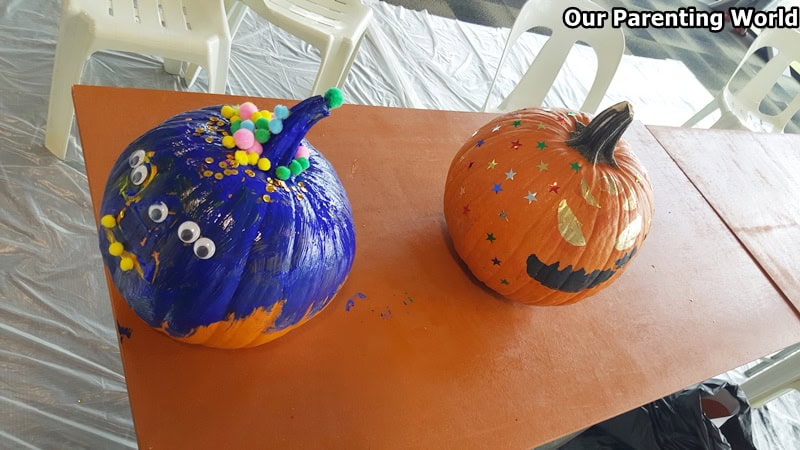 The kids had a fun time doing their pumpkin painting. After the pumpkins are painted, now it is time to visit Autumn Harvest at Flower Dome and we can't wait.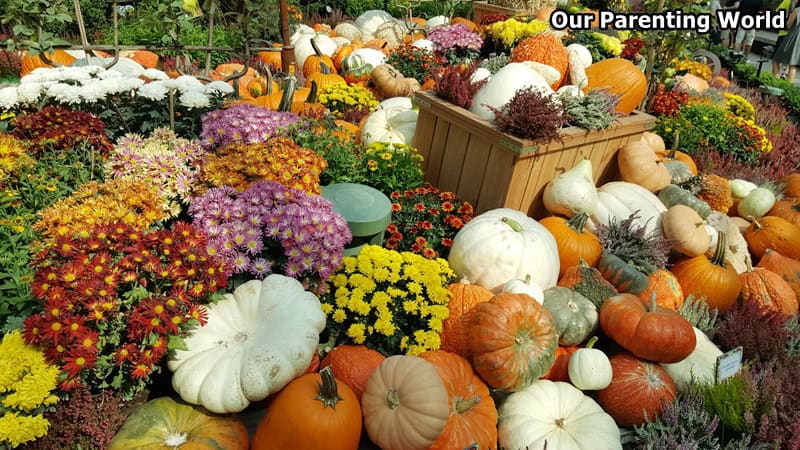 Autumn is the time for harvesting crops and a time for celebration! Flower Dome is filled with rich colours of orange, red and gold for the "Autumn Harvest" floral display. You can see pumpkins everywhere!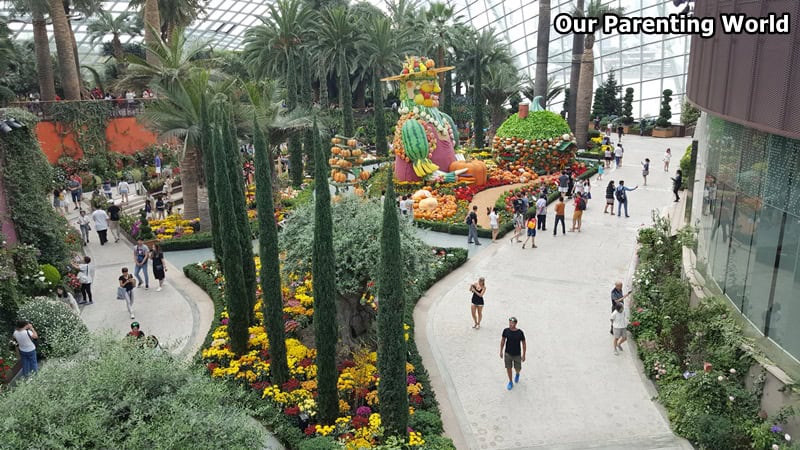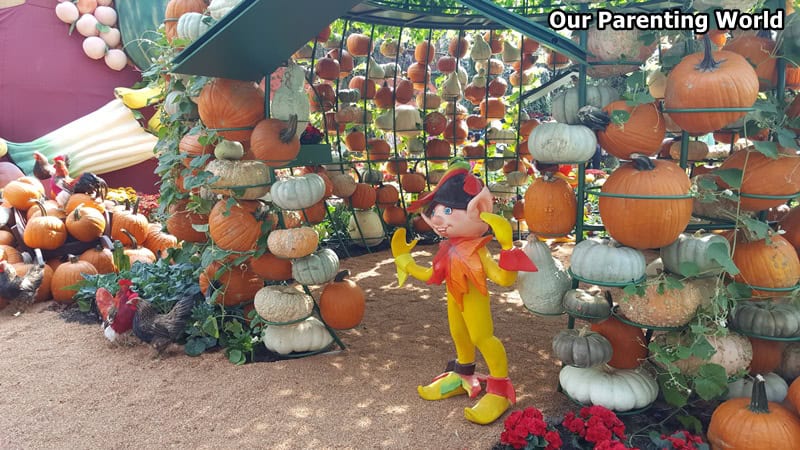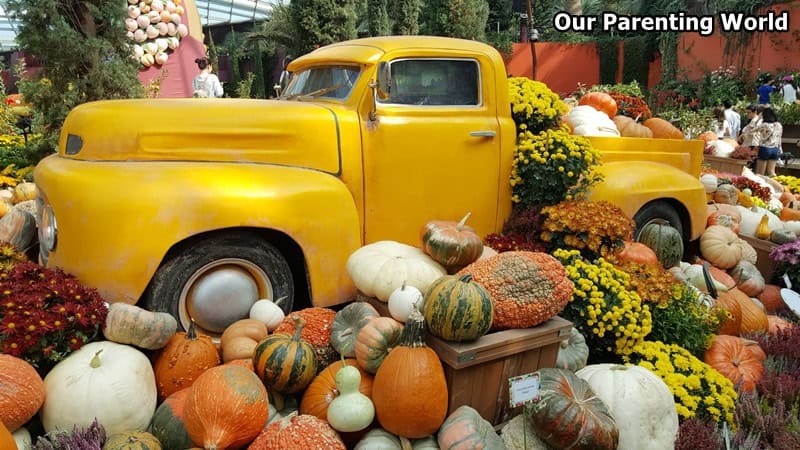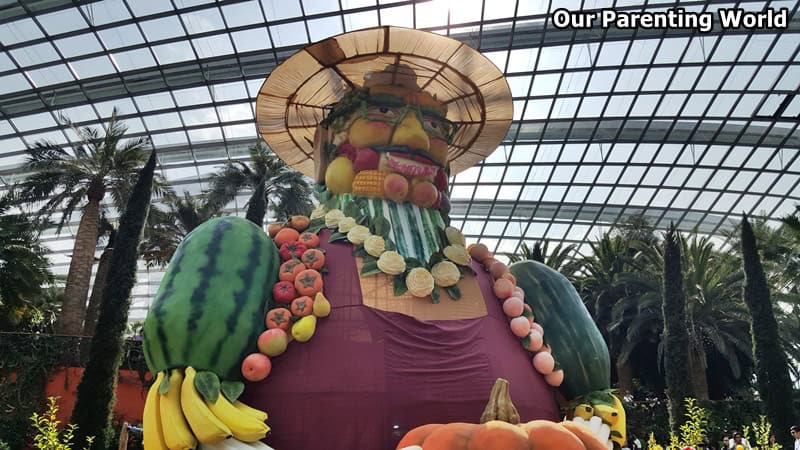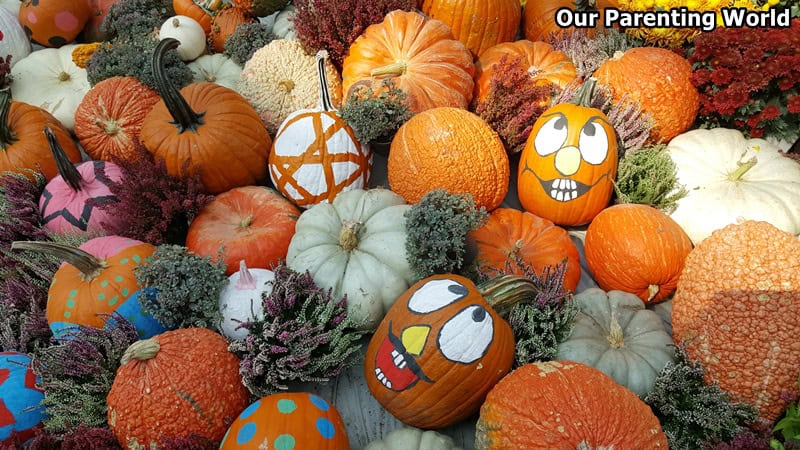 Lots of photo taking opportunities with the beautiful decoration to celebrate harvest abundance with Cinderella's Carriage, Jack and the 'Beanstalk' and many more! Only at Flower Dome, you will be able to see various pumpkins, some of them are of jumbo sizes with unique features namely Atlantic Giant, these huge prize-winning pumpkin can be traced back to Dill's Atlantic Giant, Jarrahdale native to Australia which is a hard greyish rind but with thick orange sweet flesh inside, Kuncklehead, a type of pumpkin covered with varying amounts of warts, scabs or bumps, Polar bear, an extra large and white pumpkin.
Pumpkin comes from the Greek word pepon which means large melon and you can eat almost all parts of pumpkin from the shell, seeds, leaves and flowers.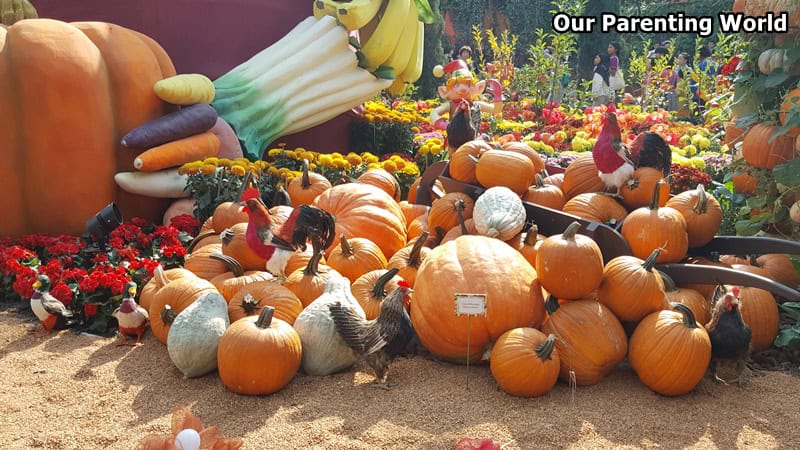 This year is the Year of the Rooster! Look at these life-like roosters all over the bountiful pumpkins harvest. 
Step into the Flower Dome and stand in awe. Spectacular and innovative, it is the largest glass greenhouse in the world as listed in the 2015 Guinness World Records! Be amazed by changing display of flowers and plants from the Mediterranean and semi-arid regions.
Open daily:
9.00am – 9.00pm
Last ticket sale: 8.00pm
Last admission: 8.30pm
To find out more and to book the tickets, please visit: 
http://www.gardensbythebay.com.sg/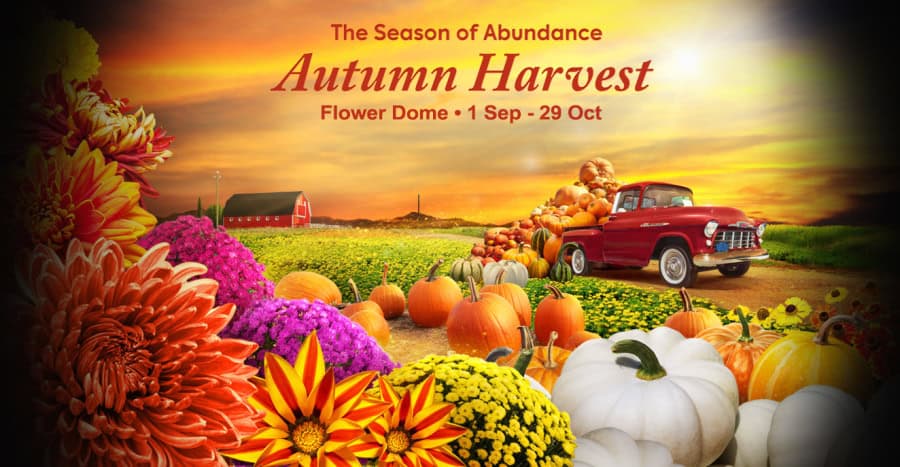 Event Listing: Autumn Harvest at Gardens By The Bay – First published on 25 August 2017
The month of September welcomes autumn as Gardens by the Bay brings a new floral display – Autumn Harvest to you! Be enchanted by Cinderella's pumpkin carriage in the Flower Dome, along with a lush farm plot overflowing with abundant produce and blooms like anemones, gaillardias, phloxes and chrysanthemums.
From fairy tales to folklore, look out for a pumpkin-shaped lanterns and sprawling outdoor lantern sets that bring to life scenes of bountiful harvests and abundance as part of the Mid-Autumn at Gardens by the Bay. Don't miss "Waters of Prosperity", the largest lantern display created by the Gardens to date. Spanning an area of 1,250 square metres over water, this lantern set portrays a fishing village teeming with 70 carp-shaped lanterns.
The month also sees the launch of a new orchid display in Cloud Forest – the first in a series of biannual displays in the cool-moist conservatory to showcase the world's most diverse botanical family.
AUTUMN FESTIVITIES AT GARDENS BY THE BAY
"AUTUMN HARVEST" FLORAL DISPLAY (丰收之秋)
A lavish flower field saturated in rich hues of orange, red, gold and green welcomes visitors this September, as autumn comes to Flower Dome in the "Autumn Harvest" floral display. Savour how the traditional season of crop gathering is interpreted in creative ways – a bounteous land is inhabited by a fruit and vegetable giant; a lush farm plot overflows with abundant produce and blooms like anemones, gaillardias, phloxes and chrysanthemums; and Cinderella's pumpkin carriage sits pretty amidst pumpkin trees. Pumpkins take on yet another twist in the mini Halloween exhibit, where myriad carved and decorated versions celebrate the most anticipated festival of fall. There are more than 10 varieties of special pumpkins to see, such as the pristine white "Polar Bear", the pretty striped "Pump-Ke-Mon" and the bizarre-looking "Red Warty Thing".
This year, the lanterns dotting the outdoor gardens as part of the annual Mid-Autumn Festival continue inside Flower Dome. Look out for a plethora of fruit and vegetable-shaped lanterns, and drop by the Mediterranean Garden for a photo opportunity with a giant pumpkin lantern.
Date: Friday, 1 September – Sunday, 29 October
Time: 9am – 9pm
Location: Flower Dome
Details: Admission charge to the conservatories applies.
MID-AUTUMN @ GARDENS BY THE BAY 2017 (滨海花园庆中秋)
A much-anticipated event in the Gardens' calendar, Mid-Autumn @ Gardens by the Bay draws visitors with its sprawling lantern displays and myriad festivities amidst a lush garden setting. This year, the Gardens celebrates autumn abundance with lantern sets symbolic of bountiful harvests and good fortune, nightly cultural performances, a food street featuring Asian delights, and craft booths offering activities like lantern decorating, umbrella painting and Chinese knotting.
Date: Friday, 22 September – Sunday, 8 October
Time: 6pm – 11pm
Location: Various locations 
For more information and updates, please visit:
 www.gardensbythebay.com.sg/midautumn
GARDEN RHAPSODY: TALES OF THE MOON
This special Mid-Autumn edition of the popular nightly light and sound show Garden Rhapsody features a medley of popular tunes that revolve around the moon, such as the jazz favourite "Fly Me to the Moon" and the Chinese classic "The Moon Represents My Heart" (月亮代表我的心).
Date: Friday, 22 September – Tuesday, 31 October
Time: 7.45pm and 8.45pm
Location: Supertree Grove
EXHIBITIONS
CHANGING ORCHID DISPLAYS IN CLOUD FOREST
If you love orchids, you will be in for a treat this September, as the first in a series of changing orchid displays in Cloud Forest will be launched. Orchids belong to the family Orchidaceae, which is one of the largest families of flowering plants in the world. The changing orchid displays in Cloud Forest aim to educate visitors on the various genera of orchids, and showcase their fascinatingly myriad forms and colours.
The first display, which opens on 8 September, focuses on orchids from the genus Cattleya, and will showcase more than 400 of them in the rich colours of fall. Regarded as the "Queen of Orchids", the Cattleya is also called "Corsage Orchid" due to the significant size of its blooms. With hybridisation widely practised, Cattleya flowers now come in a wide spectrum of colours. Visitors can look forward to seeing varieties such as Rhyncholaeliocattleya Duh's Fantasy 'Mellow, an award-winning orchid with deep red blooms and a ruffled dark fuchsia lip marked with yellow grooves, and the Cattleya walkeriana¸ a pretty pink orchid native to Brazil that is known for its large blooms with strong fragrance.
Date: Friday, 8 September 2017 – Sunday, 12 November 2017
Time: 9am – 9pm
Location: Cloud Forest
Details: Admission charge to the conservatories applies.
For more information, please visit Gardens by the Bay at http://www.gardensbythebay.com.sg/