AVEENO® produces holistic health care solutions and therapeutic products to nurture and balance our skin powered by Triple Oat Complex and ceramides. 
The AVEENO® Dermexa range includes the AVEENO® Baby Dermexa range, which is designed for children with dry, eczema-prone skin. It is uniquely formulated with Triple Oat Complex that combine colloidal oat, avenanthramides, oat oil and ceramides.
Details of the ingredients are as follows:
• Colloidal Oatmeal contains five vital nutrients namely, proteins, antioxidants, enzymes, vitamins, and lipids that are also found in healthy skin. Colloidal oatmeal helps to lock in moisture and restore the skin's normal pH levels for a stronger, healthier skin barrier.
• Avenanthramides are a concentrated oat extract proven to reduce itching and scratching with its anti-irritant, antioxidant and antihistamine properties.
• Oat Oil is rich in lipids to help strengthen the skin's natural moisture barrier.
• Ceramides are naturally found in the epidermis layer of healthy skin, and essential to restore and maintain the healthy functioning of the skin's outer barrier to prevent moisture loss.
These ingredients help to boost skin health, delivering up to 9 times the antioxidant power to strengthen skin barrier. Its effective formulation helps to calm, soothe and relieve your baby's itchy, irritated skin with eczema.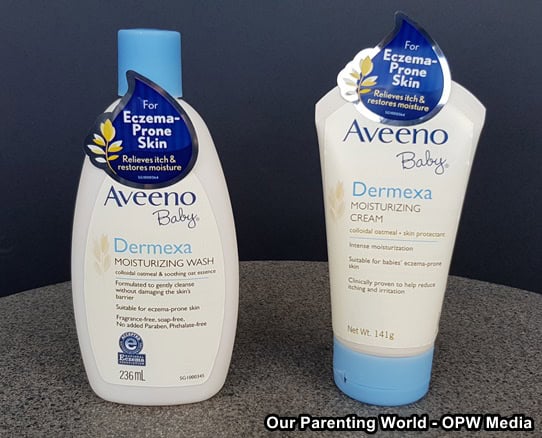 AVEENO® Baby Dermexa Moisturizing Wash (L) and AVEENO® Baby Dermexa Moisturizing Cream (R) 
AVEENO® Baby Dermexa Moisturizing Wash is power-packed with colloidal oatmeal, oat essence and rich emollients. It is specifically formulated to gently cleanse baby's sensitive skin without over drying. It helps to soothe dry and irritated skin and can be used on eczema-prone skin daily. Skin feels clean, supple and soft to the touch after cleansing. 
Recommended Selling Price (R.S.P) at $18.50 for 236ml
AVEENO® Baby Dermexa Moisturizing Cream is formulated with naturally active Triple Oat Complex plus ceramides, It helps to relieve and soothe dry, itchy irritated skin due to eczema. The advanced formulation lessens the appearance of redness and scaling. It also helps to moisturize the skin for 24 hours, restore and strengthen skin's natural barrier.
Apply applying the cream all over the body, the skin looks hydrated, smooth and does not feel itchy. Good for kids as they can continue with their daily activities and sleep well without the urge to keep scratching.
Recommended Selling Price (R.S.P) at $18.50 for 141g  
AVEENO® Baby Dermexa range are effective yet gentle products that are fragrance-free, allergy and dermatologist tested, and formulated with naturally active ingredients.
In addition, AVEENO® Dermexa Fast & Long Lasting Balm has joined the complete AVEENO® Dermexa range. It is clinically proven to provide immediate and long-lasting itch relief for up to 6 hours in just one use. Its recommended selling price (R.S.P) is at $19.90 and the AVEENO® Dermexa Fast & Long-Lasting Balm is available at the National Skin Centre, while the remaining AVEENO® Dermexa range is available at leading online and offline retailers like Watsons, Guardian, NTUC FairPrice, Unity, Cold Storage, Redmart, Lazada, Qoo10, Shopee.
Thank you AVEENO® for sending to us the lovely media kit! Our kids enjoy their bathing times, moisturizing and protecting their skins with AVEENO® Baby Dermexa range. 
To find out more about the AVEENO® Brand and its product offerings, please visit www.aveeno.com.sg or "Like" its Facebook for the latest update at facebook.com/AveenoSGP/