Sentosa Development Corporation (SDC) has officially handed over KidZania Singapore, the award-winning edutainment attraction, to Sim Leisure Group ("SLG" or the "Group"). SLG, a leading theme park developer and operator listed on the Singapore Exchange's Catalist board (SGX: URR), will now take charge of the 7,600 square metre Family Entertainment Centre situated at Sentosa's Palawan Beach. The Group's primary focus will be an extensive refurbishment aimed at introducing a whole suite of new attractions and experiences.
Present at the handover ceremony were Thien Kwee Eng, Chief Executive Officer of Sentosa Development Corporation, Dato' Sim Choo Kheng, Founder and Chairman of Sim Leisure Group, Datin Silviya Georgieva, Governor of KidZania Singapore and Executive Director of Sim Leisure Group, and Philip Whittaker, Chief Executive Officer of Sim Leisure Group.
Dato' Sim Choo Kheng, Founder and Chairman, Sim Leisure Group, said: "KidZania Singapore excites me as I am able to use my creativity to bring in a new genre of occupations. This includes exciting role plays such as Environmentalist and Environmental Protection Agent that are in line with the current need to raise awareness and understanding of environmental social protection. Today, businesses cannot merely be good at sustaining profits, but should also have a positive impact on today's environmental and social issues. We are very encouraged by many of the Singaporean companies we have spoken to, who want to collaborate with us to introduce ESG-centric role play activities. I am very glad such sentiments are consistent with SDC and Sim Leisure's ethos, where SDC has been advocating ESG as one of its key agendas. Sim Leisure's ESCAPE, a nature-based adventure park, has also been promoting childhood play and reconnection with nature".
During the ceremony, the Group revealed a special preview of their plans for KidZania 5.0, the 5th iteration in KidZania's ongoing development.
Amid the complexities of our changing world, KidZania 5.0 aims to present a fresh perspective on professions, emphasising the development of sustainable future cities and citizens. The new version will incorporate at least eight elements of the United Nations' 17 Sustainable Development Goals, reshaping the roles of its Industry Partners. Anticipated to reopen in Q1 2024, KidZania 5.0 has attracted interest from renowned local and regional brands in sectors such as Banking, Airlines, Healthcare, Beauty, Hospitality, Quick-Service Restaurants, and Food & Beverage Operators. These brands are engaging in discussions with Sim Leisure Group to become Purpose Partners in bringing KidZania 5.0 to life at KidZania Singapore.
Enhancing Singapore's suite of entertainment destinations
Aside from their work on developing KidZania 5.0, the Group is further expanding its presence in Singapore's attractions industry by introducing fresh entertainment experiences through new and established partnerships. One of their key ventures is the introduction of Haven XR Cinemas in Singapore, achieved through a joint venture with a prominent Australian Hollywood entertainment company. This groundbreaking initiative will revolutionize the movie-watching experience by offering the world's first cinematic immersive adventure across Southeast Asia and China. Visitors will be transported to another world, becoming active participants in the movie itself, creating an exhilarating and unforgettable entertainment encounter.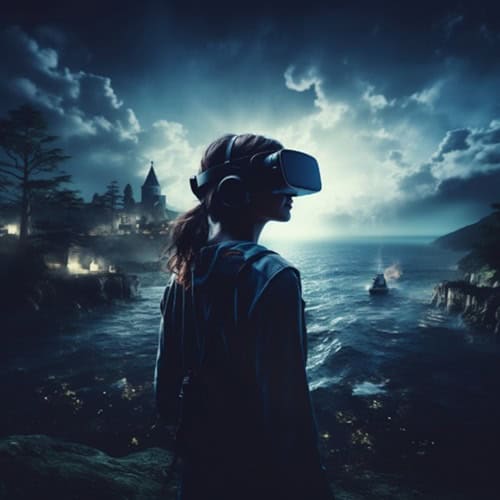 Haven is the next evolution of fully immersive cinematic adventure. (Credit: Sim Leisure Group)
In 2012, Sim Leisure Group made its debut in the attractions industry with the launch of the first ESCAPE Adventure Park in Penang, Malaysia. This innovative theme park introduced a unique concept known as a retro-eco adventure park, offering visitors a wide array of signature games and activities. Notably, ESCAPE Adventure Park features Guinness World Record attractions, such as the World's Longest Tube Water Slide and the World's Longest Zip Coaster.
Over the past few years, the ESCAPE brand has experienced remarkable growth, with the establishment of ESCAPE Challenge in Paradigm Mall, Petaling Jaya, and ESCAPE Ipoh currently under construction. Excitingly, more ESCAPE destinations are in the pipeline, set to open in Kuala Lumpur and Johor. Furthermore, the Group is expanding its horizons beyond Malaysia, with plans for new ESCAPE projects across the Asia Pacific and Middle East regions. The Group is thrilled to bring the ESCAPE brand to Singapore, marking another significant milestone in its journey of creating thrilling and environmentally conscious adventure experiences.
ESCAPE's rides and attractions emphasise self-directed and self-powered play, where visitors experience Low-Tech and High-Fun Adventure. (Credit: Sim Leisure Group) 
For more information, please visit www.simleisuregroup.com.