The award-winning Cyndi Lauper's musical Kinky Boots direct from Broadway is here in Singapore for the first time and now showing at the Sands Theatre at Marina Bay Sands from now till Sunday, 14 October 2018!
Here are some of the fun facts of Kinky Boots: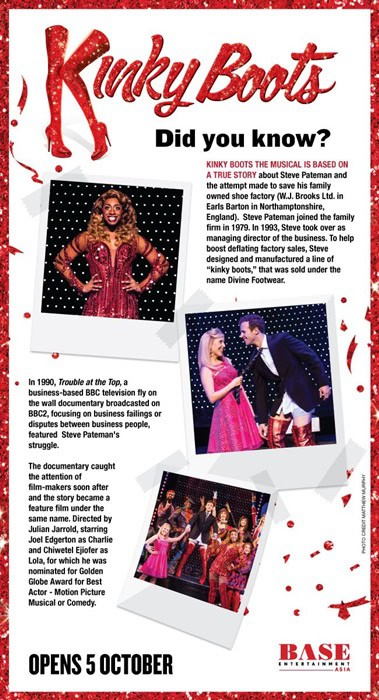 Musicals are meant to be fun and enjoyable, and sometimes have a good moral story behind it. But Kinky Boots went up one step further as the story line also teaches us a good business lesson.
With songs by Grammy® and Tony® winning pop icon Cyndi Lauper, who is one of the most popular female singers in the 80s with her hits like "Girls just want to have fun" and choreography by two-time Tony Award-winner Jerry Mitchell (Legally Blonde, Hairspray), this musical brought in by Base Entertainment Asia is one that is not to be missed! 
The musical is based on the movie in 2005 with the story of Charlie Price from a small town of Northampton who inherited a struggling family shoe factory. Facing with the fate of closing down his factory due to diminishing sales of the high quality expensive men's shoe where the market preferred cheaper but lower quality shoes from Eastern Europe, he met Lola, a drag queen who suggested to him to manufacture shoes for the drag queens as the normal women footwear, i.e. high heel boots available in the market were too small and not strong enough for these group of customers. Both the musical and the movie were actually adapted based on a real life story of Steve Pateman who owns the family shoe factory in WJ Brookes in UK.
Charlie thought this was a great business idea, to focus on a niche business area which is to produce footwear for this group of customers. With Lola as his new designer, the small team initially struggled both at the designing-production but also inter personal relationship as Lola was not accepted by the male employees, eventually after much hard work and understanding by everyone, Charlie was successful in producing this new range of footwear for the niche business and turn around the company's fortune after a splendid catwalk in the glamorous city of Milan led by Lola and his drag queen friends. 
This 2 hour plus musicals rated: Advisory 16 (Some Mature Content) is suitable for audiences 16 years and above, is one of the most enjoyable musicals in Singapore this year. The songs are generally cheerful, fun with dazzling costumes and high-octane dance numbers like 'Sex Is in the Heel' that will excite the audience. 
Another lesson learnt in the musical is about the importance of acceptance. In our society, there may be groups of people who are different (eg drag queens) and we learnt that we should accept others for who they are, the importance of kindness, understanding and friendship for us to work together to make this a better world to live in. Hurry, this fabulous musical will end on 14 October 2018. Don't miss it!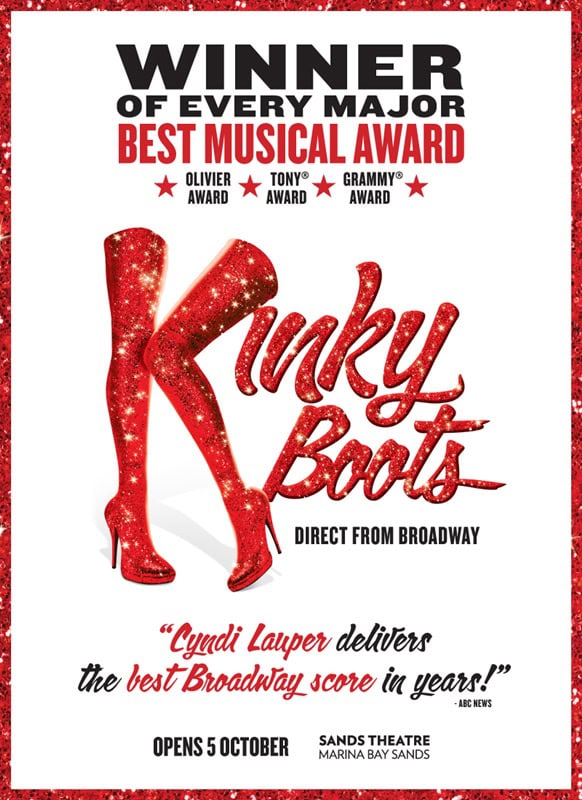 Kinky Boots
Friday, 5 October – Sunday, 14 October 2018 
Tuesday – Friday: 8pm
Saturday: 2pm & 8pm
Sunday: 1pm & 6pm 
Sands Theatre at Marina Bay Sands
VIP Reserve : S$185
A Reserve : S$155
B Reserve : S$125
C Reserve : S$95
D Reserve : S$65
VIP Box (For 4 seats): S$740
Box Seat (For 4 seats): S$500
Limited Time Offer:
Cool Tix (Students & NSFs) at S$35 nett ticket* 
Silver Tix (Senior Citizens above 60 years old) at S$35 nett ticket*