Baby's skin is more sensitive than adult's skin as it is thinner and more fragile. It is important that parents practice proper skincare by choosing the right products especially if your baby has eczema-prone skin. 
Mussvital is a skincare brand from Barcelona which has a sensitive and atopic range. Its gentle formula does not contain harsh chemicals, it is 100% paraben-free, provides long-lasting protection and hydration for specific skin concerns suitable for babies starting from 3 months old. The Sensitive range caters to normal and sensitive skin, while the Atopic range provides targeted care for dry and eczema-prone skin. The Sensitive and Atopic ranges are formulated with novel dermatolgical ingredients with the goal of restoring and protecting healthy skin and is based on Mussvital's unique Dermaprotect Complex Barrier technology.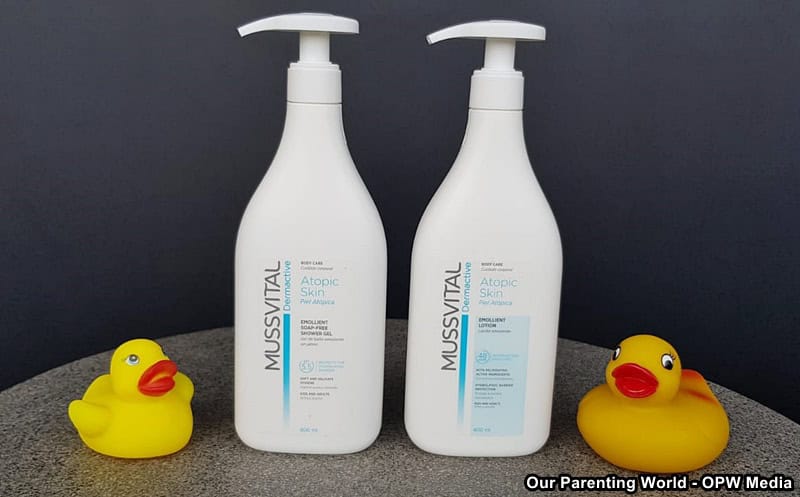 MUSSVITAL Sensitive Shower Gel 400ml (L) and MUSSVITAL Atopic Skin Lotion 400ml (R)
Mussvital Sensitive soap-free shower gel contains soap-free formula with pH 5.5 that is gentle enough to cleanse the most delicate skin while maintaining the skin lipid bilayer. Mussvital Atopic emollient lotion is specially formulated to target the needs of atopic (eczema-prone) skin that can be used daily to provide high level and long-lasting moisturisation to the skin and at the same time, helps to repair and restore the skin lipid bilayer.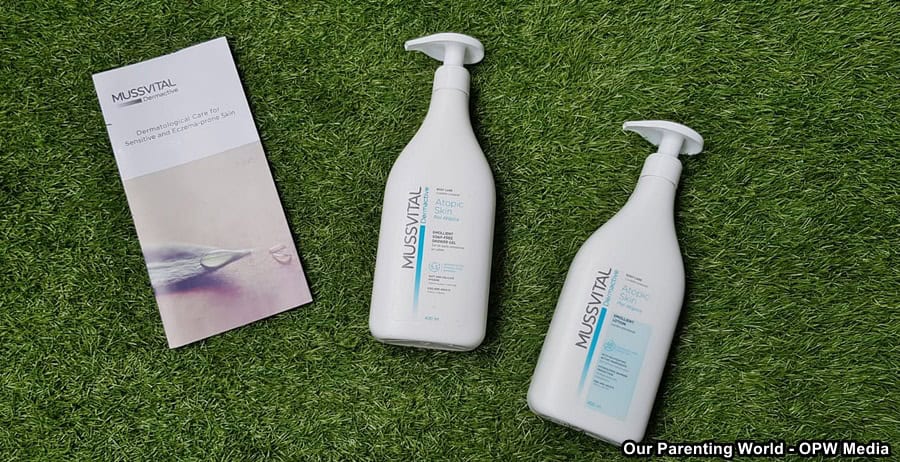 Mussvital Sensitive soap-free shower gel although it is soap-free, it actually lathers and cleanse really well. After bathing, skin feels so soft and smooth. MUSSVITAL Atopic Skin Lotion is easy to apply on, skin feels supple and soft to the touch. Skin also feels and looks more hydrated after applying it. The products are suitable for daily use for adults to young children to babies.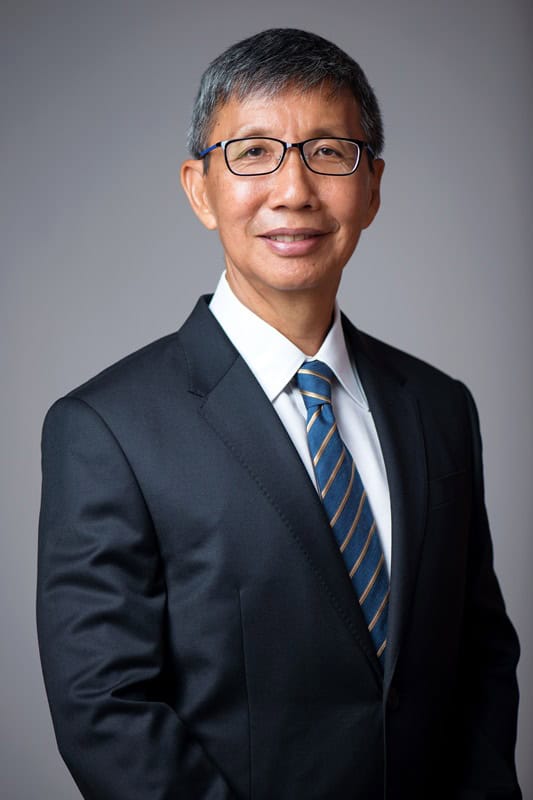 Our Parenting World – OPW Media team is pleased to be able to interview Chris Chua, the founder of Aenon Pharmaceuticals SEA, the brand's representative in Singapore who is also a pharmacist to share with us more about skin care and the concerns that parents have for their baby's and children's skin. 
Exclusive Interview with Chris Chua, the Founder of Aenon Pharmaceuticals SEA
1) Can you share with us more about the history of Mussvital skincare brand?
In 1985 MUSSVITAL was the first dermatological bath gel to launch in retail pharmacies in Spain. By 2001 MUSSVITAL became the leading brand in the Spanish pharmacy bath gel category.
Peroxfarma CEO Mr Jordi Xiol then had the vision to introduce a range of pharmaceutical grade dermatological products formulated for the treatment and care of people with sensitive and eczema prone skin. Therefore, MUSSVITAL Dermactive was launched in 2016.  
MUSSVITAL Dermactive products uses active ingredients which are known to be helpful for various skin conditions. These ingredients are delivered in novel formulations that optimises their effectiveness while improving upon the user's experience. All products are dermatologically tested to ensure that they are suitable for people with sensitive or eczema-prone skin.
2) What's the unique aspect of this skincare brand for infants and children?
Babies and children need skin care products to protect and care for their delicate skin. These products should be pleasant and easy to use. MUSSVITAL Dermactive products were developed to fulfil both goals. 
Each MUSSVITAL Dermactive range comprises a cleanser and skin moisturiser for specific skin types. We have two variants available in Singapore – Sensitive and Atopic. We recommend the Atopic range for infants and children.
MUSSVITAL Atopic Dermactive skin cleanser does not contain soap. Soaps tend to strip fat from babies' skin. It makes the baby's delicate skin even more vulnerable to eczema. There are dermatological grade soap-free cleansers available in Singapore. However – these do not lather very well. MUSSVITAL Atopic Dermactive cleanser uses non-ionic surfactants. It is soap-free but creates a rich lather. It also contain re-fatting ingredients to moisturise baby's skin.   
MUSSVITAL Atopic Dermactive skin lotion is formulated with a special emollient that provide 48 hour skin moisturization. Unlike other dermatological grade skin lotions – MUSSVITAL Atopic Dermactive skin lotion does not feel sticky or greasy. It dries quickly leaving baby's skin feeling soft and silky smooth.      
3) What are the types of products available under this skincare brand in Singapore?
MUSSVITAL Atopic and Sensitive Dermactive are the variants available in Watsons. Each variant has a shower gel (cleanser) and a skin lotion. Atopic is meant for children and adults who have experienced eczema. Sensitive is meant for adults who have normal or sensitive skin. They have not previously suffered from eczema
4) What are the common skin problems faced by babies and children in Singapore? How can we overcome these skin problems?
Atopic dermatitis is the most common skin problem affecting babies and children. It is simply called "eczema" and affects 20% of young patients. Eczema is the most common manifestation of allergic symptoms in children. Affected babies and children tend to have dry skin accompanied with red, inflamed and itchy patches. These patches are typically found on the face, neck, hands and skin flexures in elbow/knee. The itch can be unbearable. The child scratches resulting in blisters and sores that ooze and become prone to infection.
Diaper rash is common in babies. It is an inflammation of skin often caused by irritation from babies' urine and faeces. It can also be caused by unsuitable soaps and cleansers. The symptoms are restricted to the area covered by diapers.
Some babies can have an pale yellow scaly crust on their scalp.This condition is called "cradle cap". Clinicians refer to it as "seborrheic dermatitis". It is caused by an over-reaction to the presence of yeast in the scalp. This condition doesn't bother the baby too much. It is not dangerous or serious.      
Impetigo is a common skin infection caused by the bacteria Staphylococcus aureus. It presents as red sores typically on the face, around the nose and mouth. It can also be found on the hands and feet. A child can get impetigo if he or she also has eczema, insect bites or fungal infections.   
Viruses can cause a variety of skin problems in babies and children. These virus include the chicken pox, hand foot and mouth disease, measles and herpes simplex viruses.  
If your baby or child develop any skin lesions – the best thing is to consult a doctor. Your doctor can make the right diagnosis and prescribe the proper treatment.   
5) How can we keep our child's skin healthy?
Before baby arrives – moms should have a healthy and non-allergenic diet. A healthy gut flora is believed to strengthen and protect the mother's offspring from allergies and infections. As much as possible – mothers should breastfeed their babies – preferably for six months or more.    
After birth – bath baby with warm water using a gentle cleanser. Do not let baby soak in soapy water for more than 3-5 minutes. If babies have dry or eczema prone skin – use a gentle soap-free cleanser. After bathing – pat dry and use liberal quantities of a good skin moisturiser. MUSSVITAL Atopic Dermactive cleanser and skin lotion is perfect for babies and children.  
6) What's your plan for the next 5 years, in terms of brand expansion or market expansion?
MUSSVITAL manufacturer Peroxfarma is a very innovative company – they will keep developing new products for the baby's and skin care range. I am sure that we will have newer and more interesting formulations for babies and children.
Thank you Chris Chua for taking our interview!
Mussvital is the winner of the 2019 Watsons Health, Beauty and Wellness Award for Best New Sensitive Skin Brand in Singapore. Mussvital's best-selling dermactive skin lotion and shower gel, both its Sensitive and Atopic ranges can be found in selected Watsons stores across Singapore and on Lazada. 
To find out more and stay updated on its ongoing promotions, please visit them on Facebook (www.facebook.com/mussvitalsg/) and on Instagram (@mussvitalsg).