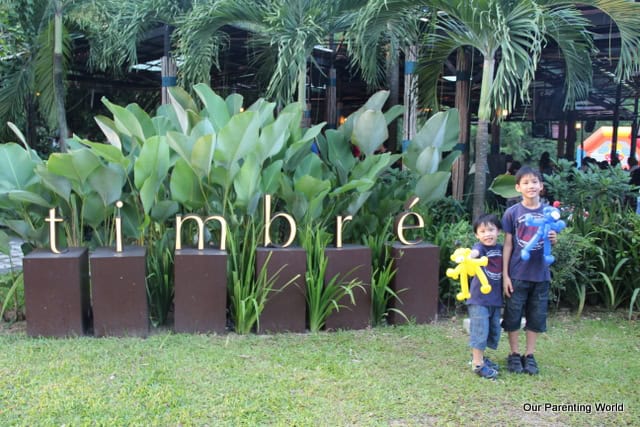 Where can we find a good dining place that is away from the hustle and bustle of the city? A place where the whole family can have an enjoyable time and being close to Nature? There are not many such dining places in Singapore and Our Parenting World is glad to find one dining place where we, parents can relax and enjoy the peaceful environment over good food and drinks while the kids have activities to keep them occupied. The awesome dining place is called Timbre@Gillman located at 9A Lock Road, Gillman Barracks.
We were at Timbre@Gillman for its Saturday Social BBQ where it serves the most awesome BBQ party ever on every first and third Saturday of the month. Let's talk about its delicious BBQ platters for adults and children, you will know why.
At Timbre@Gillman, you can order your favourite food and drinks with a touch of the button at the convenience of your table.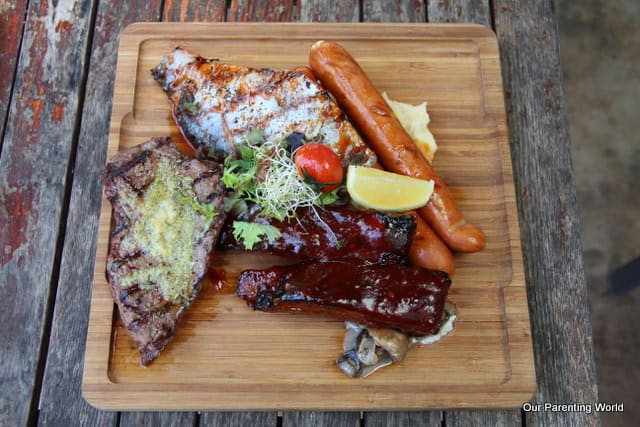 This platter for 2 Social BBQ is for adults which consists of Baby Back Ribs with Homemade BBQ Sauce, Grilled Beef Rump Steak with Melted Bordelaise, Chicken Cheese Sausage. Yakiniku and Lemon Grill Basa Fish, Creamy Garlic Mushrooms, Mash Potatoes, Pickled Cherry Tomato, Mesclun Salad and Balsamic Vinaigrette.
The meat is well marinated, very tender especially the Baby Back Ribs meat just fell off the bone easily. Chicken Cheese Sausage has a good chewy texture that goes well with a nice cheesey aroma. The fish tasted fresh with no fishy smell and it is full of flavour. It is a sumptuous and delicious platter for 2.
Kids Platter for 2 consists of Battered Fish & Chips, Grill Minute Steak, Timbre Chicken Wings, Cheesey Fries Topped With Vegetarian Bacon Bits, Nacho Chips, Garden Salad & Mushroom Sauce.
The kids are so excited when they saw their own platter, their eyes beamed as it has all their favourite food. They are the most picky eaters around but they quickly settled down and start attacking the platter!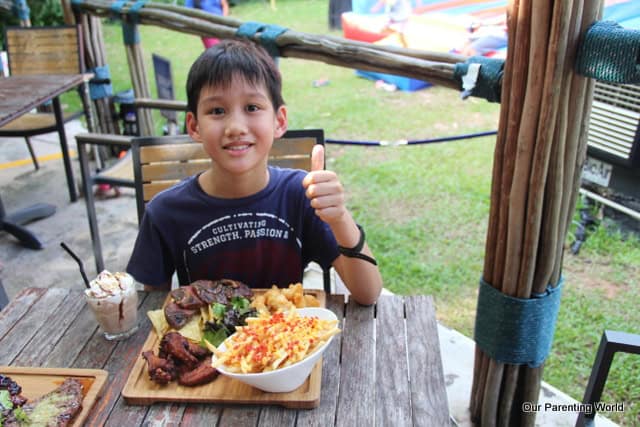 It is simply delicious! This is probably one of the best fish and chips that I have had. The fries are crispy, the fish is fresh and very tasty. The fish also has a delicate, crisp crust surrounding the perfectly cooked fish.
Who doesn't love Chicken Wings? Here at Timbre, its Timbre Chicken Wings are gorgeously golden brown, tasty and succulent. Overall, the kids love their own kids platter, finishing up all the meat, the soft tender juicy steak and even the vegetables.
Besides food, Timbre@Gillman serves a wide range of drinks. Here are some of the interesting drinks: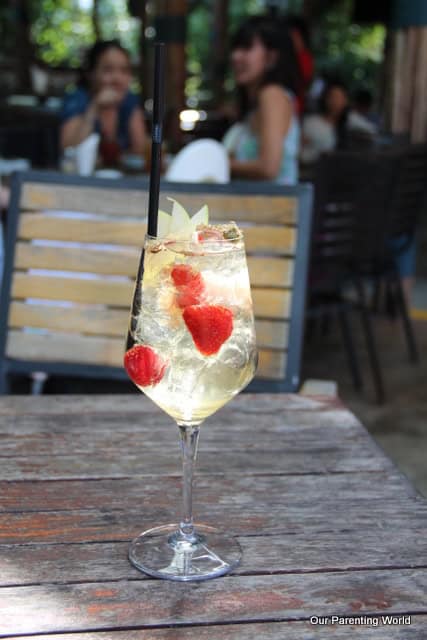 Timbre Floria Sangria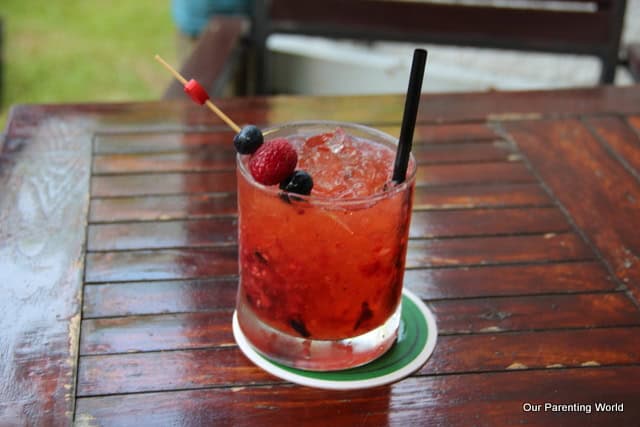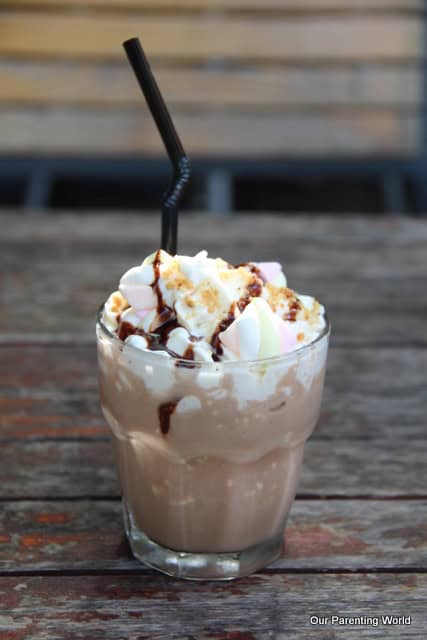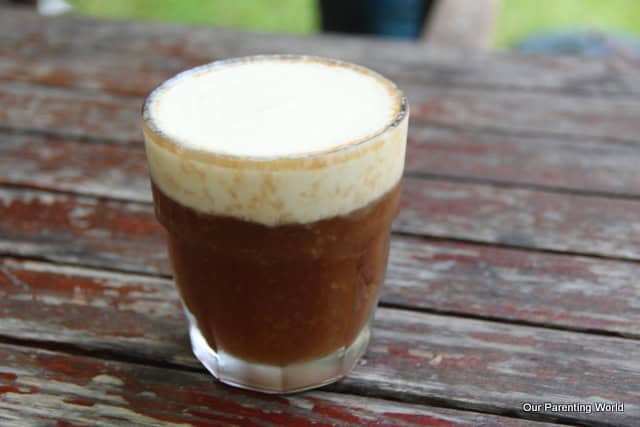 For the kids, they find it fascinating to have their own unique drinks just for them and they finished up the drinks in no time. As for the adults especially parents, we can relax, chill out and enjoy our drinks while the kids are kept occupied with various activities.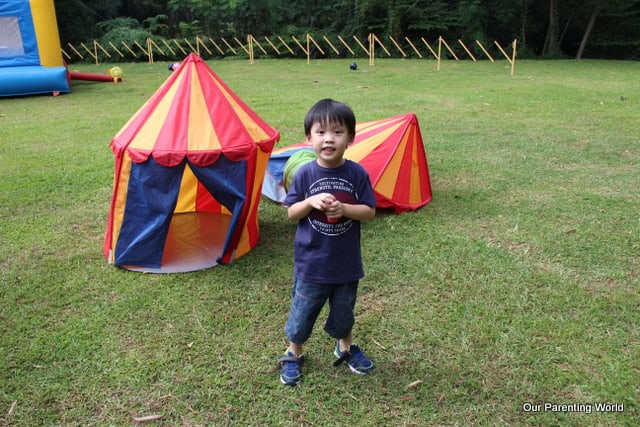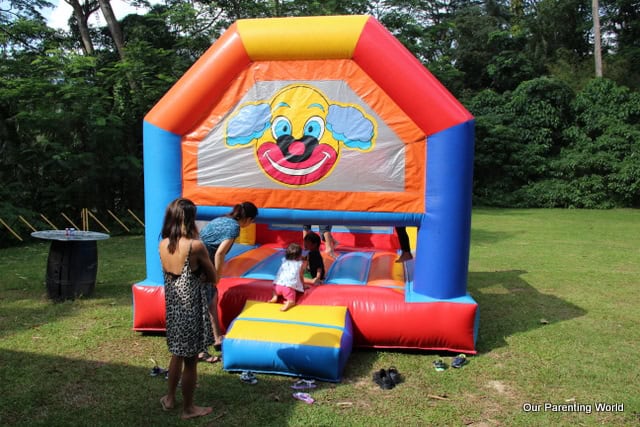 There are lots of activities at Timbre@Gillard for kids, one of them is the very popular bouncy castle.
Bubbles, Arts and Crafts for the younger kids.
While other and older kids can have fun engaging in hunting games, finding Mr Carrot.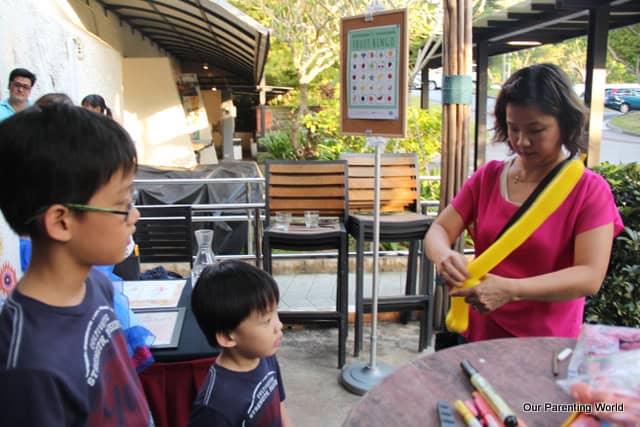 Balloon Sculpting which is very popular with the kids.
Glitter Tattoos on the face and or body.
Kids get to participate in meaningful activity like learning more about plants, get to create their own plants and bring the plants back.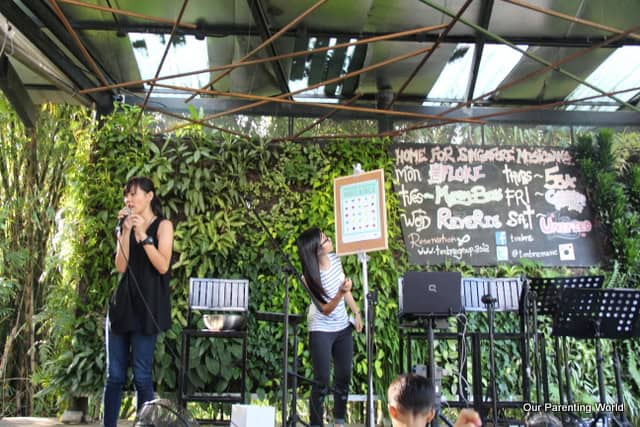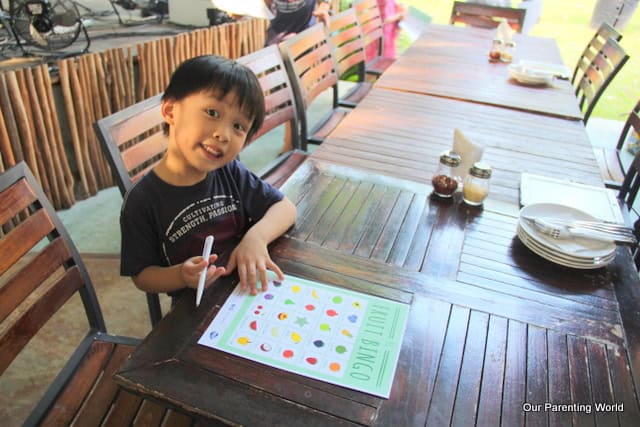 Bingo, this is a fun activity that the whole family can participate.
We are playing Fruit Bingo where we have to mark off each item when it is randomingly drawn and the first three person to mark off four rows of fruits get to win the top three prizes.
That's not all, diners can enjoy live music performed by Timbre Music Academy.
We thoroughly enjoyed our visit at Timbre@Gillman, it is a popular place for families and we even bumped into our friends who brought their children there. It is best to go there earlier as it gets more crowded towards night time. Tables get filled up quickly. It is certainly a family-friendly restaurant that the whole family can bond over good food, drinks, music and games that come with fun-filled activities that will keep the children occupied too.
Location:
Timbre@Gillman
9A Lock Road, Gillman Barracks
Singapore 108926
Contact:
t +65 6694 4201 (Call after 5pm)
f +65 6694 4202
Opening Hours:
Monday to Thursday 4pm-11pm
Friday & Saturday 5pm-12.30am
Additional Information
Saturday Social BBQ
With different themes each month, cowabunga surf music to jive to, ice cold beers in hand and an array of fringe activities for the kids, there's definitely something for everyone. Come on down and join us from 4pm onwards at Timbre @ Gillman for the most awesome barbeque party ever!
Saturday Social BBQ happens every first and third Saturday of the month. Join in our Mid-autumn festivities for the month of September.
Dates: Saturdays
7th & 21st Feb 2015
7th & 21st Mar 2015
Time: From 4pm till late.
Fringe activities for kids include:
Crafts, face/henna painting or others;
Music performances by students from Timbre Music Academy;
Play area with games, tents and a bouncy castle;
Thematic fun so check out the poster below.
All fringe activities are free! Check out www.facebook.com/timbrevenue for most updated Saturday Social BBQ news.
Chinese New Year is coming, look out for Timbre@Gillman Lunar New Year Special on 7 and 21 February 2015!