Our Parenting World visited LEGOLAND® Malaysia Resort recently and have an awesome weekend! It is also a time to get into the spooky spirit with its annual Halloween family event, Brick-or-Treat 2017 where families and children can look forward to participate in a spooktacular line-up of activities from 6 to 29 October.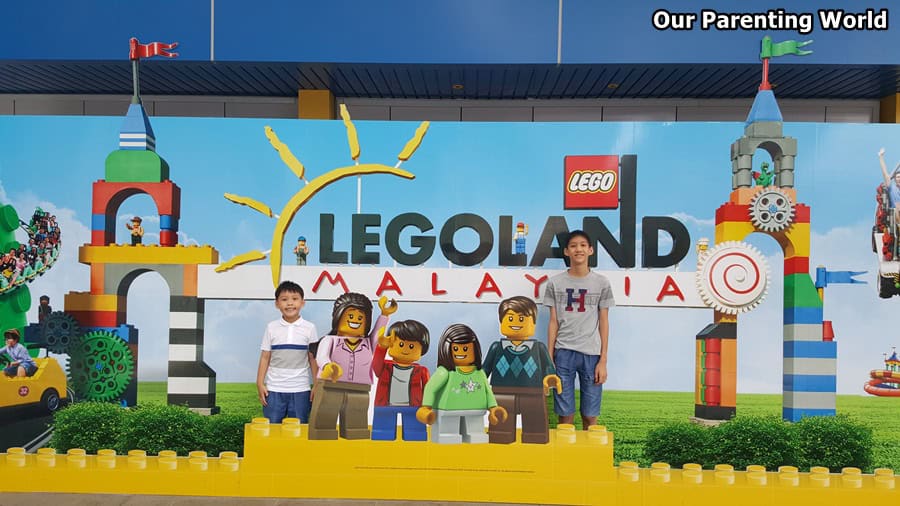 LEGOLAND® Malaysia Resort comes with a Theme Park, Water Park and exclusive Hotel all at one LEGO® themed location. Have fun with more than 70 hands-on rides, slides, shows and attractions for families and children of all ages. 
Brick-or-Treat 2017 Spooky Trail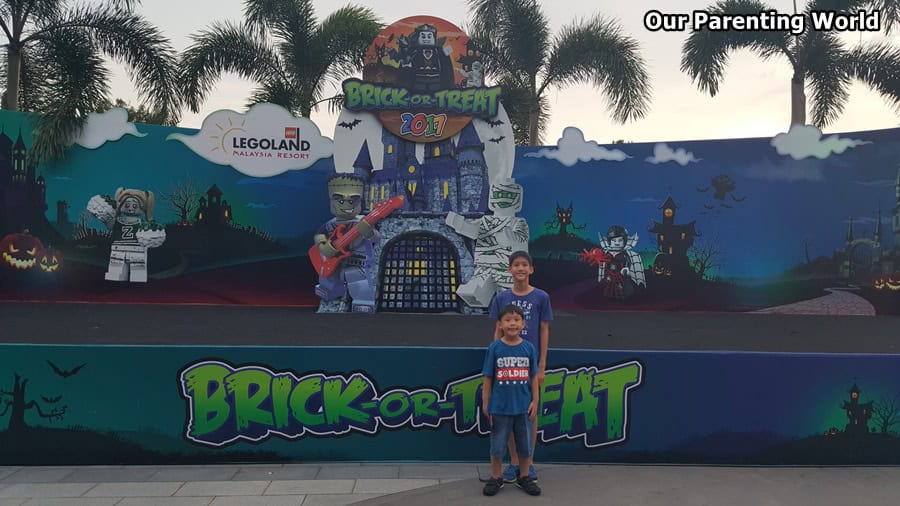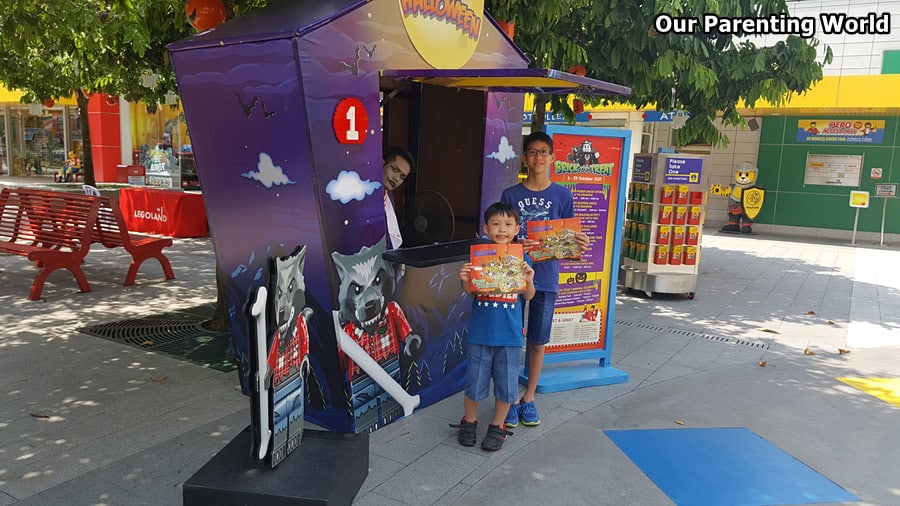 During the Brick-Or-Treat Carnival Celebrations, LEGOLAND® extended its park hours to 8pm on 13, 14, 20 & 21 October. This is a time where you can have lots of fun and come back for more! Take lots of memorable pictures with the Halloween themed decorations all over the park.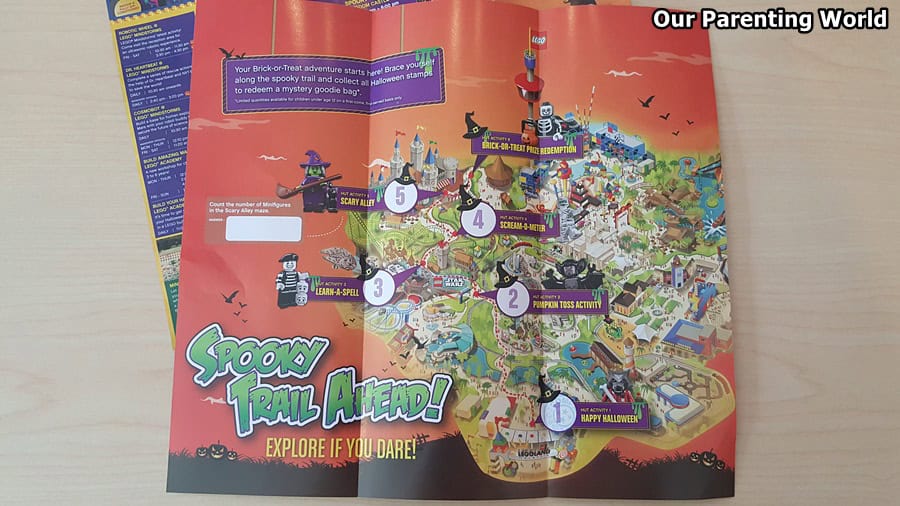 Happy Halloween!
Upon entering the park, collect your spooky trail activity map at the 1st Hut activity station to Brick-Or-Treat where your journey will begin. Collect all the stamps from the 6 Hut activities and you can redeem a mystery goodie bag. Explore if you dare!
We embrace ourselves and muster the courage to venture into the Spooky Trail!
Come join us as we explore and complete all the stations.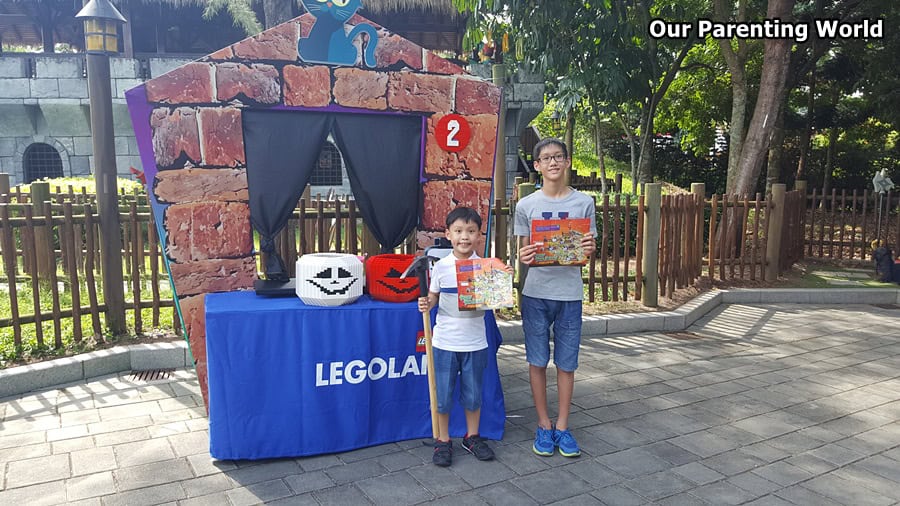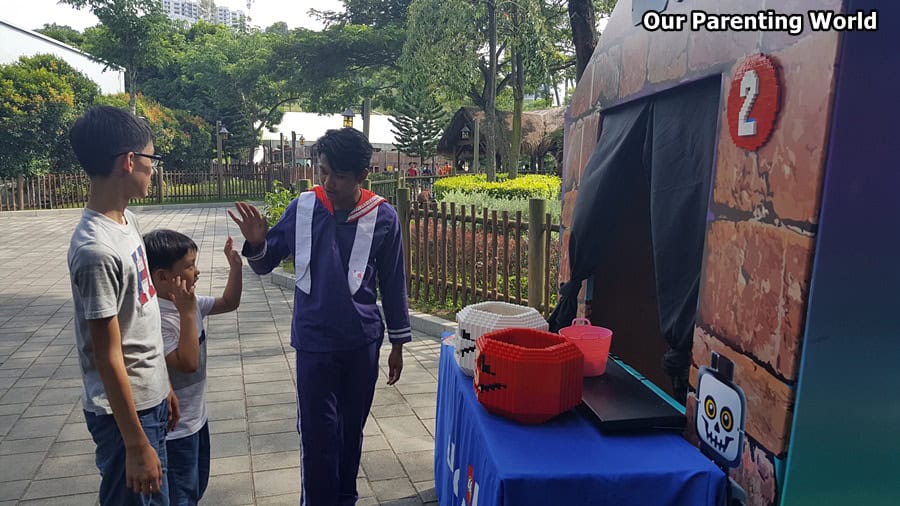 Pumpkin Toss Activity
At the 2nd station, toss the ball into the pumpkin to earn a stamp.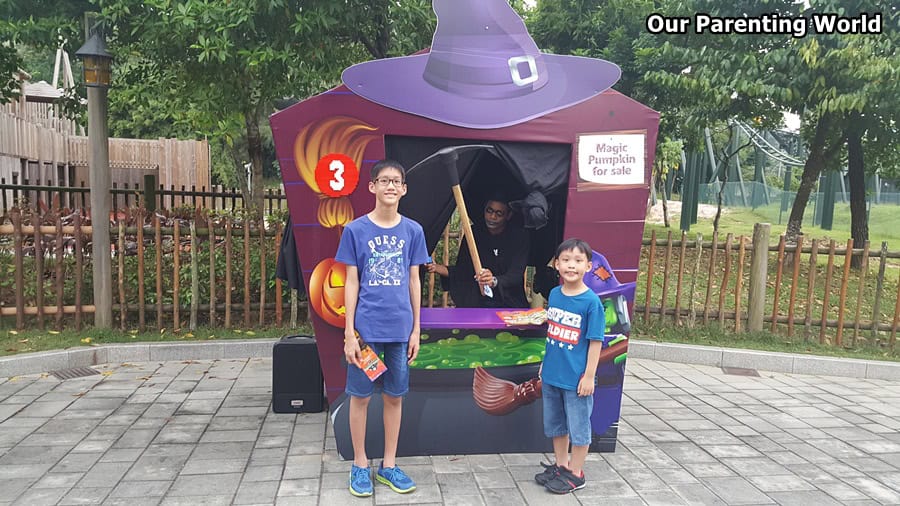 Learn-A-Spell
At this activity station, train under the very best witches at Learn-A-Spell to earn a stamp.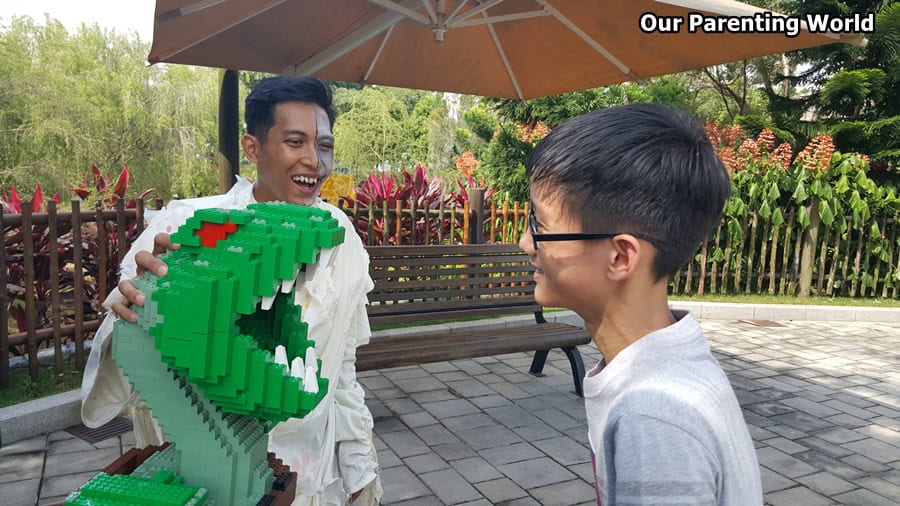 Scream-O-Meter
Test your lung power at the Scream-O-Meter, scream as loud to earn a stamp!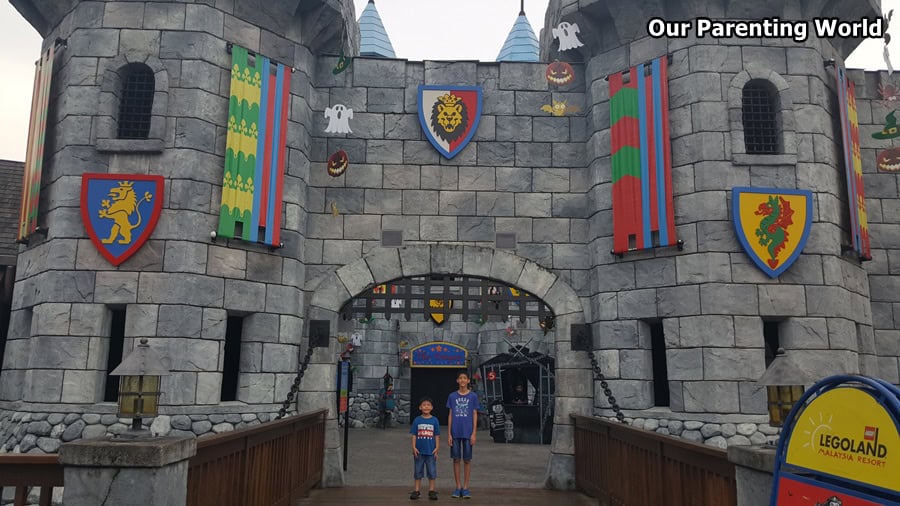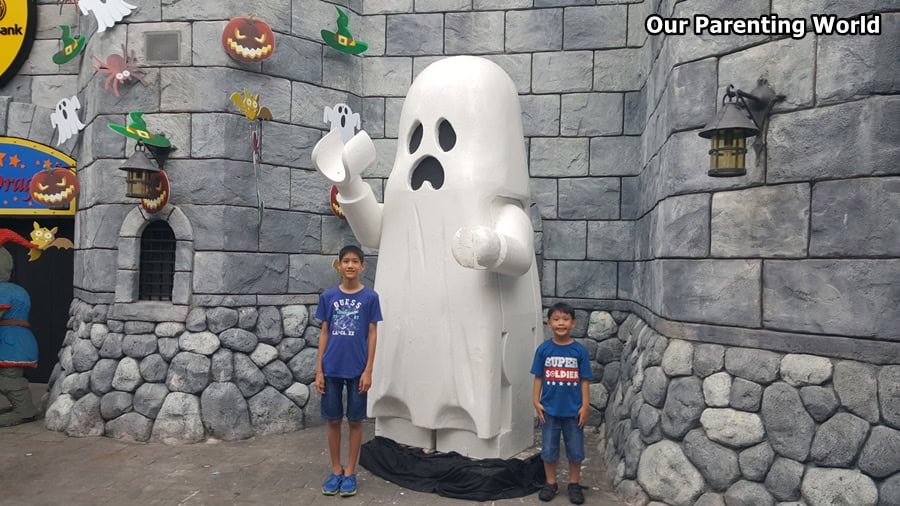 Scary Alley 
We have arrived at the Scary Alley, Brick or Treat Carnival Celebrations @ Legoland Kingdom, Castle Area … Whoo … at this station, we have to count the number of Minifigures in the Scary Alley maze.
Did we get it correct?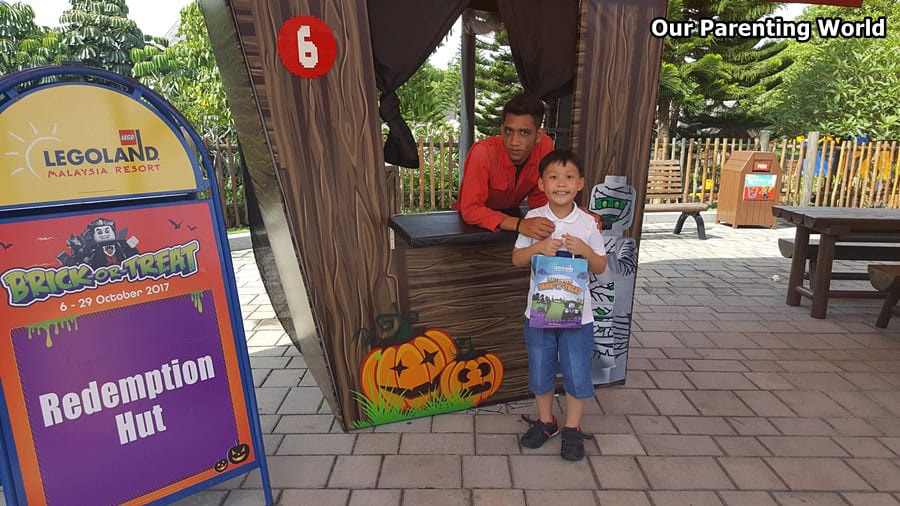 Brick-or-Treat Prize Redemption
Phew! Yes, we did! At the last station, the Redemption Hut, collect all the 6 stamps and kids will get to redeem a mystery goodie bag.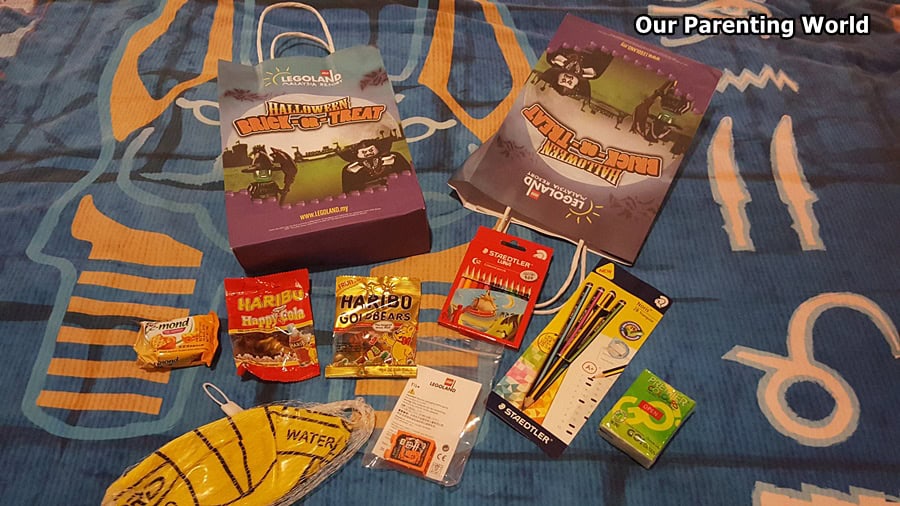 Here's what you will get in the mystery bag full of goodies from stationery, sweet treats and comes with a  limited edition Halloween Collectible Duplo brick.
Spook-Tacular Costume Contest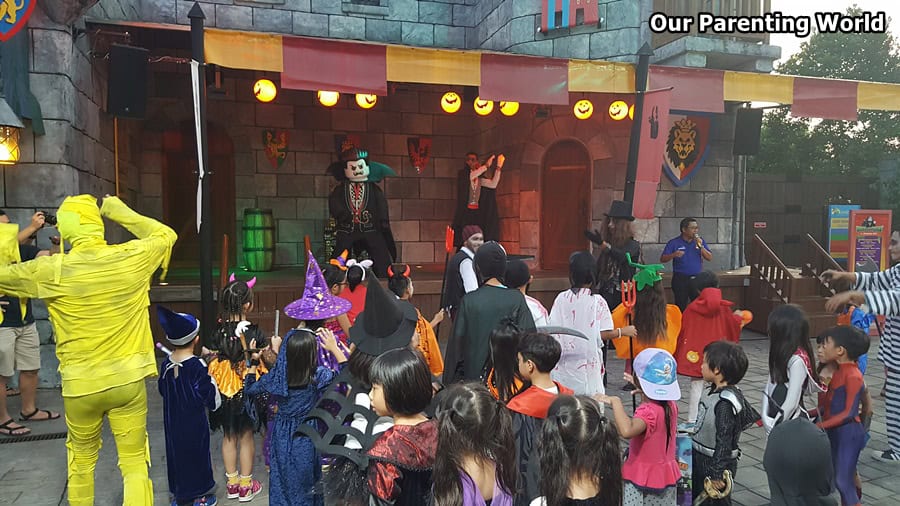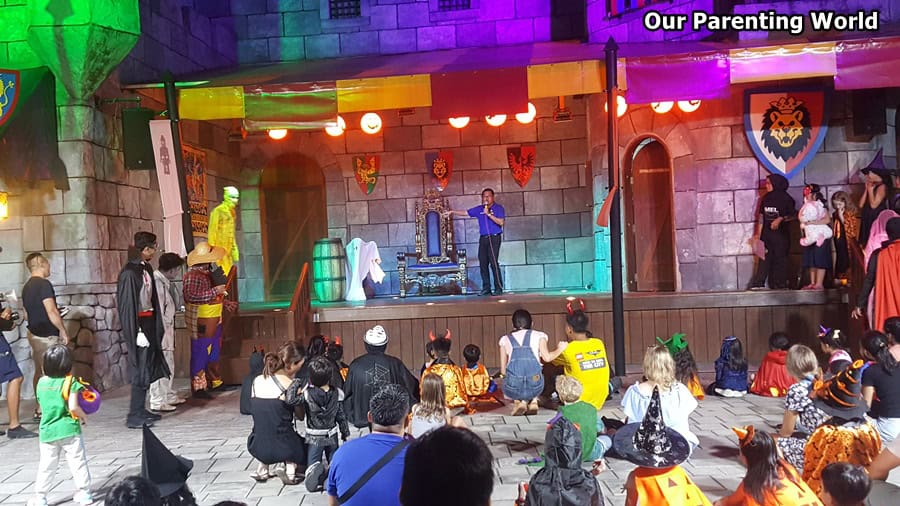 During the Halloween Brick-or-Treat event, kids from 3 to 11 years old can come dressed up and join in the  Spook-Tacular Costume Contest. They can enter the park for FREE (Terms and Conditions apply).
Kids in the most creative Halloween-themed costumes can stand a chance to win prizes including LEGO Creative Building Sets. 
Brick-A-Boo Parade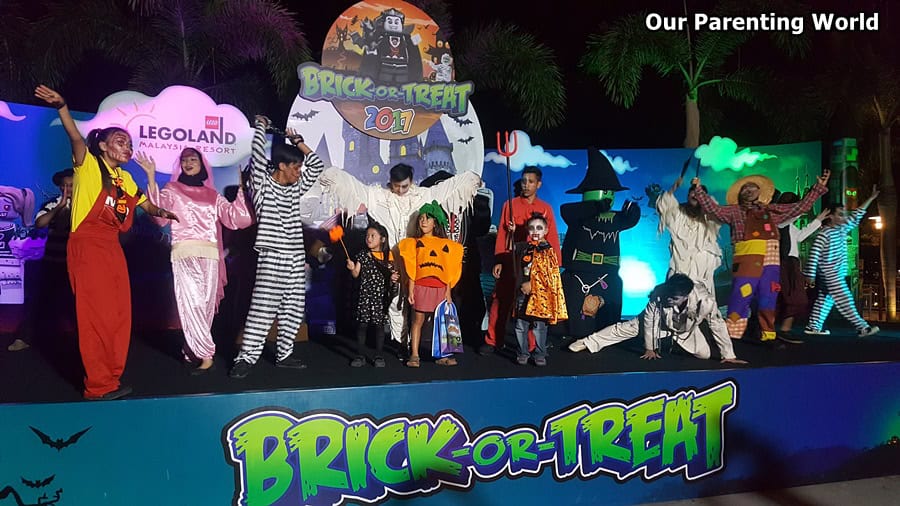 Come, Dance and Sing-along at Brick-A-Boo Parade!
Celebrate with Halloween-themed LEGO characters as they storm the streets of the park when night falls with a Brick-A-Boo Parade. That is followed by After Dark Party, this Brick-or-Trick Carnival Celebration is only on 13/14 October and 20/21 October from 10am to 8pm.
What a great way to spend a family time out together!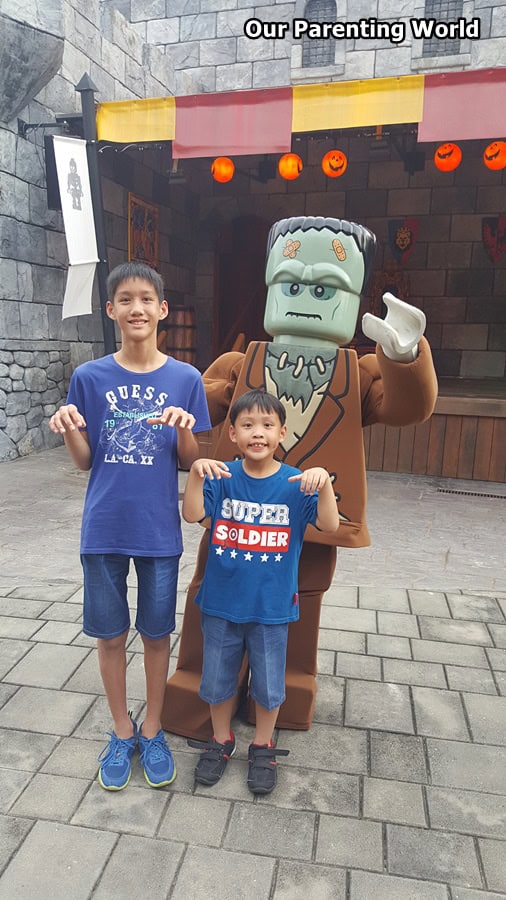 Everything is awesome at LEGOLAND® Malaysia Resort Brick-or-Treat 2017!
It has been a delightful scary and fightening fun experiences! We look forward to next year Halloween event at LEGOLAND® Malaysia Resort!
To find out more about Halloween Brick-or-Treat 2017, please visit 
https://www.legoland.com.my/planning-your-visit/special-events/halloween-brick-or-treat/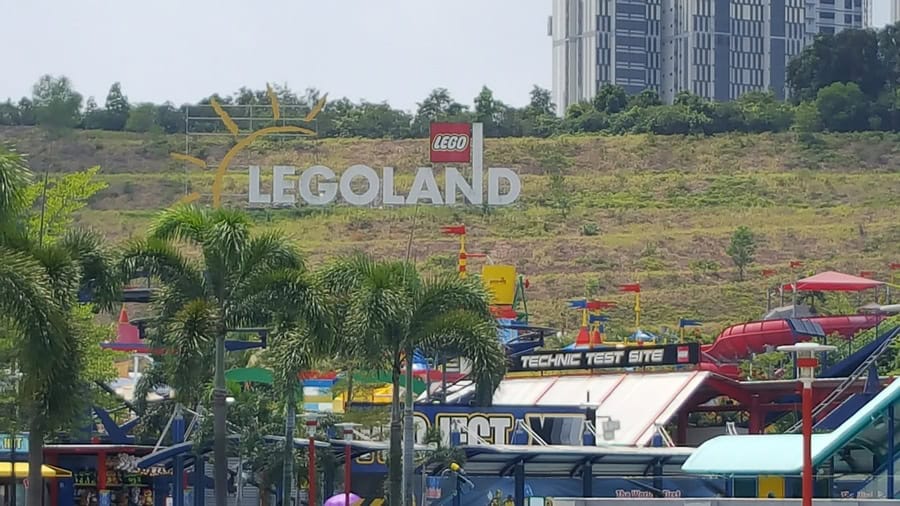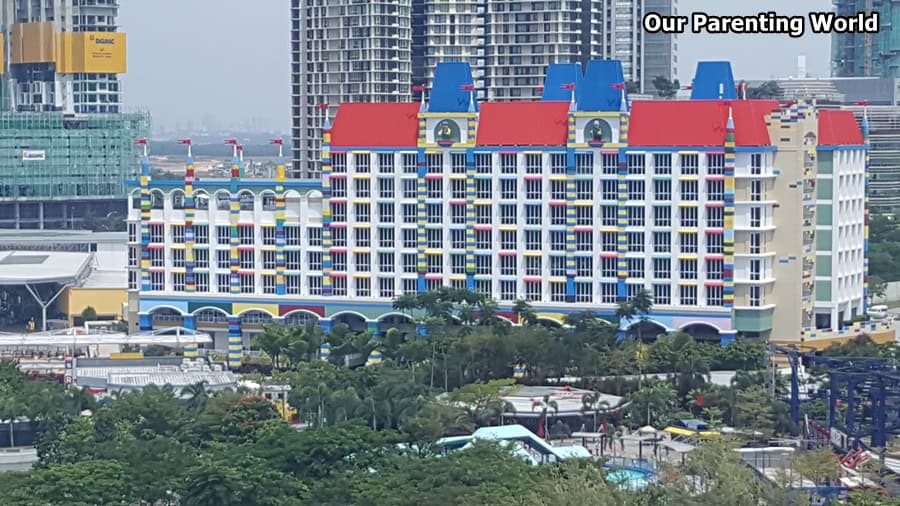 Fancy staying at LEGOLAND Hotel, yes, of course, its AWESOME! It is a dream come true especially for LEGO fans like us.
The hotel is conveniently located at the heart of LEGOLAND® Malaysia Resort featuring 243 themed rooms and fully themed rooms, 7 Pirates Deluxe rooms and 6 Kingdom Suites. If you like to be a Pirate, or be a Pharaoh on an adventure to find the hidden treasure or be a Prince or Princess, you will be able to find a room that will fulfill your LEGO fantasy. 
All Deluxe and Suite Rooms can sleep up to 8 persons and up to 4 adults per room.
All Standard and Premium Rooms can sleep up to 5 persons and up to maximum of 3 adults per room.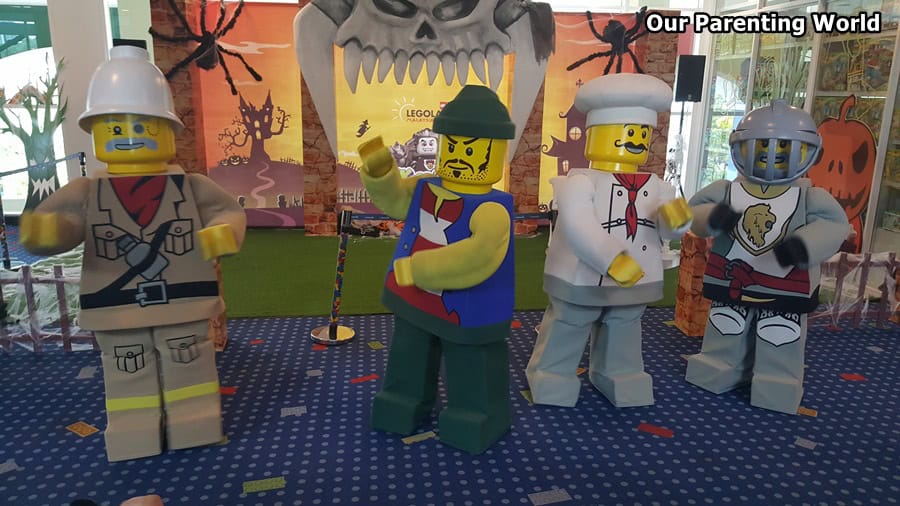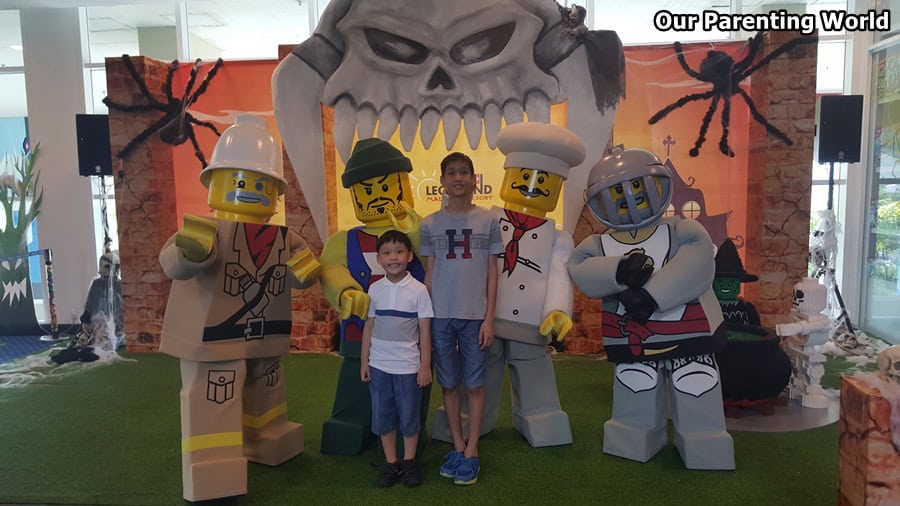 Watch the LEGO characters come to live as they perform a dance parade and take photo with them at the hotel lobby. Please check out the timing during the day of your visit. 
You can find LEGO features throughout the hotel and there are many things to do for the kids including colouring activity, building activity, catch their favourite LEGO character, dance parade, shows and check out the Minifigure Trading at the Hotel Lobby from 9am – 6pm to trade your fvourite LEGO® Minifigure. For complete listing of what to do at the hotel, please visit: https://www.legoland.com.my/legoland-hotel/things-to-do/

All the hotel themed room will include a King-sized bed for the adults. The bed is huge and comfortable.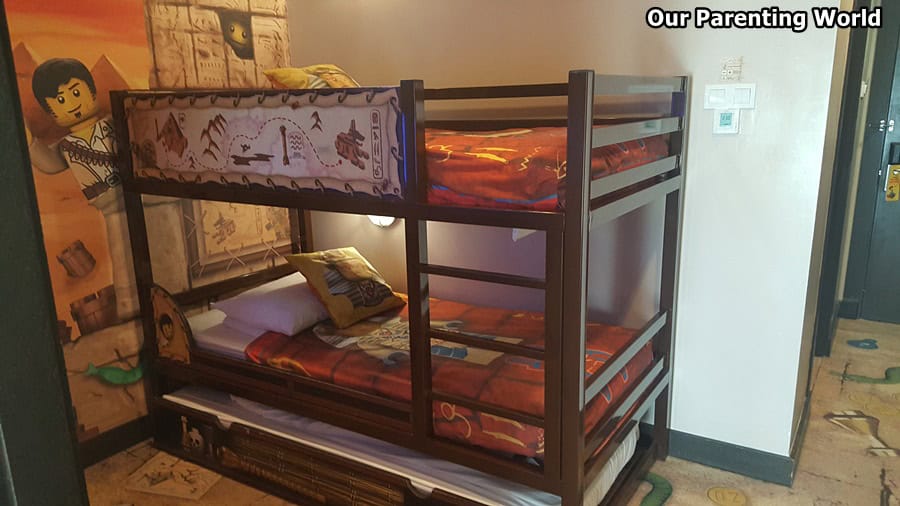 It consists of a separate semi-private sleeping area for the kids and it can accumulate 3 kids with bunk bed and a pull-out trundle bed.
The kids' own sleeping area comes with an entertainment unit including TV, LEGO bricks for the kids to build when they are in the hotel room. One of the highlights of the room is they get to participate in a Welcome Treasure Hunt.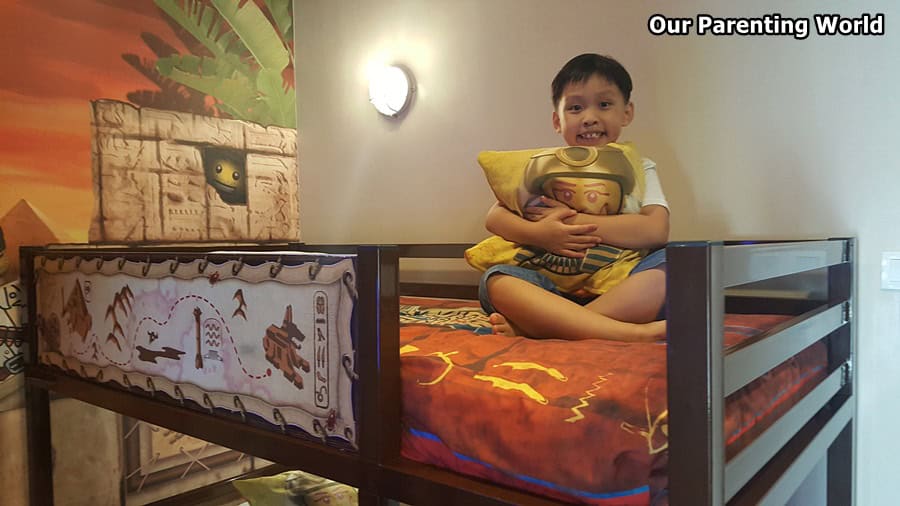 I like my room! It is so cool, I will get to do a treasure hunt, find the clues from the room and answer all the questions to get the hidden treasure. 
Find the clues hidden in the room to unlock the Monkey King's treasure box. What will it be? 
It's LEGO sets! Our treasure includes LEGO sets from Ninjago Movie, Star Wars and City. 
Here's an overview of the hotel room. The LEGO's toiletries are so cute. Our room is  Adventure themed and can stay up to 5 people in this room. Starting at RM670 per room. 
Bring your kids to embark on an journey through Egypt with dessert spiders and scarab beetles in the Adventure themed room to hunt for the treasure chest and reveal the hidden gold. Be vary of the tarantulas, scorpions, lizards and other jungle animals at the same time. Kids will enjoy being an explorer and embark on an exciting adventure that they will always remember. 
For more information and to book this room, please visit https://www.legoland.com.my/legoland-hotel/hotel-rooms/adventure-themed/
It has been an awesome stay at LEGOLAND® Hotel! We had a fantastic and enjoyable time! Thinking of where to go during school holidays or when you need a break during the weekend to have an awesome time, visit LEGOLAND® Malaysia Resort!
LEGOLAND Hotel is a walking distance from the front gate of LEGOLAND Malaysia. The hotel address is No 1, Jalan Medini Utara 3, Bandar Medini Iskandar Malaysia, 79250, Iskandar Puteri, Johor.
Bookings can be made by walk-in, online at www.LEGOLAND.com.my/hotel/home or by phone. Please call directly at +607 597 8888. (Daily, 9.00am – 7.00pm, Malaysia time).