Media Invite and Food Review: Baba Chews Bar and Eatery Chinese New Year Set Menu
Chinese New Year meal with a distinctive, interesting and tasty Peranakan flavour, that's how Our Parenting World team thinks of this new trendy restaurant at the Hotel Indigo Singapore Katong is serving for the coming Chinese New Year. Baba Chews Bar and Eatery is located in the former Joo Chiat Police Station, the building retains some colonial charm of the old days and is now connected to the new Hotel Indigo Singapore Katong beside it.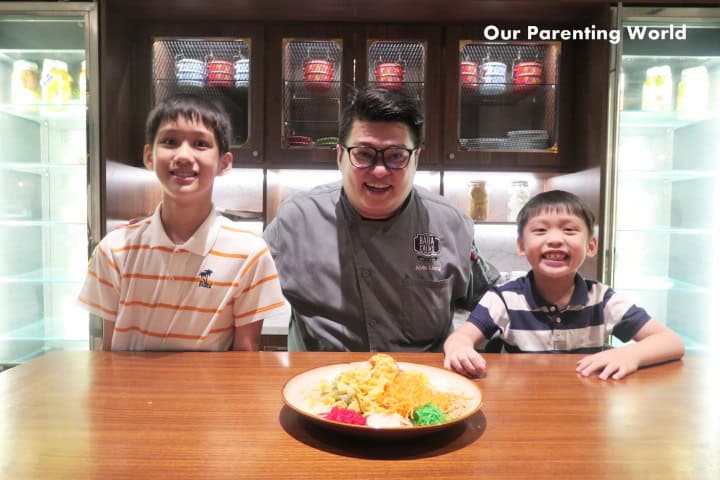 The restaurant is helmed by Chef Alvin Leong, the talented Head Chef at Baba Chews who created this Peranakan flavoured Chinese New Year Set Menu for the coming Chinese New Year. Like all Chinese New Year dining, we must start with "Yusheng" first. This is a must-order dish for Chinese New Year as an appetiser as it is a symbolism of "good luck" for the new year!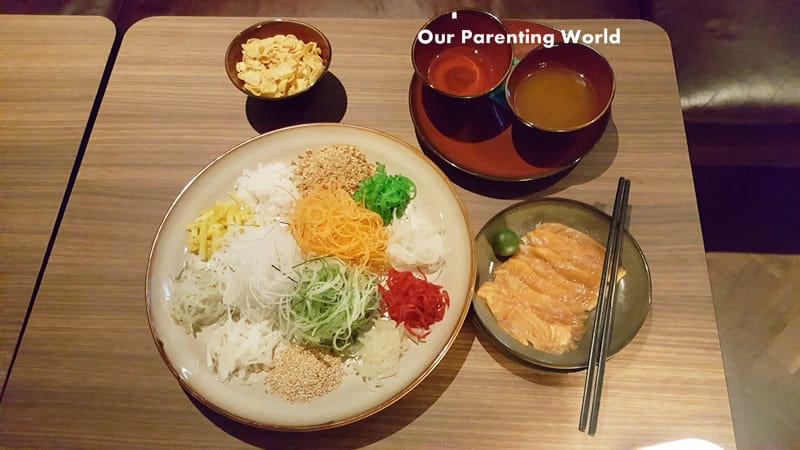 Salmon Yusheng  [三文鱼七彩鱼生]
HUAT with Baba Chews Salmon Yusheng to a prosperous Year of the Rooster where Chef Alvin came up with a more healthier version of the Yusheng to include a variety of festive salad with the addition of pineapple and cornflakes filled with plenty of fresh salmon to symbolize an increase in abundance and extra wealth for the coming year!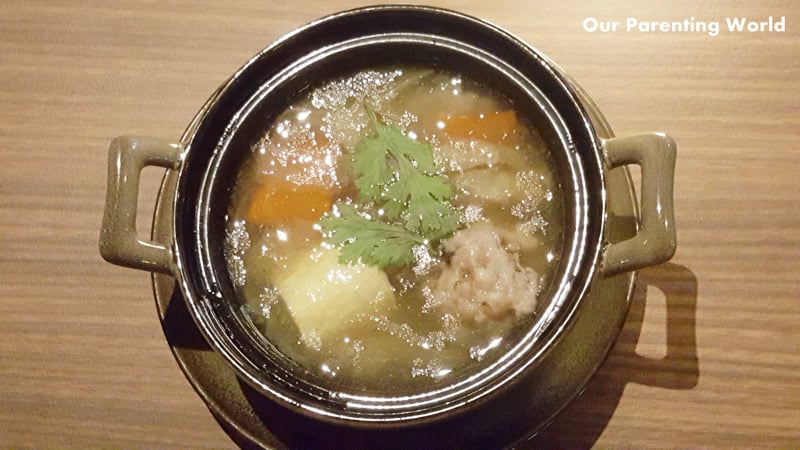 Hee Piow Teng (Peranakan Fish Maw Soup) [经典娘惹式鱼漂汤]
This is the followed by "Hee Piow Teng" or Peranakan Fish Maw Soup consisting of ingredients like meatball, fish maw, omelette fish roll and cabbage. The meat ball in the soup is crunchy and soft, better than the Peranakan Bakwan Kepiting we have tasted in other Peranakan Restaurants in this region. The is a comforting, homely and sumptuous soup, and it acts as a good introduction of the coming main dishes.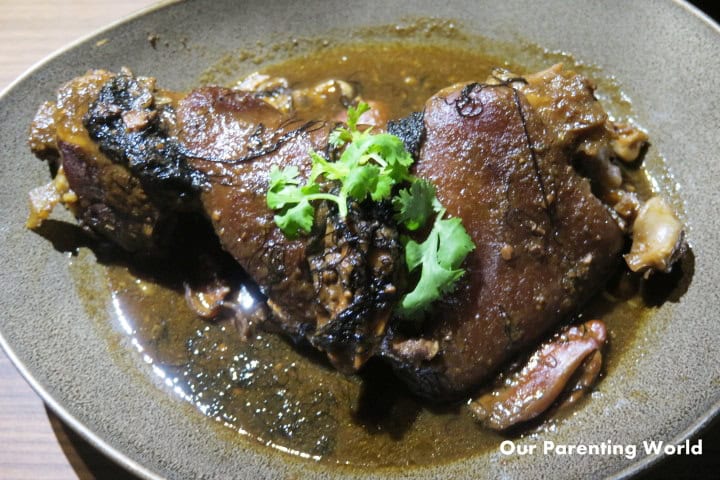 Pork Knuckle Pongteh with Fatt Choy and Dried Oyster [好市发财娘惹式猪蹄]
The Pork Knuckle is fairly large and has been braised in fermented soybeans, the meat is so tasty and tender that is well combined with Fatt Choy and Dried Oyster in savoury sauce. 
This is definitely a Chinese New Year dish as it is laced with Fatt Choy (black moss) meaning to prosper and served together with large dried oysters meaning good fortune. An auspicious dish to have during Chinese New Year!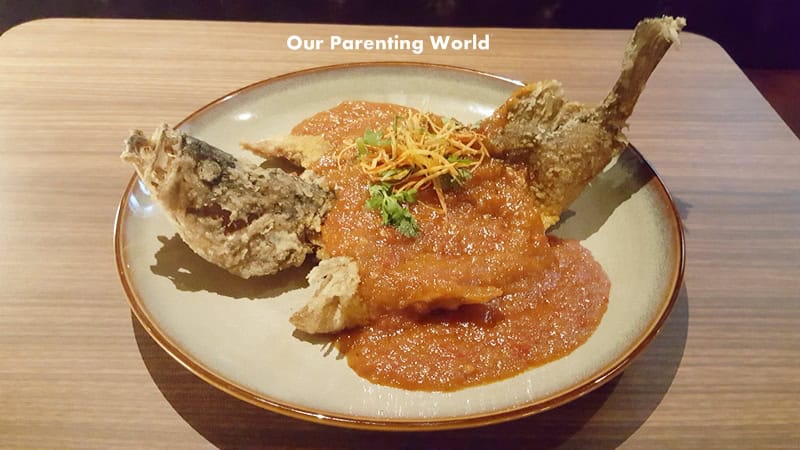 Nonya Fried Soon Hock (Marble Goby)  [娘惹酱蒸海順壳]
Fish is a must-have and considered one of the lucky food to eat during Chinese New Year. Fish means an increase in abundance or having a surplus for the year. The fish is perfectly fried with crispy skin on the outside and soft moist white flesh on the inside. It is generously topped with delicious homemade sweet and sour Nonya sauce.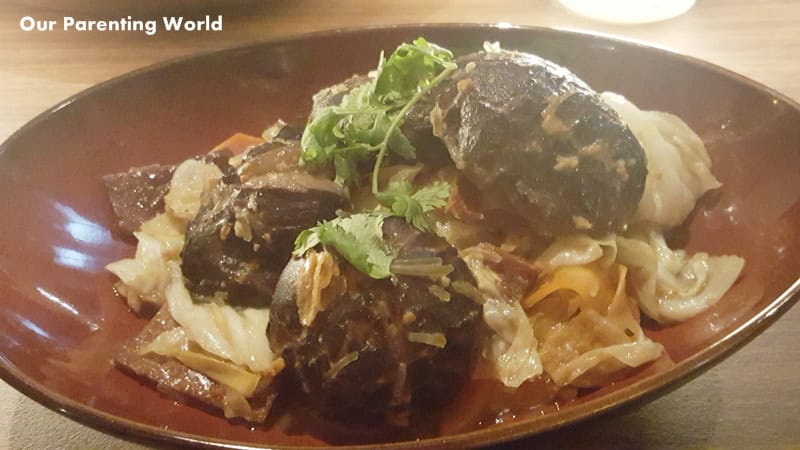 Chap Chye  [精装娘惹杂菜] 
This is a wholesome Peranakan style mixed vegetable stew, we especially like the big mushrooms that are so chewy and full of flavour.
Udang BBC Tiga Rasa  [峇峇式松露三味海虾] 
This delightful dish is given a fresh twist by Chef Alvin, Nonya-inspired stir-fried prawn dish using fresh sea prawns in 3 special three flavours. 
We were told that the dish is infused with unique and distinct three flavours consisting of a little sweetness from an Indonesian sweet sauce, a touch of sour from pickled ginger and savoury taste from Baba Chews' homemade rempah (spice paste). This mouthwatering dish is finger licking good, you can't resist licking the savoury sauce off your fingers when you used your fingers to peel the prawn shell.
The set menu is served together with steamed fragrant white rice.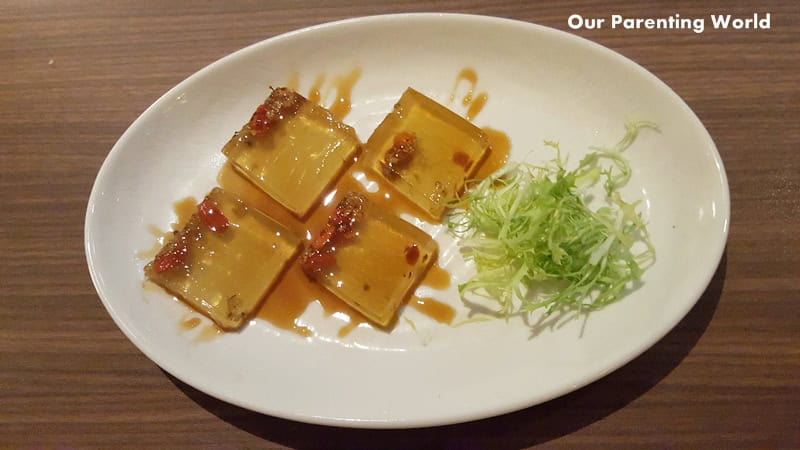 Osmanthus Goji Jelly with Lemongrass Syrup  [椰糖香茅桂花冻]
To round off the evening, the dessert which is Osmanthus Goji Jelly with Lemongrass Syrup provides a refreshing cooling end to the sumptuous meal.
Our Parenting World team thoroughly enjoyed our Chinese New Year reunion meal with Straits Chinese delights at Baba Chews Bar and Eatery and are very impressed with the culinary skills of its Head Chef, Alvin Leong.
Here's 5 reasons why you should consider Baba Chews Chinese New Year set menu this year:
1) If you enjoy home cooked food, you should visit Baba Chews Bar and Eatery for its delicious and comforting dishes which feels like the taste of home. 
2) The Peranakan twist to the traditional Chinese New Year dining is something you should try if you have enough of the usual Chinese New Year dining and would like to try something different and unique.
3) The restaurant is located in a historical building in Katong. You could marvel the historical architecture of the building while dining in the restaurant.
4) The prices for the set menu are value for money. You can look forward to enjoy a sumptuous and hearty meal with your family. 
5) This is one of the new restaurants located in the eastern part of Singapore which is family friendly. The food is impressive, the services are impeccable and the dining environment is elegant and cosy suitable for family and friends. 
Baba Chews Bar and Eatery 
Address:                    
86 East Coast Road, #01-01 Katong Square,
Singapore 428788 
Seating Capacity:      
Indoor: 71 seats (inclusive of 8 bar seats)
Outdoor: 18 seats
Payment Methods:  
Cash and all major credit cards
Social Media:             
27 – 29 January 2017
1st Dinner Seating: 6:00 p.m. to 8:00 p.m.
2nd Dinner Seating: 8:30 p.m. to 10.30 p.m.
For reservations, please call 6723 2025 or email [email protected]
From 16 January to the 15th day of the Chinese New Year, indulge in a harmonious feast with its exclusive set lunch and dinner menus, priced at $188++/$228++ (serves 3 to 4 persons), $388++/$468++ (serving 7 to 8 persons). 
Chope listing of Baba Chews Bar and Eatery:
For more information, please also refer to Chope listing on the available menus that you can enjoy at Baba Chews Bar and Eatery at: http://www.chope.co/singapore-restaurants/restaurant/baba-chews-bar-eatery