Bacha Coffee, the heritage Moroccan marque brand and part of the V3 Gourmet family, is expanding its global presence this year with the opening of its fourth coffee boutique at Singapore Changi Airport. Located at Terminal 4, the airport's newest and bustling terminal serving passengers on major airlines from all over Asia. This new retail and takeaway concept spans over 2,000 square feet. The store's entrance features a magnificent 10 meter high archway adorned with the iconic Bacha Coffee motif frames, adding to its visual appeal. Step inside, and you'll find a beautifully designed interior with geometric shapes and exquisite artwork. The walls are adorned with stunning amber-toned canisters, brimming with 100% Arabica coffees sourced from various corners of the world.
"As the world reopens, part of our expansion strategy shifts towards enhancing the travel retail component of Bacha Coffee's customer touchpoints globally," says Taha Bouqdib, President & CEO of V3 Gourmet. "This dovetails into the brand's holistic customer journey which seamlessly flows between brick-and-mortar and online experiences — an ecosystem which includes retail boutiques, dine-in coffee rooms, takeaway concepts and eCommerce."
"Here in Singapore, the number of passengers passing through Changi Airport have already bounced back to near pre-pandemic levels. The travel retail boutique and takeaway experience at Terminal 4 is an important element of Bacha Coffee's international expansion as it serves passengers travelling to and from Hong Kong and South Korea, two significant markets for our brand. Our four locations at this airport offer the added opportunity for customers to make purchases or enjoy a takeaway while waiting for their flight, offering that uplifting moment of transition to every traveller's day whenever and wherever they search for us."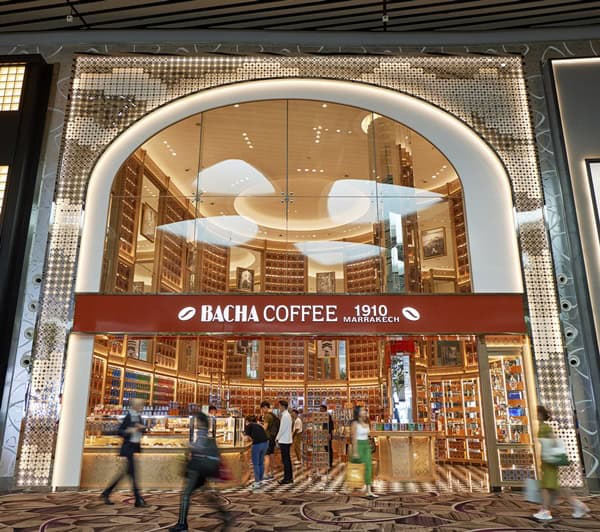 The Coffee Boutique & Takeaway offers passengers the opportunity to explore Bacha Coffee's extensive collection of over 200 premium coffees, along with its exquisite coffee gift boxes and timeless accessories. Additionally, the legendary coffee brand's encyclopaedic range of coffees can be enjoyed hot or iced for takeaway. The menu also includes a selection of pastries, signature filled sweet croissants, savoury croissants, coffee cakes, kouglof, and brioche. To enhance convenience, a well-designed counter at the base of the impressive mirrored pillar in this new establishment allows travelers to comfortably place their takeaway orders and briefly pause before continuing their journey to the next destination.
For more information on the various ways to enjoy coffee, head over to BachaCoffee.com/Coffee-Stories, a treasure trove of how-to guides and insightful stories on coffee cultures around the world.