BASF Kids' Lab returns this year with 2 new experiments; one focused on Water and exploring density and the other looks at how certain liquids are affected by acidic or alkaline solutions.  
Children were introduced to various equipment like measuring jars, tube, beakers, sieve, funnel with tube, teaspoon before working on their first experiment on Water Research.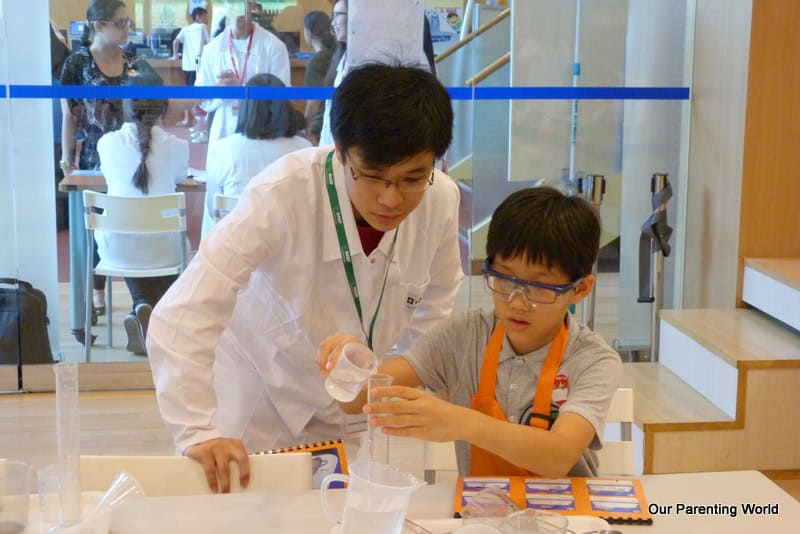 Through this experiment, children will build a "density tower" and observe how by dissolving different substances in water can change the properties of water.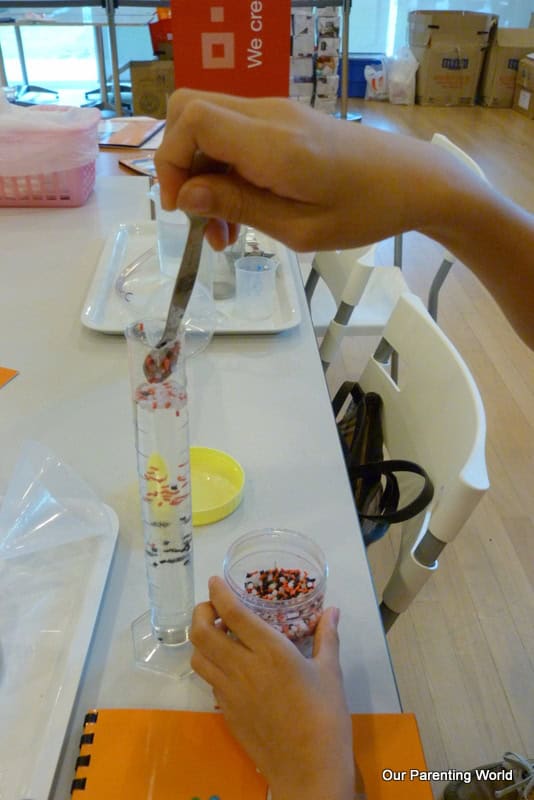 After adding the different types of plastic coloured beads in the water with dissolved sugar, children will learn about the affect of the behaviour of these coloured beads in the tower.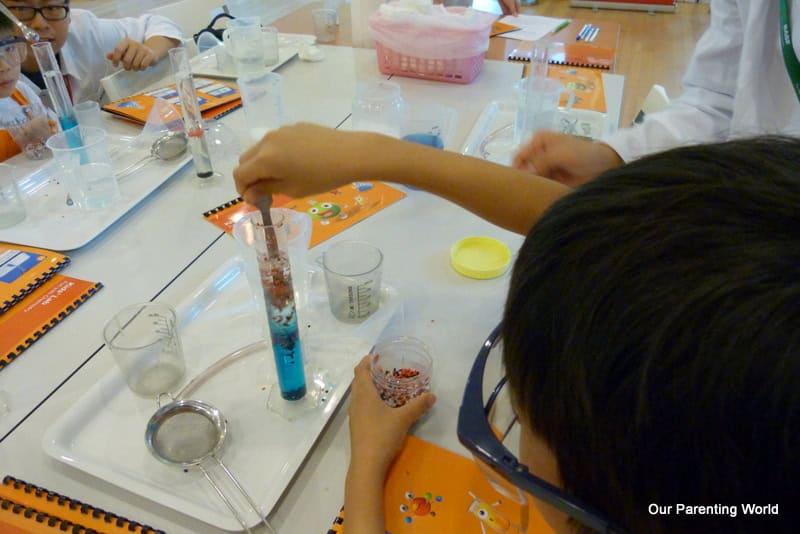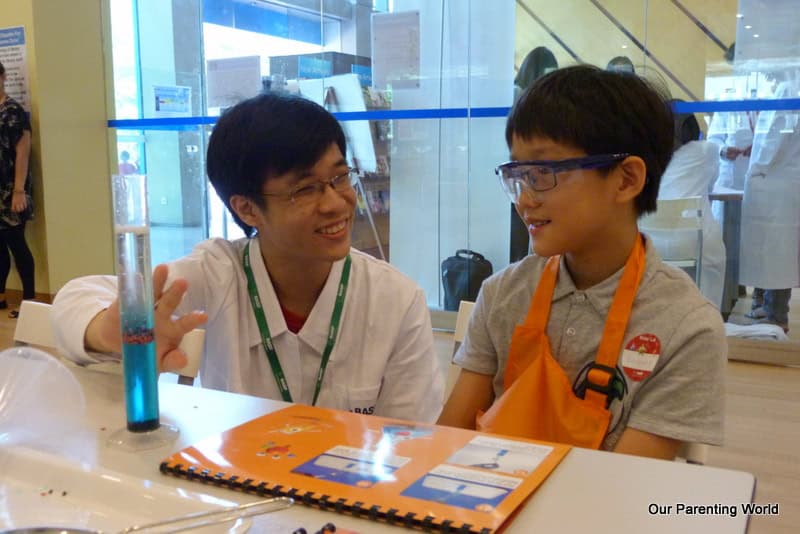 Continue the experiment by pouring in blue water into the tower and observe what will happen to the coloured beads.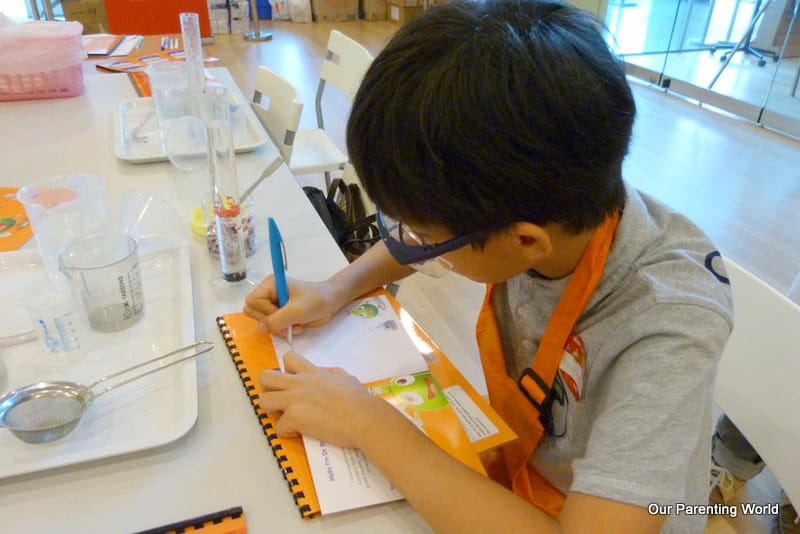 Stir all the beads and try to make them sink to the bottom of the tower, you will find that lighter ones will float up and the heavier ones will sink to the bottom.  Write down your observation after conducting the experiment.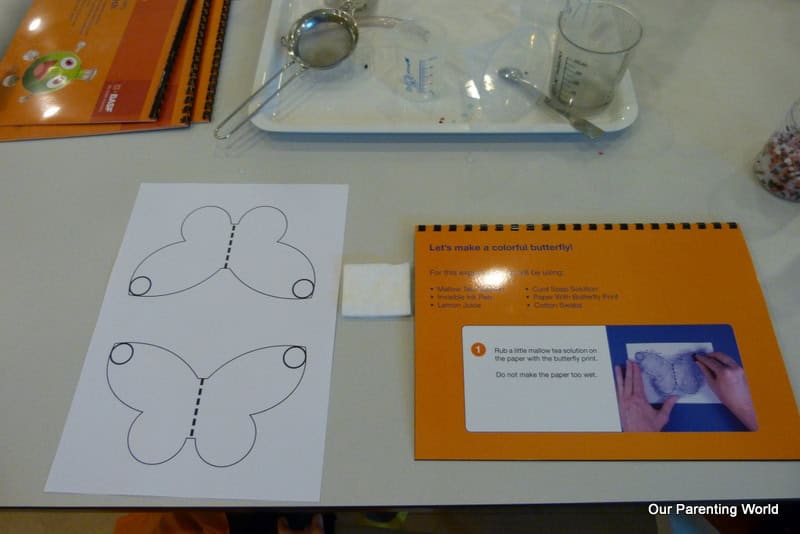 The 2nd experiment is on Butterfly experiment where children will make use of natural materials/ingredients to apply simple science theories to design their very own colourful butterfly. 
First rub some mallow tea solution over the butterfly, use the invisible ink pen to write over the butterfly, moisten a cotton swab with lemon juice to dab over the butterfly and observe what happened. The words start to appear and it looks green. Next moisten a cotton swab with curb soap and paint over the butterfly, observe what colour is the butterfly now? It turns pink. Children learn that lemon juice is acidic and the invisible ink is alkaline. After conducting the experiment, children will write down their observation in their notebooks.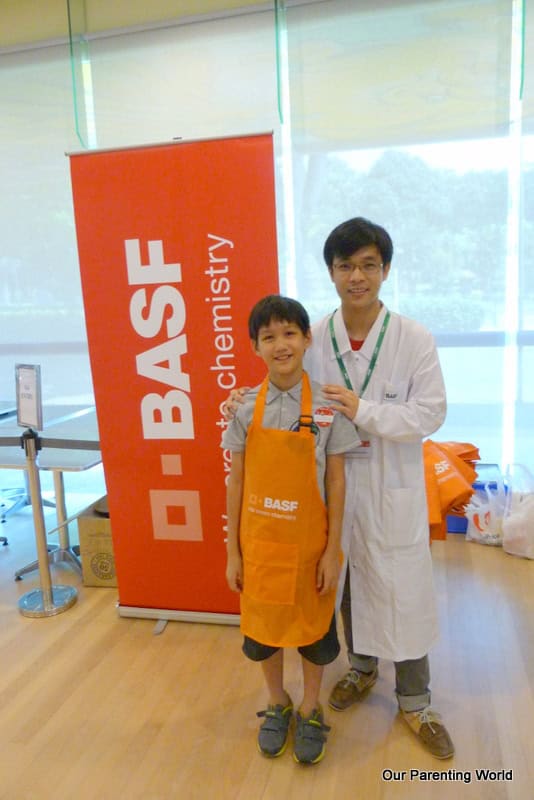 We had fun doing the experiments and learning more about the chemistry reactions from conducting the experiments under the guidance of the friendly instructors from BASF Kids' Lab.
Additional Information
BASF Kids' Lab is a free interactive chemistry education program designed for kids, ages 6 to 12, to learn more about chemistry and science through fun and hands-on chemical experiments. Since 2003, BASF has been holding Kids' Lab during the June school holidays in Singapore, reaching out to 1,200 to 1,500 children every year.
This year, BASF Kids' Lab return with more dynamic chemistry activities for children at Ang Mo Kio Public Library. Participants will be immersed in fluid mechanics, learning how to alter density – the important property that ensures whether something floats or sinks. Children will also have a blast using chemical reactions to create beautiful colours that they can use when they design their very own colourful butterfly!
Registration is required and Admission is free. 
Each session is limited to 40 participants.
For sessions that are full, walk-ins will be accepted in the event of cancellations
BASF Kids' Lab 2015 will be held at the Programme Zone, Level 1 at Ang Mo Kio Public Library (4300 Ang Mo Kio Ave 6, 569842) from 22 June to 27 June 2015.
Please click HERE to find out more.